The Parkholme Community Child Care centre is a sister site of the Warradale CCC CORENA's 7th project).
Website: https://www.warradaleccc.com.au/parkholme-campus
Project story…
Earlier projects were either solar-only or a mix of solar PV and energy efficiency (EE) measures. This was our first EE-only project, replacing all the Parkholme CCC fluoro tubes and halogen downlights with energy efficient LED lighting. Energy efficiency is an equally important part of the transition to 100% renewable energy as solar PV, and in some cases is an even more cost effective way of reducing carbon emissions.
The payback time on a LED lighting upgrade depends greatly on the number of hours lighting is used. Parkholme CCC lighting is in use during all opening hours, from 6.45am to 6.30pm Monday to Friday, so their lighting upgrade paid for itself in just over 2 years.
This project has been fully funded – Thank you!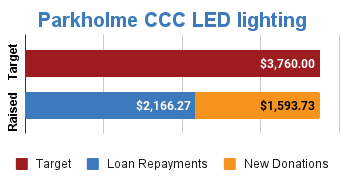 Status: Funded project – loan fully repaid
Loan amount: $3,760
Loan repayments: $400/quarter
Work details
– Replaced 61x 36W fluorescent lamps with 18W LED lamps (a 36W fluoro plus ballast uses around 46W)
– Replaced 8x 50W halogen downlights with 9W LED fittings (a 50W halogen downlight actually uses around 55W)
Cost: $3,760
Expected savings: 5,863kWh/year, $1,934/year
Reduction in carbon emissions/yr: Equivalent to 1.01 average households using renewable electricity instead of grid electricity
Honour roll
Thank you to the following people for donating to this project.
Date
Name
State
Amount
05/01/2016
Gawler repayment (part)
$1,266.27
05/01/2016
Christine Anderson
$500.00
04/01/2016
Jacinta Green
NSW
$5.00
04/01/2016
Tim Hartley
Vic
$50.00
04/01/2016
ww
Qld
$50.00
04/01/2016
Tom Halbert
NSW
$25.00
04/01/2016
Nannup repayment
$900.00
04/01/2016
Laquorious Dee
SA
$10.00
04/01/2016
David Castleford
SA
$8.00
31/12/2015
NB
Vic
$300.00
31/12/2015
Wayne Stanford
SA
$25.00
31/12/2015
Interest
$0.73
30/12/2015
Peter Wade
Qld
$11.00
30/12/2015
Hoadie
Vic
$25.00
29/12/2015
Dave & Denece Clarke
SA
$210.00
29/12/2015
Warwick Stone
Vic
$10.00
29/12/2015
Laquorious Dee
SA
$10.00
29/12/2015
David Castleford
SA
$8.00
29/12/2015
Anton Maurus
Vic
$35.00
28/12/2015
John Rolls
SA
$45.00
26/12/2015
Amie Blanden
SA
$10.00
25/12/2015
Peter Wade – Gift for Laura
Qld
$100.00
25/12/2015
Emma, Phillip, Koopa & Oliver
Qld
$100.00
24/12/2015
Robert A
NSW
$20.00
23/12/2015
Hoadie
Vic
$25.00
23/12/2015
Peter Wade
Qld
$11.00