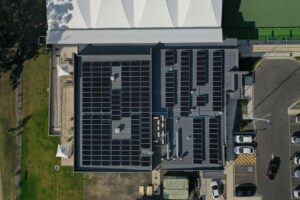 Want to find out more about applying for a project loan?
Project Loan Applications
CORENA provides interest-free loans to help fund climate projects anywhere in Australia in cases where the up-front capital cost is a barrier. Our knowledgeable team offer independent technical advice to overcome barriers to implementing cost-effective climate projects.
We welcome project loan applications from non-profits, community organisations and social enterprises and will also consider businesses or cooperatives with a social or environmental purpose.
Note that we favour projects that are cost effective and 'pay for themselves' in a reasonable time (with your loan repayments to us covered by your savings on bills).
Examples of Eligible Projects
CORENA encourages you to look at your energy use as a whole and apply for a combination of the above projects, potentially over a number of years, with the aim of becoming an all electric organisation.
If you have another project that reduces carbon emissions, that is not listed above, feel free to get in contact. We love to support innovative ideas!
Examples of Eligible Organisations
Non-profit organisations such as independent schools, community and neighbourhood centres, bowling clubs, sporting clubs, child care centres, aged care facilities, community housing cooperatives, social enterprises and office buildings are all usually great candidates for a carbon reduction project and a CORENA loan.
When you apply CORENA will check that you are;
A well established organisations that is likely to continue operating for many years.
An organisation that provides broad community benefit (eg. a church-run food bank is eligible, but a building used just for worship isn't).
An organisation that is consistent with our ethical considerations (eg. a sports club that has poker machines is not eligible).
If the applicant is a religious organisation, the project must be for non-proselytising activities that provide tangible benefits to the general public.
Climate and Budget Benefits
All of the above projects will significantly reduce your organisation's carbon emissions and a CORENA loan means your organisation can do this without the initial capital outlay.
In addition, the quarterly loan repayments are usually set to be a little less than the savings on your operating costs averaged over a year. This means you are not out of pocket and once your loan is fully repaid you reap the full financial benefit of having lower operating costs.
Solar installations and energy efficiency projects typically 'pay for themselves' in 3-7 years. In the case of electric vehicles or projects for getting off fossil gas, the payback time will depend heavily on the project details.
Gaining support from others in your organisation
To explain how a CORENA loan works to others in your organisation you may wish to take this info sheet along to a meeting of your committee or use it to encourage a local organisation to apply for a CORENA loan.
Most solar projects and many energy efficiency and electric vehicle projects offer excellent returns to your organisation. CORENA can help gain the support of your board/committee or internal finance departments by helping you prepare a business case for your project. We can also help you answer all of the questions that others in your organisation might have about the project.
The Project Process
1. Contact CORENA to discuss your project and your organisation's eligibility.
The CORENA committee will consider the organisation and the proposed project and give in principle approval to develop the project at this point.
3. Discuss project details with CORENA and obtain quotes from local providers.
Send your quotes to CORENA. We will assist by checking the quotes meet our standards and price expectations. CORENA will calculate the estimated savings and discuss the loan repayment schedule with you. At this stage we can help you by providing independent technical assistance to work out the best options for you.
4. Join the funding queue
If we have funds available from previous repayments we may be able to fund your project straight away. If not, you will join the project queue and we will actively fundraise for your project. During the fundraising stage, we encourage you to promote the fundraising campaign with your local community as people love to support a local project.
5. Implement your project!
Your board/committee gives final approval to go ahead and the CORENA committee gives their final approval. Once final approval is confirmed, you book in the installation and we will prepare a loan agreement for you to sign.
6. Promote your project
We will ask you to send us photos of the completed project so we can promote it in a media release and on social media.
Ready to start your project?
The first step is to contact us to discuss your project.
To apply for a project loan, please fill in and submit the online Expression of Interest form. Or, you can download the Expression of Interest form and fill it in offline.
Hear Cherie at Walpole Community Resource Centre in Western Australia talk about her experience applying for a loan with CORENA.
Walpole Community Resource Centre WA – Testimonial
Feedback
In early 2018 our community centre in Clunes NSW decided to invest in a 5kw Photovoltaic system for it's buildings. A 4 year no-interest loan was quickly organised through CORENA. These older buildings were for many years the local primary school, having educated many students from the 1880's to 1996. The community centre currently houses 6 permanent & a number of casual tenants. We have outdoor stages for events such as weddings, music & parties. A BBQ, half basketball court, kids cycle track, natural playground & gardens compliment the venue which is well utilised by the village residents. Under normal sunny conditions the PV system supplies all the power for the community centre with any excess going to our energy retailer Enova Energy. We are more than happy to recommend CORENA to any non-profit organisation who may be interested in a renewable energy system.

From Jim Edwards, Clunes Old School Association, on completion of repaying their loan in October 2020:

---
From Vicki Hawker of Tastex Knitwear and Uniforms at completion of their solar loan repayments on 30/8/18
We would like to thank CORENA for the opportunity to have an interest free loan to purchase our solar system. As an NGO this has made it easy and affordable and has made our running costs go down for the Community Centre.

---

And from Sheryl Rasmussen, Centre Coordinator Ravenshoe Community Centre Inc on the occasion of completing payback of their CORENA solar loan:

Having the solar system has meant a reduction in electricity costs allowing more money to be spent on services and knowing that it reduces our carbon footprint is a great feeling.

From Heather Walch, Ravenshoe Community Centre, Qld, 11/9/17. This, our 6th project, installed a 3.89kW solar system.
---
With regular visits to our community garden from workshop attendees, open day participants, farmers' market customers and school groups, we take every opportunity to show off our 3.7kW solar energy system made possible by CORENA's no-interest loan. Such a luxury to have a fridge, electric urn, lights, power tools and electric mower & whipper snipper powered by the sun after ten years without power on-site. Thankyou to all the team at CORENA for making this possible. It's good to feel a part of the movement towards climate action.

From Jill Cochram, Moss Vale Community Garden, NSW, 16/9/17 about our 8th project installed in February 2016.

Request more information to learn how to reduce your carbon emissions & energy costs with a community-funded climate project:
---