---
Renewable Energy Project: Solar Panels
Greenbushes CRC provides Centrelink and Veteran Affairs services, Broadband for Seniors, IT services and training, Heath & wellness facilities, library facilities, Free Westlink broadcasts, Trans WA & South West Coach bookings, and Shire facilities for payments and bookings. They have a large training room for hire and use by community members, and offer school holiday programs, after school use of computers for homework, and study and general business services to the local and surrounding communities.
Website: https://www.greenbushes.crc.net.au/
Project story…
We originally expected this project would take longer than most of our projects to pay for itself (7.5 years) but Greensbushes CRC received some extra funding and they chose to pay back our loan in full after making just 3 of their quarterly repayments. Since then they of course have had lower operating costs than prior to the solar installation, and we've been able to use their early repayment to help fund subsequent projects.
This project has been fully funded – Thank you!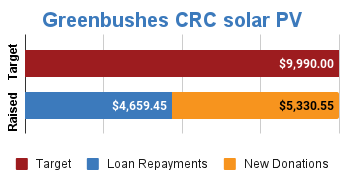 Status: Funded project – loan fully repaid
Loan amount: $9,990
Loan repayments: $348/quarter
Work details
5.04kW (18 x 280W) Solarworld solar panels on tilt frames
SMA inverter
Cost: $9,990
Expected savings: 7,665kWh/yr, $1,379/yr
Reduction in carbon emissions/yr: Equivalent to 1.38 average households using renewable electricity instead of grid electricity
Honour roll
Thank you to the following people for donating to this project.
| | | |
| --- | --- | --- |
| Date | Name | Amount |
| 24/02/2016 | Beechworth repay (part) | $64.72 |
| 24/02/2016 | Gawler repayment | $2,200.00 |
| 24/02/2016 | Hoadie | $25.00 |
| 23/02/2016 | Peter Wade | $15.00 |
| 23/02/2016 | ww | $50.00 |
| 22/02/2016 | David Castleford | $8.00 |
| 22/02/2016 | Laquorious Dee | $10.00 |
| 22/02/2016 | David Lloyd | $25.00 |
| 22/02/2016 | Elizabeth Whelan | $121.45 |
| 22/02/2016 | Robert A | $50.00 |
| 18/02/2016 | Jean Pierre Redestorff | $19.18 |
| 18/02/2016 | Tulgeen repayment | $1,000.00 |
| 17/02/2016 | Hoadie | $25.00 |
| 17/02/2016 | Chris Simmons | $10.00 |
| 16/02/2016 | Peter Wade | $15.00 |
| 16/02/2016 | Jonathan Maddox | $50.00 |
| 16/02/2016 | Marty Booth | $60.00 |
| 16/02/2016 | Michael | $100.00 |
| 15/02/2016 | David Castleford | $8.00 |
| 15/02/2016 | Laquorious Dee | $10.00 |
| 15/02/2016 | Jonathan Prendergast | $5.00 |
| 15/02/2016 | Anon | $5.00 |
| 12/02/2016 | Paulie | $20.00 |
| 11/02/2016 | Wayne Stanford | $25.00 |
| 11/02/2016 | Char Grainger | $10.00 |
| 10/02/2016 | DOB: flights | $1,200.00 |
| 10/02/2016 | Hoadie | $25.00 |
| 09/02/2016 | Peter Wade | $15.00 |
| 09/02/2016 | SW | $25.00 |
| 08/02/2016 | David Castleford | $8.00 |
| 08/02/2016 | Laquorious Dee | $10.00 |
| 04/02/2016 | Jacinta Green | $5.00 |
| 04/02/2016 | Wendy H | $100.00 |
| 03/02/2016 | Hoadie | $25.00 |
| 03/02/2016 | Margaret Gaita | $100.00 |
| 02/02/2016 | Peter Wade | $15.00 |
| 01/02/2016 | David Castleford | $8.00 |
| 01/02/2016 | Laquorious Dee | $10.00 |
| 01/02/2016 | Leanne – gift | $75.00 |
| 01/02/2016 | Tim H | $48.40 |
| 31/01/2016 | Interest | $0.26 |
| 28/01/2016 | Timothy Price | $500.00 |
| 28/01/2016 | John Rolls | $45.00 |
| 28/01/2016 | Wayne Stanford | $25.00 |
| 27/01/2016 | Peter Wade | $11.00 |
| 27/01/2016 | Hoadie | $25.00 |
| 27/01/2016 | Ben Elliston | $100.00 |
| 27/01/2016 | Anton Maurus | $35.00 |
| 25/01/2016 | David Castleford | $8.00 |
| 25/01/2016 | Laquorious Dee | $10.00 |
| 25/01/2016 | Amie Blanden | $10.00 |
| 25/01/2016 | Camden repayment | $673.00 |
| 22/01/2016 | Diamond referral bonus | $35.00 |
| 20/01/2016 | David Lloyd | $25.00 |
| 20/01/2016 | Nick Cumbo | $17.08 |
| 20/01/2016 | Peter Wade | $11.00 |
| 20/01/2016 | Hoadie | $25.00 |
| 19/01/2016 | Greens MPs (flights) | $1,760.00 |
| 19/01/2016 | Chris Simmons | $10.00 |
| 19/01/2016 | Warradale LED repayment | $238.00 |
| 18/01/2016 | David Castleford | $8.00 |
| 18/01/2016 | Laquorious Dee | $10.00 |
| 18/01/2016 | Jonathan Maddox | $50.00 |
| 18/01/2016 | Marty Booth | $60.00 |
| 18/01/2016 | Jean Pierre Redestorff | $19.18 |
| 14/01/2016 | Wayne Stanford | $25.00 |
| 14/01/2016 | Jonathan Prendergast | $5.00 |
| 13/01/2016 | Peter Wade | $11.00 |
| 13/01/2016 | Hoadie | $25.00 |
| 12/01/2016 | Paulie | $20.00 |
| 11/01/2016 | Char Grainger | $10.00 |
| 11/01/2016 | David Castleford | $8.00 |
| 11/01/2016 | Laquorious Dee | $10.00 |
| 08/01/2016 | SW | $25.00 |
| 06/01/2016 | Peter Wade | $11.00 |
| 06/01/2016 | Hoadie | $25.00 |
| 05/01/2016 | Gawler repayment (part) | $483.73 |