Renewable Energy Project: Solar Panels
Brimbank Bicycle provides Road Safety Education and Learn to Ride Programs for Pre-School and Primary Schools three days a week. They also conduct these programs for community groups such as scouts and guides on weekday evenings and at weekends. They conduct Riding Programs for the disabled with a fleet of special needs trikes and bikes on two days a week, and at weekends the facility is hired by families and other community groups for birthday parties and other functions. In total, between 400 and 500 people use the centre each week.
Website: www.brimbankbicycleed.com
Project story…
It was difficult to calculate the exact dollar savings for this project because the solar PV H/W is adding hot water availability that wasn't previously there and will be using excess solar PV generation to heat the water. However, the Brimbank Board offered to repay this loan in 5 years, with quarterly repayments of $550, even though it is unlikely they will actually save that much each quarter. Either way they are delighted to have our loan to make this project possible because they are aiming at setting a good example to their community.
This project has been fully funded – Thank you!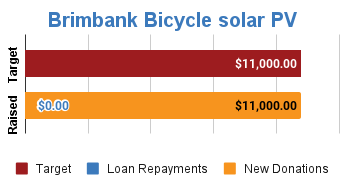 Status: Funded project – loan repayment in progress
Loan amount: $11,000
Loan repayments: $550/quarter
Work details
4.2kW solar PV
14 x LG MonoX2 300W panels
1 x SolarEdge SE4000 inverter
SE Energy Monitor
Solar PV Hot Water Timer
Solar PV Hot Water system

Cost: $11,000
Expected savings:
From solar PV: 6,122.23 kWh/year, $1,065/year
From solar PV hot water: Est. 3,650kWh/year, Approx $500/year
Total: 9,772kWh/year, $1,565/year
Reduction in carbon emissions/yr: Equivalent to 1.76 average households average households using renewable electricity instead of grid electricity
Honour roll
Thank you to the following people for donating to this project.
Date
Name
State
Amount
17/01/2017
Hugh Mallen – flights
Vic
$320.83
16/01/2017
Laquorious Dee
SA
$20.00
16/01/2017
David Castleford
SA
$10.00
16/01/2017
Peter Wade
Qld
$20.00
16/01/2017
Jonathan Maddox
NSW
$50.00
16/01/2017
Jonathan Prendergast
NSW
$5.00
12/01/2017
Wayne Stanford
SA
$30.00
12/01/2017
Paulie
SA
$25.00
11/01/2017
Char Grainger
Vic
$20.00
10/01/2017
Warwick Stone
Vic
$49.15
09/01/2017
Laquorious Dee
SA
$20.00
09/01/2017
David Castleford
SA
$10.00
09/01/2017
Peter Wade
Qld
$20.00
09/01/2017
SW
NSW
$25.00
04/01/2017
Jacinta Green
NSW
$5.00
04/01/2017
David Gibson
ACT
$250.00
03/01/2017
Laquorious Dee
SA
$20.00
03/01/2017
David Castleford
SA
$10.00
03/01/2017
Peter Wade
Qld
$20.00
03/01/2017
Tim Hartley
Vic
$50.00
03/01/2017
Ingo
SA
$100.00
03/01/2017
michael
NSW
$62.00
31/12/2016
Interest
$0.91
28/12/2016
Laquorious Dee
SA
$20.00
28/12/2016
David Castleford
SA
$10.00
28/12/2016
Peter Wade
Qld
$20.00
28/12/2016
Wayne Stanford
SA
$30.00
28/12/2016
John Rolls
SA
$45.00
28/12/2016
Anton Maurus
Vic
$35.00
28/12/2016
Margaret Gaita – travel
Vic
$500.00
26/12/2016
Anonymous
$85.00
22/12/2016
Simone Baird/Dhugal Fletcher
UK
$48.65
20/12/2016
David Lloyd
SA
$25.00
20/12/2016
Megan Andrew
Qld
$50.00
19/12/2016
Laquorious Dee
SA
$20.00
19/12/2016
David Castleford
SA
$10.00
19/12/2016
Peter Wade
Qld
$20.00
19/12/2016
Jean Pierre Redestorff
$19.48
19/12/2016
Chris Simmons
SA
$10.00
19/12/2016
Greens MPs – flights
$1,600.00
16/12/2016
Jonathan Maddox
NSW
$50.00
15/12/2016
Wayne Stanford
SA
$30.00
14/12/2016
Jonathan Prendergast
NSW
$5.00
12/12/2016
Laquorious Dee
SA
$20.00
12/12/2016
David Castleford
SA
$10.00
12/12/2016
Peter Wade
Qld
$20.00
12/12/2016
Paulie
SA
$25.00
12/12/2016
Char Grainger
Vic
$20.00
12/12/2016
Warwick Stone
Vic
$49.15
9/12/2016
SW
NSW
$25.00
5/12/2016
Wayne Stanford – xmas gifts
SA
$150.00
5/12/2016
Laquorious Dee
SA
$20.00
5/12/2016
David Castleford
SA
$10.00
5/12/2016
Peter Wade
Qld
$20.00
5/12/2016
Jacinta Green
NSW
$5.00
5/12/2016
David Gibson
ACT
$250.00
1/12/2016
Wayne Stanford
SA
$30.00
1/12/2016
Tim Hartley
Vic
$50.00
30/11/2016
Interest
$0.67
28/11/2016
Laquorious Dee
SA
$20.00
28/11/2016
David Castleford
SA
$10.00
28/11/2016
Peter Wade
Qld
$20.00
28/11/2016
John Rolls
SA
$45.00
28/11/2016
Anton Maurus
Vic
$35.00
26/11/2016
Anonymous
$85.00
25/11/2016
Amie Blanden
SA
$10.00
24/11/2016
NB
Vic
$55.00
21/11/2016
Laquorious Dee
SA
$20.00
21/11/2016
David Castleford
SA
$10.00
21/11/2016
Peter Wade
Qld
$20.00
21/11/2016
David Lloyd
SA
$25.00
21/11/2016
Megan Andrew
Qld
$50.00
18/11/2016
Jean Pierre Redestorff
$19.48
17/11/2016
Wayne Stanford
SA
$30.00
17/11/2016
Chris Simmons
SA
$10.00
16/11/2016
Nick Cumbo
Vic
$4.73
16/11/2016
Jonathan Maddox
NSW
$50.00
16/11/2016
Marek Ondrus
Qld
$9.59
15/11/2016
Ellen
Tas
$200.00
15/11/2016
michael
NSW
$100.00
14/11/2016
Laquorious Dee
SA
$20.00
14/11/2016
David Castleford
SA
$10.00
14/11/2016
Peter Wade
Qld
$20.00
14/11/2016
Jonathan Prendergast
NSW
$5.00
14/11/2016
Paulie
SA
$25.00
11/11/2016
Char Grainger
Vic
$20.00
10/11/2016
Nick Cumbo
Vic
$6.49
10/11/2016
Kaz
NSW
$25.00
10/11/2016
Warwick Stone
Vic
$49.15
9/11/2016
SW
NSW
$25.00
7/11/2016
Laquorious Dee
SA
$20.00
7/11/2016
David Castleford
SA
$10.00
7/11/2016
Peter Wade
Qld
$20.00
7/11/2016
Peacock Family
SA
$100.00
4/11/2016
Jacinta Green
NSW
$5.00
3/11/2016
Wayne Stanford
SA
$30.00
3/11/2016
Greens MPs – flights
$1,600.00
1/11/2016
Tim Hartley
Vic
$50.00
31/10/2016
Laquorious Dee
SA
$20.00
31/10/2016
David Castleford
SA
$10.00
31/10/2016
Peter Wade
Qld
$20.00
31/10/2016
Interest
$2.00
29/10/2016
Dave Clarke
SA
$210.00
28/10/2016
John Rolls
SA
$45.00
26/10/2016
Anonymous
$85.00
26/10/2016
Anton Maurus
Vic
$35.00
25/10/2016
Amie Blanden
SA
$10.00
24/10/2016
Laquorious Dee
SA
$20.00
24/10/2016
David Castleford
SA
$10.00
24/10/2016
Peter Wade
Qld
$20.00
20/10/2016
Wayne Stanford
SA
$30.00
20/10/2016
David Lloyd
SA
$25.00
18/10/2016
Jean Pierre Redestorff
$19.48
17/10/2016
Laquorious Dee
SA
$20.00
17/10/2016
David Castleford
SA
$10.00
17/10/2016
Peter Wade
Qld
$20.00
17/10/2016
Jonathan Maddox
NSW
$50.00
17/10/2016
Chris Simmons
SA
$10.00
14/10/2016
Jonathan Prendergast
NSW
$5.00
12/10/2016
Hoadie
Vic
$25.00
12/10/2016
Paulie
SA
$25.00
11/10/2016
Hugh Mallen – flights
Vic
$650.00
11/10/2016
Char Grainger
Vic
$20.00
10/10/2016
Laquorious Dee
SA
$20.00
10/10/2016
David Castleford
SA
$10.00
10/10/2016
Peter Wade
Qld
$20.00
10/10/2016
Hugh Mallen – flights
Vic
$1,500.00
10/10/2016
Warwick Stone
Vic
$49.15
7/10/2016
SW
NSW
$25.00
6/10/2016
Wayne Stanford
SA
$30.00
4/10/2016
Jacinta Green
NSW
$5.00
3/10/2016
Laquorious Dee
SA
$20.00
3/10/2016
David Castleford
SA
$10.00
3/10/2016
Peter Wade
Qld
$20.00
3/10/2016
SysPro
Vic
$98.60
3/10/2016
Tim Hartley
Vic
$50.00
30/09/2016
Interest
$0.91
28/09/2016
John Rolls
SA
$45.00
28/09/2016
Hoadie
Vic
$25.00
28/09/2016
Nick Cumbo
Vic
$2.77
26/09/2016
Anonymous
$85.00
26/09/2016
Margaret Gaita
Vic
$100.00
26/09/2016
Laquorious Dee
SA
$20.00
26/09/2016
David Castleford
SA
$10.00
26/09/2016
Peter Wade
Qld
$20.00
26/09/2016
Anton Maurus
Vic
$35.00
25/09/2016
Amie Blanden
SA
$10.00
24/09/2016
Ben Elliston (part)
ACT
$0.93
23/09/2016
Jean Pierre Redestorff
$19.48