Renewable Energy Project: Solar Panels
Coastal FM operates a professionally built studio complex in Wynyard with 3 transmitters covering the NW Coast of Tassie from Smithton to Launceston. It is a community radio station operated by a core of 12 on-air volunteer staff with an average age of 65 who provide 24/7 production for an approximate audience of 40-50,000 listeners for a variety of different programs.
Website: http://www.coastfm.org/
Project story…
This Quick Win project was for solar PV for the Coast FM transmitter at Table Cape. Their aim was to reduce emissions from both their Wynyard studio and their transmitters, but we started with the Table Cape transmitter because they had hopes of receiving a grant for solar for the studio. When that ultimately didn't happen we later gave them a separate CORENA loan for solar PV at their studio as well.
This project is fully funded – Thank you!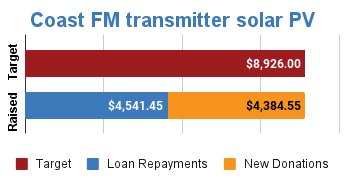 Status: Funded project – loan repayment in progress
Loan amount: $8,926
Loan repayments: $400/quarter
Work details
5.28kW solar PV:
– 16 x LG NeOn 330 watt panels
– SolarEdge SE5000 inverter
– Solar Edge P350i Optimisers
– tilt frames
Cost: $8,926
Expected savings: 6,105 kWh/year, $1,594/year
Reduction in carbon emissions/yr: Equivalent to 1.10 average households using renewable electricity instead of grid electricity
Honour roll
Thank you to the following people for donating to this project.
| | | |
| --- | --- | --- |
| Date | Name | Amount |
| 23/03/2017 | Wayne Stanford | $12.73 |
| 23/03/2017 | CBB breakfast talk | $290.00 |
| 20/03/2017 | Laquorious Dee | $20.00 |
| 20/03/2017 | David Castleford | $10.00 |
| 20/03/2017 | Peter Wade | $20.00 |
| 20/03/2017 | David Lloyd | $25.00 |
| 20/03/2017 | Jean Pierre Redestorff | $19.48 |
| 17/03/2017 | Tastex repayment | $4,541.45 |
| 17/03/2017 | Chris Simmons | $10.00 |
| 16/03/2017 | Jonathan Maddox | $50.00 |
| 14/03/2017 | Jonathan Prendergast | $5.00 |
| 13/03/2017 | Laquorious Dee | $20.00 |
| 13/03/2017 | David Castleford | $10.00 |
| 13/03/2017 | Peter Wade | $20.00 |
| 13/03/2017 | Paulie | $25.00 |
| 13/03/2017 | Char Grainger | $20.00 |
| 10/03/2017 | Warwick Stone | $49.15 |
| 09/03/2017 | Wayne Stanford | $30.00 |
| 09/03/2017 | SW | $25.00 |
| 06/03/2017 | Laquorious Dee | $20.00 |
| 06/03/2017 | David Castleford | $10.00 |
| 06/03/2017 | Peter Wade | $20.00 |
| 06/03/2017 | Jacinta Green | $5.00 |
| 06/03/2017 | David Gibson | $250.00 |
| 03/03/2017 | Michael | $62.00 |
| 01/03/2017 | Tim Hartley | $50.00 |
| 01/03/2017 | Ingo | $100.00 |
| 01/03/2017 | Tony Hardy | $50.00 |
| 01/03/2017 | Elisabeth Childs | $100.00 |
| 01/03/2017 | Peter Procailo | $100.00 |
| 28/02/2017 | Interest | $4.72 |
| 27/02/2017 | Laquorious Dee | $20.00 |
| 27/02/2017 | David Castleford | $10.00 |
| 27/02/2017 | Peter Wade | $20.00 |
| 27/02/2017 | Anton Maurus | $35.00 |
| 26/02/2017 | Anonymous | $85.00 |
| 24/02/2017 | John Saint-Smith | $100.00 |
| 23/02/2017 | Wayne Stanford | $30.00 |
| 20/02/2017 | Laquorious Dee | $20.00 |
| 20/02/2017 | David Castleford | $10.00 |
| 20/02/2017 | Peter Wade | $20.00 |
| 20/02/2017 | David Lloyd | $25.00 |
| 20/02/2017 | Megan Andrew | $50.00 |
| 20/02/2017 | Jean Pierre Redestorff | $19.48 |
| 17/02/2017 | Chris Simmons | $10.00 |
| 17/02/2017 | Probus Club Eden Hills | $50.00 |
| 17/02/2017 | Max Jeffries | $29.37 |
| 16/02/2017 | Jonathan Maddox | $50.00 |
| 14/02/2017 | Jonathan Prendergast | $5.00 |
| 14/02/2017 | Happy Anniversary Kay & Rob | $450.00 |
| 13/02/2017 | Laquorious Dee | $20.00 |
| 13/02/2017 | David Castleford | $10.00 |
| 13/02/2017 | Peter Wade | $20.00 |
| 13/02/2017 | Paulie | $25.00 |
| 13/02/2017 | Char Grainger | $20.00 |
| 13/02/2017 | Gavin Varian | $98.60 |
| 10/02/2017 | Warwick Stone | $49.15 |
| 09/02/2017 | Wayne Stanford | $30.00 |
| 09/02/2017 | SW | $25.00 |
| 09/02/2017 | michael – one panel | $450.00 |
| 06/02/2017 | Laquorious Dee | $20.00 |
| 06/02/2017 | David Castleford | $10.00 |
| 06/02/2017 | Peter Wade | $20.00 |
| 06/02/2017 | Jacinta Green | $5.00 |
| 06/02/2017 | David Gibson | $250.00 |
| 06/02/2017 | Myf White | $10.00 |
| 03/02/2017 | Michael | $62.00 |
| 01/02/2017 | Tim Hartley | $50.00 |
| 01/02/2017 | Ingo | $100.00 |
| 31/01/2017 | Interest | $1.68 |
| 30/01/2017 | Laquorious Dee | $20.00 |
| 30/01/2017 | David Castleford | $10.00 |
| 30/01/2017 | Peter Wade | $20.00 |
| 27/01/2017 | Wayne Stanford | $30.00 |
| 27/01/2017 | Anton Maurus | $35.00 |
| 26/01/2017 | Anonymous | $85.00 |
| 23/01/2017 | Laquorious Dee | $20.00 |
| 23/01/2017 | David Castleford | $10.00 |
| 23/01/2017 | Peter Wade | $20.00 |
| 20/01/2017 | David Lloyd | $25.00 |
| 20/01/2017 | Megan Andrew | $50.00 |
| 20/01/2017 | NB | $200.00 |
| 18/01/2017 | Jean Pierre Redestorff | $19.48 |
| 17/01/2017 | Chris Simmons | $10.00 |
| 17/01/2017 | Hugh Mallen – flights | $49.17 |