Renewable Energy Project: Solar Panels
Apprenticeships Queensland (AQ) offers opportunities for apprentices and trainees across a broad range of vocational areas as well as recruitment and training solutions for AQ partner businesses. AQ is a not-for-profit, community based company governed by a Board of Directors and currently employs several hundred apprentices, trainees and support staff.
Website: http://www.apprenticeshipsqld.com.au/
Project story…
This 30kW solar project proved to be amazingly quick and easy to organise, which was wonderful for the time-poor voluntary workers who organise our projects. Many of our projects are for NFPs that have a volunteer Board which meets infrequently but which needs to give approval every step of the way. In AQ's case the CEO could make all the necessary decisions. The process from receipt of their EOI, our technical assessment of their quote, locking in the installation, and signing of our loan agreement only took a few days.
This project is fully funded – Thank you!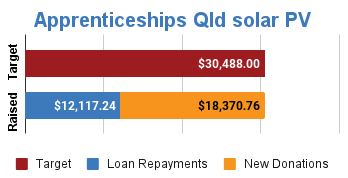 Status: Funded project – loan repayment completed
Loan amount: $30,488
Loan repayments: $2,400/quarter
Work details
System size: 38.08 kW
Solar panels: 136 x Q-CELLS Q.Prime 280W
Inverters: 2 x Fronius Symo 15kW
Racking: Clenergy Solar monitoring
AGL Solar Command
Cost: $30,488 + GST ($33,537), with them paying and then claiming back the GST component
Expected savings: 55,925 kWh/year, $11,994/year
Reduction in carbon emissions/yr: Equivalent to 10.08 average households using renewable electricity instead of grid electricity
Honour roll
Thank you to the following people for donating to this project.
Date
Name
State
Amount
31/07/2017
Laquorious Dee
SA
$20.00
31/07/2017
David Castleford
SA
$10.00
31/07/2017
Tim Hartley
Vic
$50.00
31/07/2017
Jacinta Green
$5.00
31/07/2017
Interest
$4.09
27/07/2017
Wayne Stanford
SA
$30.00
27/07/2017
Michael Benson + Matching
SA
$20.00
27/07/2017
Yack Health repayment (part)
$404.24
26/07/2017
Anton Maurus
Vic
$35.00
24/07/2017
Laquorious Dee
SA
$20.00
24/07/2017
David Castleford
SA
$10.00
24/07/2017
Camden repayment
$673.00
20/07/2017
David Lloyd
SA
$25.00
19/07/2017
Peacock family + matching
SA
$200.00
18/07/2017
Jean Pierre Redestorff
$19.48
17/07/2017
Laquorious Dee
SA
$20.00
17/07/2017
David Castleford
SA
$10.00
17/07/2017
Chris Simmons
SA
$10.00
17/07/2017
Jonathan Maddox
NSW
$50.00
14/07/2017
Jonathan Prendergast
NSW
$5.00
13/07/2017
Wayne Stanford
SA
$30.00
12/07/2017
Paulie
SA
$25.00
11/07/2017
Char Grainger
Vic
$20.00
10/07/2017
Laquorious Dee
SA
$20.00
10/07/2017
David Castleford
SA
$10.00
10/07/2017
Warwick Stone
Vic
$49.15
07/07/2017
SW
NSW
$25.00
07/07/2017
Warradale repayment
$761.00
07/07/2017
Parkeholme repayment
$400.00
04/07/2017
David Gibson
ACT
$250.00
04/07/2017
Brimbank repayment
$550.00
03/07/2017
Laquorious Dee
SA
$20.00
03/07/2017
David Castleford
SA
$10.00
03/07/2017
Tim Hartley
Vic
$50.00
03/07/2017
Ingo
SA
$100.00
03/07/2017
Julie Fuss + Matching
SA
$19.53
03/07/2017
Kate Read + Matching
NSW
$500.00
03/07/2017
Michael
NSW
$62.00
03/07/2017
Nannup repayment
$900.00
30/06/2017
JR – + Matching
SA
$400.00
30/06/2017
Interest
$1.09
29/06/2017
Wayne Stanford
SA
$30.00
29/06/2017
Jacinta Green
$5.00
28/06/2017
Michael
NSW
$277.00
27/06/2017
Greens MPs – flights
$1,600.00
27/06/2017
Michael Benson + Matching
SA
$20.00
27/06/2017
Dane + Matching
Tas
$200.00
27/06/2017
PB + Matching
Qld
$400.00
26/06/2017
Laquorious Dee
SA
$20.00
26/06/2017
David Castleford
SA
$10.00
26/06/2017
Anton Maurus
Vic
$35.00
22/06/2017
Karen Hamilton + Matching
SA
$100.00
22/06/2017
Matthew Curnow + Matching
SA
$40.00
21/06/2017
Pandimensional + Matching
Qld
$1200.00
21/06/2017
Fraser Argue + Matching
ACT
$400.00
20/06/2017
CR + Matching
SA
$400.00
20/06/2017
David Lloyd
SA
$25.00
19/06/2017
Laquorious Dee
SA
$20.00
19/06/2017
David Castleford
SA
$10.00
19/06/2017
Jean Pierre Redestorff
$19.48
19/06/2017
Chris Simmons
SA
$10.00
19/06/2017
R Monk + Matching
Vic
$50.00
16/06/2017
Jonathan Maddox
NSW
$50.00
16/06/2017
Tastex repayment
$2,000.00
15/06/2017
Wayne Stanford
SA
$30.00
15/06/2017
Moss Vale repayment
$300.00
14/06/2017
Jonathan Prendergast
NSW
$5.00
12/06/2017
Laquorious Dee
SA
$20.00
12/06/2017
David Castleford
SA
$10.00
12/06/2017
Wayne Stanford + Matching
SA
$400.00
12/06/2017
Paulie
SA
$25.00
12/06/2017
Char Grainger
Vic
$20.00
12/06/2017
Warwick Stone
Vic
$49.15
09/06/2017
SW
NSW
$25.00
07/06/2017
PB + Matching
Qld
$400.00
07/06/2017
Ravenshoe repayment
$855.00
06/06/2017
TR + Matching
SA
$400.00
05/06/2017
Laquorious Dee
SA
$20.00
05/06/2017
David Castleford
SA
$10.00
05/06/2017
David Gibson
ACT
$250.00
05/06/2017
Michael
NSW
$62.00
05/06/2017
Fraser Argue + Matching
ACT
$700.00
01/06/2017
Wayne Stanford
SA
$30.00
01/06/2017
Tim Hartley
Vic
$50.00
01/06/2017
Ingo
SA
$100.00
01/06/2017
Ben Elliston + Matching
ACT
$400.00
31/05/2017
Interest
$0.81
29/05/2017
Laquorious Dee
SA
$20.00
29/05/2017
David Castleford
SA
$10.00
29/05/2017
Jacinta Green
$5.00
29/05/2017
Tim Kerslake + Matching
ACT
$5.67
26/05/2017
Anton Maurus
Vic
$35.00
26/05/2017
Anonymous
$85.00
26/05/2017
Beechworth repayment
$770.00
22/05/2017
Laquorious Dee
SA
$20.00
22/05/2017
David Castleford
SA
$10.00
22/05/2017
David Lloyd
SA
$25.00
22/05/2017
Chris Barratt + Matching
SA
$200.00
22/05/2017
Interchange + Matching
Qld
$200.00
18/05/2017
Wayne Stanford
SA
$30.00
18/05/2017
Jean Pierre Redestorff
$19.48
17/05/2017
Chris Simmons
SA
$10.00
16/05/2017
Jonathan Maddox
NSW
$50.00
16/05/2017
David Hamilton + Matching
Vic
$400.00
15/05/2017
Laquorious Dee
SA
$20.00
15/05/2017
David Castleford
SA
$10.00
15/05/2017
Peter Wade
Qld
$20.00
15/05/2017
Jonathan Prendergast
NSW
$5.00
15/05/2017
Paul N + Matching
SA
$158.82
15/05/2017
Michael Dwyer + Matching
SA
$39.48
15/05/2017
Dave Clarke + Matching
SA
$400.00
15/05/2017
Bill Gresham + Matching
ACT
$400.00
12/05/2017
PB friend + Matching
Qld
$400.00
12/05/2017
Paulie
SA
$25.00
11/05/2017
Char Grainger
Vic
$20.00
10/05/2017
Warwick Stone
Vic
$49.15
09/05/2017
SW
NSW
$25.00
08/05/2017
PB + Matching
Qld
$200.00
08/05/2017
Laquorious Dee
SA
$20.00
08/05/2017
David Castleford
SA
$10.00
08/05/2017
Peter Wade
Qld
$20.00
08/05/2017
Pegasus repayment
$320.00
04/05/2017
Wayne Stanford
SA
$30.00
04/05/2017
David Gibson
ACT
$250.00
04/05/2017
PB
Qld
$160.00
03/05/2017
Michael
NSW
$62.00
03/05/2017
michael – one panel
NSW
$450.00
01/05/2017
Laquorious Dee
SA
$20.00
01/05/2017
David Castleford
SA
$10.00
01/05/2017
Peter Wade
Qld
$20.00
01/05/2017
Tim Hartley
Vic
$50.00
01/05/2017
Ingo
SA
$100.00
01/05/2017
Jacinta Green
$5.00
01/05/2017
David, Kingsville
Vic
$100.00
01/05/2017
Greens MPs – flights
$1,600.00
30/04/2017
Interest
$0.56
27/04/2017
Penelope Clark
Tas
$49.15
26/04/2017
Anton Maurus
Vic
$35.00
26/04/2017
Anonymous
$85.00
24/04/2017
Laquorious Dee
SA
$20.00
24/04/2017
David Castleford
SA
$10.00
24/04/2017
Peter Wade
Qld
$20.00
24/04/2017
Jean Pierre Redestorff
$19.48
24/04/2017
Camden repayment
$673.00
20/04/2017
Wayne Stanford
SA
$30.00
20/04/2017
David Lloyd
SA
$25.00
18/04/2017
Laquorious Dee
SA
$20.00
18/04/2017
David Castleford
SA
$10.00
18/04/2017
Peter Wade
Qld
$20.00
18/04/2017
Jonathan Maddox
NSW
$50.00
18/04/2017
Jonathan Prendergast
NSW
$5.00
18/04/2017
Wendy H
Qld
$100.00
18/04/2017
David Hamilton
Vic
$200.00
18/04/2017
Tom Hunt
NSW
$100.00
18/04/2017
Peacock family
SA
$100.00
18/04/2017
Chris Simmons
SA
$10.00
12/04/2017
Paulie
SA
$25.00
11/04/2017
Char Grainger
Vic
$20.00
10/04/2017
Laquorious Dee
SA
$20.00
10/04/2017
David Castleford
SA
$10.00
10/04/2017
Peter Wade
Qld
$20.00
10/04/2017
Warwick Stone
Vic
$49.15
07/04/2017
SW
NSW
$25.00
07/04/2017
Warradale repayment
$761.00
07/04/2017
Parkeholme repayment
$400.00
07/04/2017
Yack Health repayment
$1,000.00
06/04/2017
Wayne Stanford
SA
$30.00
06/04/2017
Riwka32
Vic
$100.00
04/04/2017
David Gibson
ACT
$250.00
04/04/2017
Tim Hartley
Vic
$50.00
03/04/2017
Laquorious Dee
SA
$20.00
03/04/2017
David Castleford
SA
$10.00
03/04/2017
Peter Wade
Qld
$20.00
03/04/2017
Michael
NSW
$62.00
03/04/2017
Ingo
SA
$100.00
03/04/2017
Nannup repayment
$900.00
31/03/2017
Interest
$4.07
30/03/2017
Robert
Vic
$25.00
30/03/2017
Tim Kerslake
ACT
$4.64
29/03/2017
Jacinta Green
$5.00
28/03/2017
Kulchajam repayment
$450.00
27/03/2017
Laquorious Dee
SA
$20.00
27/03/2017
David Castleford
SA
$10.00
27/03/2017
Peter Wade
Qld
$20.00
27/03/2017
Anton Maurus
Vic
$35.00
26/03/2017
Anonymous
$85.00
23/03/2017
Christine Anderson
SA
$500.00
23/03/2017
Gift for Monica Ahn
NSW
$100.00
23/03/2017
Wayne Stanford
SA
$17.27