Mansfield Kindergarten is a not for profit, community run organisation that has been providing quality early childhood education to local families for the past 65 years. For many, the kindergarten is an introduction to local community life, with many in the town having had direct or indirect involvement. The kindergarten's program has a strong emphasis on the natural environment, with a highlight being the 4 year old Earth Kinder program.
Website: https://mansfieldkindergarten.com.au/
Project story…
Mansfield Kindergarten wanted to install solar PV, partly to introduce environmental and sustainable initiatives to their young students and their families, and also to assist with the long term financial viability of the kindergarten.
The payback period on this project is a bit over 5 years, partly due electricity costs in Victoria being lower than in most states, and partly because their old building required some extra wiring work to support the solar installation.
This project has been fully funded – Thank you!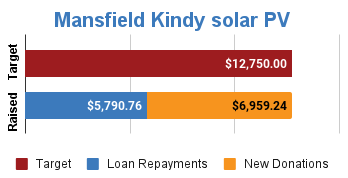 Status: Funded project – loan repayment in progress
Loan amount: $12,750
Loan repayments: $600/quarter
Work details
System size: 8.125kW
Solar Panels: 25 x LG Mono NeON2 325WMono panels
Inverter: Fronius FROSYMO8.2-3-M 3 phase inverter 8.2 KW
South Facing roof at an angle of approx. 30 degrees. North on tilt legs.
Switchboard rewiring.

Cost: $12,750
Expected savings: 12,317kWh/year, $2,761/year
Reduction in carbon emissions/yr: Equivalent to 2.22 average households using renewable electricity instead of grid electricity
Honour roll
Thank you to the following people for donating to this project.
| | | |
| --- | --- | --- |
| Date | Name | Amount |
| 5/10/2017 | Fraser Argue (part) | $31.00 |
| 5/10/2017 | Margaret Gaita | $500.00 |
| 5/10/2017 | Wayne Stanford | $30.00 |
| 4/10/2017 | David Gibson | $250.00 |
| 3/10/2017 | Michael | $62.00 |
| 3/10/2017 | Tim Hartley | $50.00 |
| 3/10/2017 | Jan | $50.00 |
| 3/10/2017 | Brimbank Bicycle repayment | $550.00 |
| 2/10/2017 | David Castleford | $10.00 |
| 2/10/2017 | Laquorious Dee | $20.00 |
| 2/10/2017 | R Monk | $25.00 |
| 2/10/2017 | Ingo Weber | $100.00 |
| 2/10/2017 | Nannup loan repayment | $900.00 |
| 30/09/2017 | Interest | $0.34 |
| 29/09/2017 | Jacinta Green | $5.00 |
| 27/09/2017 | Michael Benson | $10.00 |
| 27/09/2017 | Haley and John Harrop | $70.00 |
| 26/09/2017 | Anton Maurus | $35.00 |
| 25/09/2017 | David Castleford | $10.00 |
| 25/09/2017 | Laquorious Dee | $20.00 |
| 25/09/2017 | Jonathan Prendergast | $5.00 |
| 25/09/2017 | Michael | $700.00 |
| 21/09/2017 | Wayne Stanford | $30.00 |
| 20/09/2017 | Tim Kerslake | $2.17 |
| 20/09/2017 | David Lloyd | $25.00 |
| 20/09/2017 | Trev McDonald | $50.00 |
| 18/09/2017 | David Castleford | $10.00 |
| 18/09/2017 | Laquorious Dee | $20.00 |
| 18/09/2017 | Lani | $30.00 |
| 18/09/2017 | Jean Pierre Redestorff | $19.48 |
| 18/09/2017 | Chris Simmons | $10.00 |
| 18/09/2017 | Jonathan Maddox | $50.00 |
| 15/09/2017 | Moss Vale Loan repayment | $300.00 |
| 14/09/2017 | Jonathan Prendergast | $5.00 |
| 14/09/2017 | Tim Kerslake | $5.14 |
| 13/09/2017 | Kathleen and Greg Mohr | $30.00 |
| 12/09/2017 | Paulie | $25.00 |
| 11/09/2017 | David Castleford | $10.00 |
| 11/09/2017 | Laquorious Dee | $20.00 |
| 11/09/2017 | Jonathan Prendergast | $5.00 |
| 11/09/2017 | Warwick Stone | $49.15 |
| 11/09/2017 | Char Grainger | $20.00 |
| 11/09/2017 | Amanda, Kane & Ethan Lovick | $150.00 |
| 11/09/2017 | R Monk | $25.00 |
| 08/09/2017 | SW | $25.00 |
| 07/09/2017 | Wayne Stanford | $30.00 |
| 07/09/2017 | Grunty Weetie, for Brunhilda | $25.00 |
| 07/09/2017 | Tastex loan repayment | $1,500.00 |
| 07/09/2017 | Anon | $10.00 |
| 06/09/2017 | Michael | $100.00 |
| 05/09/2017 | small donor, Mansfield | $50.00 |
| 05/09/2017 | Ravenshoe loan repayment | $855.00 |
| 04/09/2017 | David Castleford | $10.00 |
| 04/09/2017 | Laquorious Dee | $20.00 |
| 04/09/2017 | David Gibson | $250.00 |
| 04/09/2017 | Michael | $62.00 |
| 04/09/2017 | Helen Knight | $100.00 |
| 01/09/2017 | Ingo Weber | $100.00 |
| 01/09/2017 | Tim Hartley | $50.00 |
| 31/08/2017 | Simon Norman | $685.00 |
| 31/08/2017 | Interest | $3.87 |
| 29/08/2017 | Jacinta Green | $5.00 |
| 29/08/2017 | Bill | $200.00 |
| 28/08/2017 | David Castleford | $10.00 |
| 28/08/2017 | Laquorious Dee | $20.00 |
| 28/08/2017 | David Hamilton – 1 panel | $450.00 |
| 28/08/2017 | Jonathan Prendergast | $5.00 |
| 28/08/2017 | Michael Benson | $10.00 |
| 28/08/2017 | Anton Maurus | $35.00 |
| 25/08/2017 | Beechworth repayment | $770.00 |
| 24/08/2017 | Wayne Stanford | $30.00 |
| 21/08/2017 | David Castleford | $10.00 |
| 21/08/2017 | Laquorious Dee | $20.00 |
| 21/08/2017 | Lani Westcott | $34.31 |
| 21/08/2017 | David Lloyd | $25.00 |
| 18/08/2017 | Jean Pierre Redestorff | $19.48 |
| 17/08/2017 | Chris Simmons | $10.00 |
| 16/08/2017 | Jonathan Maddox | $50.00 |
| 15/08/2017 | Ben Elliston | $200.00 |
| 15/08/2017 | Pegasus loan repayment | $320.00 |
| 14/08/2017 | David Castleford | $10.00 |
| 14/08/2017 | Laquorious Dee | $20.00 |
| 14/08/2017 | Michael | $300.00 |
| 14/08/2017 | Paulie | $25.00 |
| 14/08/2017 | Jonathan Prendergast | $5.00 |
| 14/08/2017 | Jonathan Prendergast | $5.00 |
| 11/08/2017 | Andrew Setchell, Laura Carter | $450.00 |
| 11/08/2017 | Warwick Stone | $49.15 |
| 11/08/2017 | Lani Westcott | $49.15 |
| 11/08/2017 | Char Grainger | $20.00 |
| 10/08/2017 | Wayne Stanford | $30.00 |
| 09/08/2017 | SW | $25.00 |
| 07/08/2017 | Robert A | $50.00 |
| 07/08/2017 | David Castleford | $10.00 |
| 07/08/2017 | Laquorious Dee | $20.00 |
| 04/08/2017 | Margaret P-Newton | $250.00 |
| 04/08/2017 | David Gibson | $250.00 |
| 03/08/2017 | Michael | $62.00 |
| 01/08/2017 | Ingo Weber | $100.00 |
| 27/07/2017 | Yack Health repayment | $595.76 |