Renewable Energy Project: Solar Panels
The Clunes Old School Association (COSA) manages the old school building at Clunes, near Lismore in NSW, as a local community centre for the benefit of the community. The grounds are open for public use, rooms are used for classes and events, and some are rented to local artisans and businesses.
Website: http://www.clunesoldschool.org/
Project story…
We expected this 4.8kW solar installation would take 5.5 years to pay for itself because the building does not have particularly high daytime use. However, every quarter COSA has been repaying a higher amount than that specified in our loan agreement because they are keen to have their repayments assist with funding other CORENA carbon reduction projects. Accordingly they are likely to complete paying back their loan in less than 3 years. Thank you COSA!
This project is fully funded – Thank you!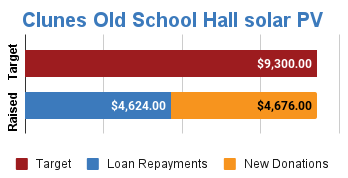 Status: Funded project – loan repayment completed
Loan amount: $9,300
Loan repayments: $420/quarter

Work details
4.875kW installation:
15 x Suntech STP325-24/VFW
15 x S270 Enphase Micro Inverters
1 x Envoy S Metered (Monitoring)
DPA Solar Roof Mount Racking
Three Phase Meter
Cost: $9,300
Expected savings: $1,525/year, approx 7,000kWh/year
Reduction in carbon emissions/yr: Equivalent to 1.26 average households using renewable electricity instead of grid electricity
Honour roll
Thank you to the following people for donating to this project.
| | | |
| --- | --- | --- |
| Date | Name | Amount |
| 18/12/2017 | Jonathan Prendergast | $5.00 |
| 18/12/2017 | Laquorious Dee | $20.00 |
| 18/12/2017 | David Castleford | $10.00 |
| 18/12/2017 | Jean Pierre Redestorff | $19.48 |
| 18/12/2017 | Jonathan Maddox | $50.00 |
| 18/12/2017 | Ben | $200.00 |
| 18/12/2017 | Anon | $0.03 |
| 15/12/2017 | Moss Vale repayment | $300.00 |
| 14/12/2017 | Jonathan Prendergast | $5.00 |
| 14/12/2017 | Wayne Stanford | $30.00 |
| 14/12/2017 | gift for Christine Stanford | $50.00 |
| 14/12/2017 | gift for Marion Stanford | $50.00 |
| 14/12/2017 | gift for Graham Stanford | $50.00 |
| 13/12/2017 | Wendy H | $100.00 |
| 12/12/2017 | Paulie | $25.00 |
| 12/12/2017 | Char Grainger | $20.00 |
| 11/12/2017 | Laquorious Dee | $20.00 |
| 11/12/2017 | David Castleford | $10.00 |
| 11/12/2017 | Warwick Stone | $49.15 |
| 8/12/2017 | SW | $25.00 |
| 7/12/2017 | Paul | $25.00 |
| 4/12/2017 | Laquorious Dee | $20.00 |
| 4/12/2017 | David Castleford | $10.00 |
| 4/12/2017 | Jonathan Prendergast | $5.00 |
| 4/12/2017 | Tim and Ros Collins gift | $150.00 |
| 4/12/2017 | Dom and Dave White gift | $150.00 |
| 4/12/2017 | Ken and Lee Emery gift | $150.00 |
| 4/12/2017 | Nick Collins | $150.00 |
| 4/12/2017 | Hugh Mallen – flights | $450.00 |
| 4/12/2017 | David Gibson | $250.00 |
| 4/12/2017 | michael | $62.00 |
| 4/12/2017 | Craig & Caroline Hind | $21.44 |
| 1/12/2017 | Tim Hartley | $50.00 |
| 1/12/2017 | Ingo | $100.00 |
| 30/11/2017 | Wayne Stanford | $30.00 |
| 30/11/2017 | Paul | $25.00 |
| 30/11/2017 | Jacinta Green | $5.00 |
| 30/11/2017 | Interest | $0.25 |
| 28/11/2017 | Loris Glass, Churchill event | $450.00 |
| 27/11/2017 | Laquorious Dee | $20.00 |
| 27/11/2017 | David Castleford | $10.00 |
| 27/11/2017 | Michael Benson | $10.00 |
| 27/11/2017 | Anton Maurus | $35.00 |
| 27/11/2017 | Jean Pierre Redestorff | $19.48 |
| 27/11/2017 | Vinca | $50.00 |
| 24/11/2017 | Beechworth repayment | $770.00 |
| 20/11/2017 | Jonathan Prendergast | $5.00 |
| 20/11/2017 | Laquorious Dee | $20.00 |
| 20/11/2017 | David Castleford | $10.00 |
| 20/11/2017 | David Lloyd | $25.00 |
| 17/11/2017 | Chris Simmons | $10.00 |
| 16/11/2017 | Wayne Stanford | $30.00 |
| 16/11/2017 | Paul | $25.00 |
| 16/11/2017 | Jonathan Maddox | $50.00 |
| 15/11/2017 | Ellen | $100.00 |
| 14/11/2017 | Jonathan Prendergast | $5.00 |
| 13/11/2017 | Laquorious Dee | $20.00 |
| 13/11/2017 | David Castleford | $10.00 |
| 13/11/2017 | Paulie | $25.00 |
| 13/11/2017 | Char Grainger | $20.00 |
| 13/11/2017 | Pegasus repayment | $320.00 |
| 10/11/2017 | Warwick Stone | $49.15 |
| 9/11/2017 | SW | $25.00 |
| 7/11/2017 | Rhona for Michael's birthday | $100.00 |
| 6/11/2017 | David Gibson | $250.00 |
| 6/11/2017 | Laquorious Dee | $20.00 |
| 6/11/2017 | David Castleford | $10.00 |
| 6/11/2017 | Jonathan Prendergast | $5.00 |
| 3/11/2017 | Michael | $62.00 |
| 2/11/2017 | Wayne Stanford | $30.00 |
| 2/11/2017 | Tim Hartley | $50.00 |
| 2/11/2017 | Paul | $25.00 |
| 1/11/2017 | Ingo | $100.00 |
| 31/10/2017 | Interest | $0.39 |
| 30/10/2017 | Laquorious Dee | $20.00 |
| 30/10/2017 | David Castleford | $10.00 |
| 30/10/2017 | Jacinta Green | $5.00 |
| 27/10/2017 | Michael Benson | $10.00 |
| 26/10/2017 | Anton Maurus | $35.00 |
| 23/10/2017 | Yack Health repayment | $1,000.00 |
| 23/10/2017 | Laquorious Dee | $20.00 |
| 23/10/2017 | Jonathan Prendergast | $5.00 |
| 23/10/2017 | David Castleford | $10.00 |
| 23/10/2017 | Camden repayment | $673.00 |
| 20/10/2017 | David Lloyd | $25.00 |
| 19/10/2017 | Wayne Stanford | $30.00 |
| 19/10/2017 | Jean Pierre Redestorff | $19.48 |
| 17/10/2017 | Chris Simmons | $10.00 |
| 16/10/2017 | Laquorious Dee | $20.00 |
| 16/10/2017 | Jonathan Prendergast | $5.00 |
| 16/10/2017 | Jonathan Maddox | $50.00 |
| 16/10/2017 | David Castleford | $10.00 |
| 16/10/2017 | Coast FM repayment | $400.00 |
| 12/10/2017 | Paulie | $25.00 |
| 11/10/2017 | Char Grainger | $20.00 |
| 10/10/2017 | Warwick Stone | $49.15 |
| 9/10/2017 | SW | $25.00 |
| 9/10/2017 | Laquorious Dee | $20.00 |
| 9/10/2017 | Jonathan Prendergast | $5.00 |
| 9/10/2017 | David Castleford | $10.00 |
| 5/10/2017 | Warradale repayment | $761.00 |
| 5/10/2017 | Parkeholme repayment | $400.00 |
| 5/10/2017 | Fraser Argue | $169.00 |