Renewable Energy Project: Solar Panels
Coastal FM operates a professionally built studio complex in Wynyard with 3 transmitters covering the NW Coast of Tassie from Smithton to Launceston. It is a community radio station operated by a core of 12 on-air volunteer staff with an average age of 65 who provide 24/7 production for an approximate audience of 40-50,000 listeners for a variety of different programs.
Website: http://www.coastfm.org/
Project story…
This Quick Win project installed 5.28kW of solar PV at the Coast FM radio studio at Wynyard. Earlier we had given them a loan to install solar PV at one of their transmitter stations, and they had registered their interest in also installing solar PV on their studio building. Wisely they applied for some grant money for solar for the studio, but when that didn't work out we offered a CORENA loan to cover the solar PV up-front cost.
This project proceeded very smoothly because we had already successfully completed the transmitter project with Coast FM and we all knew what to expect.
This project is fully funded – Thank you!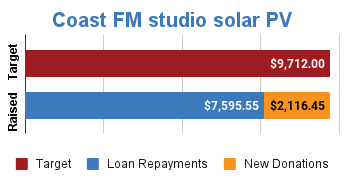 Status: Funded project – loan repayment complete
Loan amount: $9,712
Loan repayments: $450/quarter
Work details
5.28kW solar installation:
16 x LG 330 watt NeOn2 panels
Solar Edge SE5000 5KW inverter (single phase)
16 x Solar Edge P350i Optimisers
DMS Solar Framing in 10 panel block
Cyclone Rated ColourBond Feet
300 KG Lift rating
Cost: $9,712
Expected savings: $1,825/year, approx 7,300kWh/year
Reduction in carbon emissions/yr: Equivalent to 1.32 average households using renewable electricity instead of grid electricity
Honour roll
Thank you to the following people for donating to this project.
| | | |
| --- | --- | --- |
| Date | Name | Amount |
| 04/01/2018 | Yack Health repayment (part) | $224.55 |
| 04/01/2018 | Paul | $25.00 |
| 04/01/2018 | Gaby Jung | $50.00 |
| 04/01/2018 | David Gibson | $250.00 |
| 04/01/2018 | Coast FM transmitter repayment | $400.00 |
| 04/01/2018 | Bill Gresham | $218.00 |
| 03/01/2018 | Ravenshoe repayment | $160.00 |
| 03/01/2018 | Michael | $62.00 |
| 02/01/2018 | Warradale repayment | $761.00 |
| 02/01/2018 | Tim Hartley | $50.00 |
| 02/01/2018 | Parkeholme repayment | $400.00 |
| 02/01/2018 | Nannup repayment | $900.00 |
| 02/01/2018 | Michael | $450.00 |
| 02/01/2018 | Laquorious Dee | $20.00 |
| 02/01/2018 | Jonathan Prendergast | $5.00 |
| 02/01/2018 | Ingo | $100.00 |
| 02/01/2018 | Gaby Jung | $30.00 |
| 02/01/2018 | David Castleford | $10.00 |
| 02/01/2018 | Apprenticeships Qld repayment | $2,400.00 |
| 31/12/2017 | Interest | $0.48 |
| 29/12/2017 | Jacinta Green | $5.00 |
| 28/12/2017 | Wayne Stanford | $30.00 |
| 28/12/2017 | Paul | $25.00 |
| 27/12/2017 | Michael Benson | $10.00 |
| 27/12/2017 | Laquorious Dee | $20.00 |
| 27/12/2017 | David Castleford | $10.00 |
| 27/12/2017 | Anton Maurus | $35.00 |
| 22/12/2017 | Ben Elliston | $200.00 |
| 21/12/2017 | Paul | $25.00 |
| 20/12/2017 | David Lloyd | $25.00 |
| 18/12/2017 | Tastex repayment | $2,350.00 |
| 18/12/2017 | David Hamilton | $450.00 |
| 18/12/2017 | Chris Simmons | $10.00 |
| 18/12/2017 | Anon | $0.97 |