Renewable Energy Project: Solar Panels
CERES Environment Park is an award winning, not for profit, sustainability centre located on a regenerated landfill site in East Brunswick, Melbourne.
CERES runs extensive environmental education programs both at the park and into the community: urban agriculture projects, sustainability technology demonstrations, and social enterprises including a grocery, café, community kitchen, organic online supermarket, and a permaculture nursery.
CERES was at the forefront of renewable energy in Melbourne. In 1993 there was a cutting edge grid-interactive hybrid power station that contributed about 25% of electricity needs. But with growth and aging of technology that contribution dropped significantly, so in 2017 CERES adopted a goal to have zero carbon emissions by 2025.
Website: https://ceres.org.au
Project story…
CERES wanted not one but three new solar PV installations to help them achieve their zero emissions goal. We originally agreed to fund a planned 20kW installation on the Chook House roof. However, a very generous philanthropist then offered to pay for the Chook House solar and a separate Merri House installation.
Accordingly we then agreed to fund the 3rd proposed installation, 9.24kW of solar PV on the Human Powered Classroom instead. However, with 3 installations happening, expensive network protection equipment was required in order to enable such a large overall amount of solar PV generation. While that equipment does not reduce emissions in itself, it was necessary to enable the 3 installations to go ahead, so we agreed to lend CERES enough funds to cover that equipment as well.
This project has been fully funded – Thank you!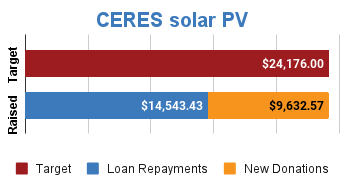 Status: Funded project – loan repayment in progress
Loan amount: $24,176
Loan repayments: $1,210/quarter
Work details
Human Powered Classroom: 9.24kW
28 x LG 330 NEON2 panels
10kW SolarEdge inverter
28 x P404 DC optimisers
Site specific costs:
Network protection equipment required to enable this installation plus 2 other new solar installations on other CERES buildings
Cost:
Human Powered Classroom solar – $15,563
Network protection equipment – $8,613
Total cost – $24,176
Expected savings:
Human Powered Classroom solar – $2,760/year, 13,800 kWh/year
Network protection equipment – this enabled the above and also 2 other solar installations to take place, so assigning a savings value is tricky.
Reduction in carbon emissions/yr: Equivalent to 2.49 average households using renewable electricity instead of grid electricity
Honour roll
Thank you to the following people for donating to this project.
| | | |
| --- | --- | --- |
| Date | Name | Amount |
| 26/04/2018 | Clunes repayment (part) | $320.98 |
| 23/04/2018 | Camden repayment | $673.00 |
| 23/04/2018 | Jonathan Prendergast | $5.00 |
| 23/04/2018 | Laquorious Dee | $20.00 |
| 23/04/2018 | David Castleford | $10.00 |
| 20/04/2018 | Diagram Architects | $50.00 |
| 20/04/2018 | Michael Childs | $108.00 |
| 20/04/2018 | David Lloyd | $25.00 |
| 19/04/2018 | Paul | $25.00 |
| 19/04/2018 | Wayne Stanford | $50.00 |
| 19/04/2018 | Anon | $100.00 |
| 18/04/2018 | Jean Pierre Redestorff | $19.48 |
| 17/04/2018 | Chris Simmons | $10.00 |
| 16/04/2018 | Jo Barraket & Rob | $296.40 |
| 16/04/2018 | Jonathan Maddox | $50.00 |
| 16/04/2018 | Jonathan Prendergast | $5.00 |
| 16/04/2018 | Laquorious Dee | $20.00 |
| 16/04/2018 | David Castleford | $10.00 |
| 12/04/2018 | Paulie | $25.00 |
| 12/04/2018 | R Monk | $25.00 |
| 12/04/2018 | Hender family | $35.00 |
| 11/04/2018 | Char Grainger | $20.00 |
| 10/04/2018 | Warwick Stone | $49.15 |
| 09/04/2018 | DeeDee | $35.00 |
| 09/04/2018 | SW | $25.00 |
| 09/04/2018 | Jonathan Prendergast | $5.00 |
| 09/04/2018 | Laquorious Dee | $20.00 |
| 09/04/2018 | David Castleford | $10.00 |
| 09/04/2018 | Brimbank repayment | $550.00 |
| 06/04/2018 | Warradale repayment | $761.00 |
| 06/04/2018 | Parkeholme repayment | $400.00 |
| 05/04/2018 | Energy 4 Energy | $117.05 |
| 05/04/2018 | Wayne Stanford | $50.00 |
| 05/04/2018 | Paul | $25.00 |
| 04/04/2018 | NB | $450.00 |
| 04/04/2018 | David Gibson | $250.00 |
| 04/04/2018 | CoastFM repayment | $400.00 |
| 04/04/2018 | Yack Health repayment | $1,000.00 |
| 03/04/2018 | Nannup repayment | $900.00 |
| 03/04/2018 | Michael | $62.00 |
| 03/04/2018 | Laquorious Dee | $20.00 |
| 03/04/2018 | David Castleford | $10.00 |
| 03/04/2018 | ApprenticeQ repayment | $2,400.00 |
| 01/04/2018 | Tim Hartley | $50.00 |
| 31/03/2018 | Interest | $0.58 |
| 29/03/2018 | Paul | $25.00 |
| 29/03/2018 | Jacinta Green | $5.00 |
| 28/03/2018 | PermacultureVisions.com | $98.60 |
| 27/03/2018 | Michael Benson | $10.00 |
| 26/03/2018 | Anton Maurus | $35.00 |
| 26/03/2018 | Jonathan Prendergast | $5.00 |
| 26/03/2018 | Laquorious Dee | $20.00 |
| 26/03/2018 | David Castleford | $10.00 |
| 22/03/2018 | Paul | $25.00 |
| 22/03/2018 | Wayne Stanford | $50.00 |
| 20/03/2018 | David Lloyd | $25.00 |
| 19/03/2018 | Anon | $100.00 |
| 19/03/2018 | Chris Simmons | $10.00 |
| 19/03/2018 | Jean Pierre Redestorff | $19.48 |
| 19/03/2018 | Laquorious Dee | $20.00 |
| 19/03/2018 | David Castleford | $10.00 |
| 16/03/2018 | Jonathan Maddox | $50.00 |
| 15/03/2018 | R Monk | $25.00 |
| 15/03/2018 | Moss Vale repayment | $300.00 |
| 14/03/2018 | Jonathan Prendergast | $5.00 |
| 12/03/2018 | Paulie | $25.00 |
| 12/03/2018 | Char Grainger | $20.00 |
| 12/03/2018 | Warwick Stone | $49.15 |
| 12/03/2018 | Laquorious Dee | $20.00 |
| 12/03/2018 | David Castleford | $10.00 |
| 12/03/2018 | Jonathan Prendergast | $5.00 |
| 12/03/2018 | Hender family | $35.00 |
| 09/03/2018 | SW | $25.00 |
| 09/03/2018 | Mansfield repayment | $600.00 |
| 08/03/2018 | Wayne Stanford | $50.00 |
| 07/03/2018 | DeeDee | $35.00 |
| 06/03/2018 | Shah Family | $1,300.00 |
| 05/03/2018 | Peacock Family | $100.00 |
| 05/03/2018 | Craig & Caroline Hind | $8.42 |
| 05/03/2018 | David Gibson | $250.00 |
| 05/03/2018 | Michael | $62.00 |
| 05/03/2018 | Laquorious Dee | $20.00 |
| 05/03/2018 | David Castleford | $10.00 |
| 02/03/2018 | IJ | $50.00 |
| 01/03/2018 | Tim Hartley | $50.00 |
| 28/02/2018 | Interest | $0.25 |
| 28/02/2018 | Jacinta Green | $5.00 |
| 27/02/2018 | Michael Benson | $10.00 |
| 26/02/2018 | David Hamilton | $450.00 |
| 26/02/2018 | Anton Maurus | $35.00 |
| 26/02/2018 | Laquorious Dee | $20.00 |
| 26/02/2018 | David Castleford | $10.00 |
| 26/02/2018 | Jonathan Prendergast | $5.00 |
| 25/02/2018 | Mike Meldrum | $200.00 |
| 23/02/2018 | Sandra Hawkins | $29.37 |
| 23/02/2018 | Beechworth repayment | $770.00 |
| 22/02/2018 | Wayne Stanford | $30.00 |
| 20/02/2018 | David Lloyd | $25.00 |
| 19/02/2018 | Chris Simmons | $10.00 |
| 19/02/2018 | Jean Pierre Redestorff | $19.48 |
| 19/02/2018 | Anon | $100.00 |
| 19/02/2018 | Laquorious Dee | $20.00 |
| 19/02/2018 | David Castleford | $10.00 |
| 16/02/2018 | Ben Elliston | $200.00 |
| 16/02/2018 | Jonathan Maddox | $50.00 |
| 14/02/2018 | Jonathan Prendergast | $5.00 |
| 12/02/2018 | Fraser Argue | $200.00 |
| 12/02/2018 | Paulie | $25.00 |
| 12/02/2018 | Char Grainger | $20.00 |
| 12/02/2018 | Warwick Stone | $49.15 |
| 12/02/2018 | Laquorious Dee | $20.00 |
| 12/02/2018 | David Castleford | $10.00 |
| 12/02/2018 | Jonathan Prendergast | $5.00 |
| 09/02/2018 | Renel Cuesta | $200.00 |
| 09/02/2018 | SW | $25.00 |
| 08/02/2018 | H&H Nguyen-Mallen | $191.90 |
| 08/02/2018 | Wayne Stanford | $30.00 |
| 07/02/2018 | DeeDee | $35.00 |
| 07/02/2018 | Kulchajam repayment | $450.00 |
| 05/02/2018 | David Gibson | $250.00 |
| 05/02/2018 | Michael | $62.00 |
| 05/02/2018 | Laquorious Dee | $20.00 |
| 05/02/2018 | David Castleford | $10.00 |
| 05/02/2018 | Pegasus repayment | $320.00 |
| 02/02/2018 | Tim Hartley | $50.00 |
| 31/01/2018 | Interest | $1.48 |
| 29/01/2018 | Michael Benson | $10.00 |
| 29/01/2018 | Jacinta Green | $5.00 |
| 29/01/2018 | Anton Maurus | $35.00 |
| 29/01/2018 | Jonathan Prendergast | $5.00 |
| 29/01/2018 | Laquorious Dee | $20.00 |
| 29/01/2018 | David Castleford | $10.00 |
| 25/01/2018 | Wayne Stanford | $30.00 |
| 23/01/2018 | Camden repayment | $673.00 |
| 22/01/2018 | Lani Westcott | $25.00 |
| 22/01/2018 | David Lloyd | $25.00 |
| 22/01/2018 | Laquorious Dee | $20.00 |
| 22/01/2018 | David Castleford | $10.00 |
| 18/01/2018 | B Good | $200.00 |
| 18/01/2018 | Jean Pierre Redestorff | $19.48 |
| 18/01/2018 | Paul | $25.00 |
| 17/01/2018 | Chris Simmons | $10.00 |
| 16/01/2018 | Jonathan Maddox | $50.00 |
| 15/01/2018 | Jonathan Prendergast | $5.00 |
| 15/01/2018 | Jonathan Prendergast | $5.00 |
| 15/01/2018 | Paul | $25.00 |
| 15/01/2018 | Laquorious Dee | $20.00 |
| 15/01/2018 | David Castleford | $10.00 |
| 12/01/2018 | Paulie | $25.00 |
| 11/01/2018 | Greens MPs | $1,600.00 |
| 11/01/2018 | Char Grainger | $20.00 |
| 11/01/2018 | Wayne Stanford | $30.00 |
| 10/01/2018 | Warwick Stone | $49.15 |
| 09/01/2018 | SW | $25.00 |
| 09/01/2018 | Brimbank repayment | $550.00 |
| 08/01/2018 | DeeDee | $35.00 |
| 08/01/2018 | Laquorious Dee | $20.00 |
| 08/01/2018 | David Castleford | $10.00 |
| 04/01/2018 | Yack Health repayment | $775.45 |