Renewable Energy Project: Solar Panels
Engadine Flexicare & Education Centre is a Not-for-Profit and is funded by the fees paid by families that use the Centre. Sutherland Shire Council own the building and make it available for Flexicare's education operations.
Website: http://www.shirechildcare.com.au/engadine_occasional_child_care_inc
Project story…
The Sunny Shire community group instigated this project and helped organise the 5kW solar installation. They also set and met a target of raising $1,165 (20% of the total cost) from their local supporters. Thank you Sunny Shire!
This project has been fully funded – Thank you!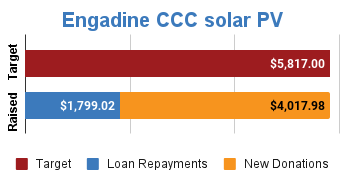 Status: Funded project – loan repayment in progress
Loan amount: $5,817
Loan repayments: $370/quarter
Work details
5kW Solar
17 x 295w Trina panels
Solar Edge 5kW inverter
17 x Solar Edge optimisers
Cost: $5,817
Expected savings: $1,526/year, 6,456kWh/year
Reduction in carbon emissions/yr: Equivalent to 1.16 average households using renewable electricity instead of grid electricity
Honour roll
Thank you to the following people for donating to this project.
| | | | |
| --- | --- | --- | --- |
| Date | Name | State | Amount |
| 23/05/2018 | Olivia B | ACT | $55.60 |
| 23/05/2018 | Sunny Shire: Chuffed | | $19.00 |
| 21/05/2018 | Chris Anderson | SA | $500.00 |
| 21/05/2018 | David Lloyd | SA | $6.00 |
| 21/05/2018 | Jonathan Prendergast | NSW | $5.00 |
| 21/05/2018 | Laquorious Dee | SA | $20.00 |
| 21/05/2018 | David Castleford | SA | $10.00 |
| 19/05/2018 | Anon | SA | $100.00 |
| 18/05/2018 | Jean Pierre Redestorff | | $19.48 |
| 18/05/2018 | Clunes repayment | | $600.00 |
| 18/05/2018 | Sunny Shire: Chuffed | | $135.00 |
| 17/05/2018 | Sunny Shire: Chuffed | | $10.00 |
| 17/05/2018 | Paul | NSW | $25.00 |
| 17/05/2018 | Wayne Stanford | SA | $50.00 |
| 17/05/2018 | Chris Simmons | SA | $10.00 |
| 16/05/2018 | Jonathan Maddox | NSW | $50.00 |
| 16/05/2018 | Sunny Shire: Chuffed | | $105.00 |
| 15/05/2018 | Sunny Shire: Chuffed | | $10.00 |
| 14/05/2018 | Luke Schubert | SA | $29.37 |
| 14/05/2018 | Paulie | SA | $25.00 |
| 14/05/2018 | Jonathan Prendergast | NSW | $5.00 |
| 14/05/2018 | Laquorious Dee | SA | $20.00 |
| 14/05/2018 | David Castleford | SA | $10.00 |
| 14/05/2018 | Sunny Shire: Chuffed | | $119.00 |
| 12/05/2018 | Hender family | SA | $35.00 |
| 11/05/2018 | Sunny Shire: Chuffed | | $75.00 |
| 11/05/2018 | Char Grainger | Vic | $20.00 |
| 10/05/2018 | Warwick Stone | Vic | $49.15 |
| 10/05/2018 | R Monk | Vic | $25.00 |
| 09/05/2018 | SW | NSW | $25.00 |
| 09/05/2018 | Sunny Shire: Chuffed | | $151.00 |
| 08/05/2018 | Sunny Shire: Chuffed | | $20.00 |
| 07/05/2018 | Wendy H | Qld | $100.00 |
| 07/05/2018 | Dee Dee | NSW | $35.00 |
| 07/05/2018 | Jonathan Prendergast | NSW | $5.00 |
| 07/05/2018 | Laquorious Dee | SA | $20.00 |
| 07/05/2018 | David Castleford | SA | $10.00 |
| 07/05/2018 | Sunny Shire: Chuffed | | $30.00 |
| 04/05/2018 | David Gibson | ACT | $250.00 |
| 04/05/2018 | Sunny Shire: Chuffed | | $15.00 |
| 04/05/2018 | Mansfield repayment | | $600.00 |
| 04/05/2018 | David Hamilton | Vic | $450.00 |
| 03/05/2018 | Dee Dee | NSW | $450.00 |
| 03/05/2018 | Sunny Shire: Chuffed | | $421.00 |
| 03/05/2018 | Michael Childs | NSW | $62.00 |
| 03/05/2018 | Paul | NSW | $25.00 |
| 03/05/2018 | Wayne Stanford | SA | $50.00 |
| 02/05/2018 | Tim Hartley | Vic | $50.00 |
| 30/04/2018 | Interest | | $1.38 |
| 30/04/2018 | Fraser Argue | ACT | $200.00 |
| 30/04/2018 | Jacinta Green | NSW | $5.00 |
| 30/04/2018 | Laquorious Dee | SA | $20.00 |
| 30/04/2018 | David Castleford | SA | $10.00 |
| 27/04/2018 | Michael Benson | SA | $10.00 |
| 26/04/2018 | Anton Maurus | Vic | $35.00 |
| 26/04/2018 | Paul | NSW | $25.00 |
| 26/04/2018 | Clunes repayment (part) | | $279.02 |
| 01/03/2018 | Sunny Shire: Chuffed | | $50.00 |
| 28/02/2018 | Sunny Shire: Chuffed | | $5.00 |