Renewable Energy Project: Solar Panels
The Kuranda Neighbourhood Centre is a non-profit, incorporated Association. It provides a wide range of programs and support for individuals, families and the community.
Website: https://kurandanc.com/
Project story…
Kuranda NC's 7kW solar installation was funded in just one month using a combination of new donations and loan repayments from earlier CORENA projects, and was switched on in October 2018.
Our loan agreement with Kuranda NC allowed for a 4.5 year payback time, covered by savings on their power bills, but they received some unexpected funding and chose to pay out their loan in full in June 2020. We then used that early repayment to help fund the Abbeyfield project.
This project has been fully funded – Thank you!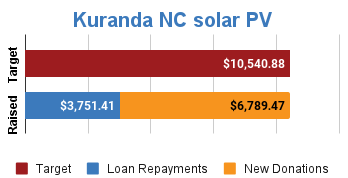 Status: Funded project – loan fully repaid
Loan amount: $10,540.88
Loan repayments: $590/quarter
Work details
7kW solar
21 x 330W LG Neon panels
6kW SolarEdge inverter
Full monitoring
Cost: 10,540.88
Expected savings: $2,358/year, 11,257kWh/year
Reduction in carbon emissions/yr: Equivalent to 2.03 average households using renewable electricity instead of grid electricity
Honour roll
Thank you to the following people for donating to this project.
| | | | |
| --- | --- | --- | --- |
| Date | Name | State | Amount |
| 20/06/2018 | Tastex repayment | | $1,969.41 |
| 20/06/2018 | Ray P | Qld | $150.00 |
| 20/06/2018 | David Lloyd | SA | $25.00 |
| 19/06/2018 | Anon | SA | $100.00 |
| 18/06/2018 | Jean Pierre Redestorff | | $19.48 |
| 18/06/2018 | Chris Simmons | SA | $10.00 |
| 18/06/2018 | Jonathan Maddox | NSW | $50.00 |
| 18/06/2018 | Jonathan Prendergast | NSW | $5.00 |
| 18/06/2018 | Laquorious Dee | SA | $20.00 |
| 18/06/2018 | David Castleford | SA | $10.00 |
| 15/06/2018 | Daryl Reinke | Qld | $450.00 |
| 15/06/2018 | Moss Vale repayment | | $300.00 |
| 14/06/2018 | Michael Childs | NSW | $50.00 |
| 14/06/2018 | Jonathan Prendergast | NSW | $5.00 |
| 14/06/2018 | Wayne Stanford | SA | $50.00 |
| 12/06/2018 | KL | Vic | $100.00 |
| 12/06/2018 | Paulie | SA | $25.00 |
| 12/06/2018 | Linda Watson | WA | $100.00 |
| 12/06/2018 | Warwick Stone | Vic | $49.15 |
| 12/06/2018 | Hender family | SA | $35.00 |
| 11/06/2018 | J S Milford | NSW | $1,000.00 |
| 11/06/2018 | R Monk | Vic | $25.00 |
| 11/06/2018 | Char Grainger | Vic | $20.00 |
| 11/06/2018 | Laquorious Dee | SA | $20.00 |
| 11/06/2018 | David Castleford | SA | $10.00 |
| 10/06/2018 | Jay Banyer | NSW | $450.00 |
| 08/06/2018 | David Hamilton | Tas | $103.54 |
| 08/06/2018 | DK & DA Clarke | SA | $210.00 |
| 08/06/2018 | SW | NSW | $25.00 |
| 08/06/2018 | Beechworth repayment | | $770.00 |
| 08/06/2018 | Janet Rice (flights) | Vic | $500.00 |
| 07/06/2018 | Dee Dee | NSW | $70.00 |
| 06/06/2018 | Felicity | | $100.00 |
| 06/06/2018 | Wayne Stanford | SA | $50.00 |
| 06/06/2018 | Anon | | $50.00 |
| 05/06/2018 | Coast FM studio repay | | $712.00 |
| 04/06/2018 | David Gibson | ACT | $250.00 |
| 04/06/2018 | Michael Childs | NSW | $62.00 |
| 04/06/2018 | Jonathan Prendergast | NSW | $5.00 |
| 04/06/2018 | Laquorious Dee | SA | $20.00 |
| 04/06/2018 | David Castleford | SA | $10.00 |
| 31/05/2018 | Interest | | $2.70 |
| 31/05/2018 | Greens MPs (flights) | | $1,600.00 |
| 31/05/2018 | Paul | NSW | $25.00 |
| 31/05/2018 | Wayne Stanford | SA | $50.00 |
| 29/05/2018 | Rory Sain | | $98.60 |
| 28/05/2018 | Anton Maurus | Vic | $35.00 |
| 28/05/2018 | Jacinta Green | NSW | $5.00 |
| 28/05/2018 | David Hamilton | Vic | $450.00 |
| 28/05/2018 | Michael Benson | SA | $10.00 |
| 28/05/2018 | Laquorious Dee | SA | $20.00 |
| 28/05/2018 | David Castleford | SA | $10.00 |
| 24/05/2018 | Dane | Tas | $100.00 |
| 23/05/2018 | Dee Dee | NSW | $130.00 |
| 21/05/2018 | David Lloyd | SA | $19.00 |