Renewable Energy Project: Solar Panels
Club Italia Geelong is a community based function centre with sporting facilities including competition ballroom dancing, teaching school students Italian traditional cooking, bocce and dancing, and entertainment for the elderly.
Website: http://www.clubitalia.com.au/
Project story…
This large 65kW solar installation was funded partly by Club Italia themselves, assisted by a $42,804 loan from CORENA. Even just the portion our loan funded (44.3kW) made this our biggest project yet, but loan repayments via our revolving fund covered just over half of the loan amount.
This project has been fully funded – Thank you!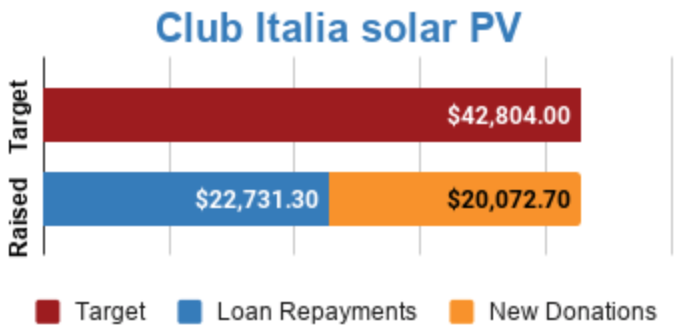 Status: Funded project – loan repayment in progress
Loan amount: $42,804
Loan repayments: $3,500/quarter
Work details
65kW solar system
218 x 300 W Seraphim SRP-300-6MB solar panels,
2 x SolarEdge 27.6 kW inverters
109 x SolarEdge P600 optimisers;
Energy monitoring via SolarEdge Modbus Meter (generation) and 3 x CT Clamps (consumption)
Total cost: $62,804 (assisted by CORENA loan of $42,804)
Expected savings: 75,909 kWh/year, $14,204/year (from CORENA loan portion)
Reduction in carbon emissions/yr: Equivalent to 11.66 average households using renewable electricity instead of grid electricity (from CORENA funded portion)
Honour roll
Thank you to the following people for donating to this project.
| | | | |
| --- | --- | --- | --- |
| Date | Name | State | Amount |
| 26/06/2019 | Bluesand Foundation | | $4,973.56 |
| 25/06/2019 | Guy Redden | NSW | $1,000.00 |
| 25/06/2019 | John C | NSW | $100.00 |
| 25/06/2019 | Tom Lester | Vic | $1,000.00 |
| 24/06/2019 | Pandimensional | Qld | $1,000.00 |
| 24/06/2019 | JP | NSW | $100.00 |
| 24/06/2019 | Laquorious Dee | SA | $20.00 |
| 24/06/2019 | David Castleford | SA | $10.00 |
| 23/06/2019 | Emma Johnston | Vic | $50.00 |
| 21/06/2019 | Shirley | WA | $5.00 |
| 20/06/2019 | David Lloyd | SA | $25.00 |
| 18/06/2019 | Jean Pierre Redestorff | | $19.48 |
| 17/06/2019 | Panayiotis Tsakalis | WA | $40.00 |
| 17/06/2019 | Jonathan Prendergast | NSW | $5.00 |
| 17/06/2019 | Chris Simmons | SA | $10.00 |
| 17/06/2019 | Jonathan Maddox | NSW | $50.00 |
| 17/06/2019 | Laquorious Dee | SA | $20.00 |
| 17/06/2019 | David Castleford | SA | $10.00 |
| 14/06/2019 | Greens MPs (flights) | | $1,600.00 |
| 14/06/2019 | Moss Vale repayment | | $300.00 |
| 14/06/2019 | Jonathan Prendergast | NSW | $5.00 |
| 13/06/2019 | Wayne Stanford | SA | $20.00 |
| 12/06/2019 | Paulie | SA | $25.00 |
| 12/06/2019 | Hender family | SA | $35.00 |
| 11/06/2019 | Michael Benson | SA | $10.71 |
| 11/06/2019 | Char Grainger | Vic | $20.00 |
| 11/06/2019 | Warwick Stone | Vic | $49.15 |
| 10/06/2019 | Peacock Family | SA | $200.00 |
| 10/06/2019 | Laquorious Dee | SA | $20.00 |
| 10/06/2019 | David Castleford | SA | $10.00 |
| 10/06/2019 | Engadine repayment | | $370.00 |
| 07/06/2019 | SW | NSW | $25.00 |
| 05/06/2019 | David Clarke | SA | $110.00 |
| 04/06/2019 | Dane | Tas | $105.00 |
| 04/06/2019 | David Gibson | ACT | $250.00 |
| 03/06/2019 | Anica Niepraschk | Vic | $10.00 |
| 03/06/2019 | Tim Kerslake | ACT | $4.96 |
| 03/06/2019 | Michael | NSW | $62.00 |
| 03/06/2019 | Panayiotis Tsakalis | WA | $40.00 |
| 03/06/2019 | Jonathan Prendergast | NSW | $5.00 |
| 03/06/2019 | Laquorious Dee | SA | $20.00 |
| 03/06/2019 | David Castleford | SA | $10.00 |
| 31/05/2019 | Interest | | $3.58 |
| 31/05/2019 | Sharon | NSW | $225.00 |
| 30/05/2019 | Wayne Stanford | SA | $20.00 |
| 29/05/2019 | Jacinta Green | NSW | $5.00 |
| 28/05/2019 | Coast FM studio repay | | $450.00 |
| 27/05/2019 | Anton Maurus | Vic | $35.00 |
| 27/05/2019 | Michael Benson | SA | $10.00 |
| 27/05/2019 | Laquorious Dee | SA | $20.00 |
| 27/05/2019 | David Castleford | SA | $10.00 |
| 24/05/2019 | Penelope Middleton | | $494.20 |
| 24/05/2019 | Beechworth Repay | | $770.00 |
| 20/05/2019 | Panayiotis Tsakalis | WA | $40.00 |
| 20/05/2019 | David Lloyd | SA | $25.00 |
| 20/05/2019 | Jean Pierre Redestorff | | $19.48 |
| 20/05/2019 | Laquorious Dee | SA | $20.00 |
| 20/05/2019 | David Castleford | SA | $10.00 |
| 20/05/2019 | Jonathan Prendergast | NSW | $5.00 |
| 19/05/2019 | EB staff donation | WA | $277.00 |
| 19/05/2019 | David Hamilton | Vic | $450.00 |
| 17/05/2019 | Chris Simmons | SA | $10.00 |
| 16/05/2019 | Jonathan Maddox | NSW | $50.00 |
| 16/05/2019 | Wayne Stanford | SA | $20.00 |
| 14/05/2019 | Gaby Jung | Tas | $20.00 |
| 14/05/2019 | Jonathan Prendergast | NSW | $5.00 |
| 13/05/2019 | Paulie | SA | $25.00 |
| 13/05/2019 | Laquorious Dee | SA | $20.00 |
| 13/05/2019 | David Castleford | SA | $10.00 |
| 12/05/2019 | Hender family | SA | $35.00 |
| 11/05/2019 | Karen Hamilton | SA | $50.00 |
| 10/05/2019 | Warwick Stone | Vic | $49.15 |
| 09/05/2019 | SW | NSW | $25.00 |
| 06/05/2019 | David Gibson | ACT | $250.00 |
| 06/05/2019 | Jonathan Prendergast | NSW | $5.00 |
| 06/05/2019 | Laquorious Dee | SA | $20.00 |
| 06/05/2019 | David Castleford | SA | $10.00 |
| 06/05/2019 | Mansfield repayment | | $600.00 |
| 03/05/2019 | Marlin Coast repay | | $1,850.00 |
| 03/05/2019 | Michael | NSW | $62.00 |
| 02/05/2019 | Clunes repayment | | $600.00 |
| 02/05/2019 | Wayne Stanford | SA | $20.00 |
| 30/04/2019 | Greens MPs (flights) | | $1,600.00 |
| 30/04/2019 | Interest | | $0.46 |
| 29/04/2019 | Michael Benson | SA | $10.00 |
| 29/04/2019 | Jacinta Green | NSW | $5.00 |
| 29/04/2019 | Laquorious Dee | SA | $20.00 |
| 29/04/2019 | David Castleford | SA | $10.00 |
| 26/04/2019 | Anton Maurus | Vic | $35.00 |
| 23/04/2019 | Climate Emergency | Vic | $53.00 |
| 23/04/2019 | David Lloyd | SA | $25.00 |
| 23/04/2019 | Jean Pierre Redestorff | | $19.48 |
| 23/04/2019 | Jonathan Prendergast | NSW | $5.00 |
| 23/04/2019 | Laquorious Dee | SA | $20.00 |
| 23/04/2019 | David Castleford | SA | $10.00 |
| 21/04/2019 | Luke Schubert | SA | $25.00 |
| 18/04/2019 | Wayne Stanford | SA | $20.00 |
| 18/04/2019 | Yack Health repayment | | $1,000.00 |
| 17/04/2019 | Chris Simmons | SA | $10.00 |
| 16/04/2019 | Jonathan Maddox | NSW | $50.00 |
| 15/04/2019 | Jonathan Prendergast | NSW | $5.00 |
| 15/04/2019 | Laquorious Dee | SA | $20.00 |
| 15/04/2019 | David Castleford | SA | $10.00 |
| 15/04/2019 | Pegasus repayment | | $320.00 |
| 12/04/2019 | Paulie | SA | $25.00 |
| 12/04/2019 | Hender family | SA | $35.00 |
| 11/04/2019 | Harvey (KR) | NSW | $5.00 |
| 11/04/2019 | Char Grainger | Vic | $20.00 |
| 10/04/2019 | Gareth Judson | | $29.37 |
| 10/04/2019 | Warwick Stone | Vic | $49.15 |
| 09/04/2019 | David Hamilton | Vic | $450.00 |
| 09/04/2019 | SW | NSW | $25.00 |
| 08/04/2019 | Fraser Argue | ACT | $450.00 |
| 08/04/2019 | Jonathan Prendergast | NSW | $5.00 |
| 08/04/2019 | Laquorious Dee | SA | $20.00 |
| 08/04/2019 | David Castleford | SA | $10.00 |
| 05/04/2019 | Warradale repayment | | $761.00 |
| 05/04/2019 | Marlin Coast repay | | $1,850.00 |
| 04/04/2019 | Coast FM transmitter | | $400.00 |
| 04/04/2019 | David Gibson | ACT | $250.00 |
| 04/04/2019 | Brimbank repayment | | $550.00 |
| 04/04/2019 | Wayne Stanford | SA | $20.00 |
| 03/04/2019 | Michael | NSW | $62.00 |
| 02/04/2019 | Dee Dee | NSW | $450.00 |
| 02/04/2019 | Tim Hartley | Vic | $50.00 |
| 01/04/2019 | Laquorious Dee | SA | $20.00 |
| 01/04/2019 | David Castleford | SA | $10.00 |
| 01/04/2019 | Ceres repayment | | $1,210.00 |
| 01/04/2019 | Apprentices Q repay | | $2,400.00 |
| 01/04/2019 | Nannup repayment | | $900.00 |
| 31/03/2019 | Interest | | $6.81 |
| 29/03/2019 | Jacinta Green | NSW | $5.00 |
| 27/03/2019 | Beechworth Repay | | $770.00 |
| 27/03/2019 | Michael Benson | SA | $10.00 |
| 26/03/2019 | Anton Maurus | Vic | $35.00 |
| 25/03/2019 | Jonathan Prendergast | NSW | $5.00 |
| 25/03/2019 | Laquorious Dee | SA | $20.00 |
| 25/03/2019 | David Castleford | SA | $10.00 |
| 24/03/2019 | Lani | NSW | $25.00 |
| 21/03/2019 | Wayne Stanford | SA | $20.00 |
| 20/03/2019 | Kathy (Karl) | | $50.00 |
| 20/03/2019 | Sue Read | | $20.00 |
| 20/03/2019 | David Lloyd | SA | $25.00 |
| 18/03/2019 | Jean Pierre Redestorff | | $19.48 |
| 18/03/2019 | Chris Simmons | SA | $10.00 |
| 18/03/2019 | Jonathan Maddox | NSW | $50.00 |
| 18/03/2019 | Laquorious Dee | SA | $20.00 |
| 18/03/2019 | David Castleford | SA | $10.00 |
| 15/03/2019 | Moss Vale repayment | | $300.00 |
| 14/03/2019 | Jonathan Prendergast | NSW | $5.00 |
| 14/03/2019 | R. Monk | Vic | $25.00 |
| 13/03/2019 | Peacock Family | SA | $500.00 |
| 12/03/2019 | Paulie | SA | $25.00 |
| 12/03/2019 | Hender family | SA | $35.00 |
| 11/03/2019 | Jonathan Prendergast | NSW | $5.00 |
| 11/03/2019 | Char Grainger | Vic | $20.00 |
| 11/03/2019 | Warwick Stone | Vic | $49.15 |
| 11/03/2019 | Michael | NSW | $200.00 |
| 11/03/2019 | Laquorious Dee | SA | $20.00 |
| 11/03/2019 | David Castleford | SA | $10.00 |
| 11/03/2019 | Engadine repayment | | $370.00 |
| 08/03/2019 | SW | NSW | $25.00 |
| 07/03/2019 | Wayne Stanford | SA | $20.00 |
| 05/03/2019 | Craig Hind | NSW | $51.85 |
| 05/03/2019 | Kate Read | NSW | $24.00 |
| 04/03/2019 | David Gibson | ACT | $250.00 |
| 04/03/2019 | Michael | NSW | $62.00 |
| 04/03/2019 | Laquorious Dee | SA | $20.00 |
| 04/03/2019 | David Castleford | SA | $10.00 |
| 04/03/2019 | Cloudera Foundation | | $425.02 |
| 03/03/2019 | Will | | $10.00 |
| 01/03/2019 | Tim Hartley | Vic | $50.00 |
| 28/01/2019 | Interest | | $4.82 |
| 28/01/2019 | Coast FM repayment | | $450.00 |
| 28/01/2019 | Jacinta Green | NSW | $5.00 |
| 27/02/2019 | Michael Benson | SA | $10.00 |
| 26/02/2019 | Anton Maurus | Vic | $35.00 |
| 25/02/2019 | Jonathan Prendergast | NSW | $5.00 |
| 25/02/2019 | Laquorious Dee | SA | $20.00 |
| 25/02/2019 | David Castleford | SA | $10.00 |
| 21/02/2019 | Wayne Stanford | SA | $20.00 |
| 21/02/2019 | Yack Health repayment | | $1,000.00 |
| 21/02/2019 | Marlin Coast repay | | $1,850.00 |
| 20/02/2019 | Kuranda repayment | | $1,180.00 |
| 20/02/2019 | David Lloyd | SA | $25.00 |
| 19/02/2019 | Maggie Beer | SA | $45.00 |
| 19/02/2019 | Donna Mayhew | SA | $45.00 |
| 19/02/2019 | Greg Mackie | SA | $45.00 |
| 19/02/2019 | Chris Morris | SA | $45.00 |
| 19/02/2019 | Adam Hardcastle | SA | $45.00 |
| 19/02/2019 | Anon | SA | $100.00 |
| 18/02/2019 | Jean Pierre Redestorff | | $19.48 |
| 18/02/2019 | Chris Simmons | SA | $10.00 |
| 18/02/2019 | Jonathan Maddox | NSW | $50.00 |
| 18/02/2019 | Laquorious Dee | SA | $20.00 |
| 18/02/2019 | David Castleford | SA | $10.00 |
| 04/02/2019 | Pegasus repayment | | $320.00 |
| 31/01/2019 | Mansfield repayment | | $600.00 |
| 23/01/2019 | Camden repayment | | $673.00 |
| 23/01/2019 | Clunes repayment | | $600.00 |
| 04/01/2019 | Coast FM repayment | | $287.30 |