Renewable Energy Project: Solar Panels
The Woonona Bulli School of Arts provides venue space at heavily reduced rates to the local community. It operates as a hub for several creative groups who service dance, singing and yoga/pilates. It is also a registered charity and offers free venue hire for charitable fundraisers and educational workshops; along with annual sponsorships to local community groups. Its focus is on mental health and environmental awareness.
https://www.facebook.com/WBSOA/
Project story…
The buildings had a number of single phase supplies and shared tenancies. They had just been forced to upgrade their electrical supply and were in the midst of rethinking a number of old hot water systems and airconditioning units. CORENA came along at the right time to advise on making the most of a well-sized solar system and to keep using energy across the site efficiently.
This project has been fully funded – Thank you!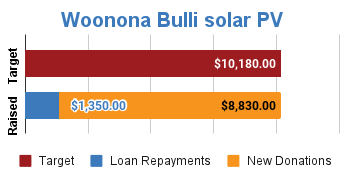 Status: Funded project – loan repayment in progress
Loan amount: $10,180
Loan repayments: $424.17/quarter
Work details
– 6.6 kW system with consumption monitoring
– 19 x LG NeON2 350W panels
– 1 x SolarEdge HD Wave 5kW inverter
Cost: $10,180
Expected savings: 10,000kWh/year, $1,390/year
Reduction in carbon emissions/yr: Equivalent to 1.80 average households using renewable electricity instead of grid electricity
Honour roll
Thank you to the following people for donating to this project.
| | | |
| --- | --- | --- |
| Date | Name | Amount |
| 29/11/2019 | Jacinta Green | $5.00 |
| 28/11/2019 | Coast FM studio repay | $450.00 |
| 26/11/2019 | Anton Maurus | $35.00 |
| 25/11/2019 | Gift for Harry | $15.00 |
| 25/11/2019 | David Castleford | $10.00 |
| 25/11/2019 | Laquorious Dee | $20.00 |
| 25/11/2019 | Laura Dentrinos | $400.00 |
| 21/11/2019 | Gift: Rob Read | $50.00 |
| 21/11/2019 | Shirley | $4.75 |
| 20/11/2019 | Liam Payne | $25.00 |
| 20/11/2019 | David Lloyd | $25.00 |
| 18/11/2019 | Chris Simmons | $10.00 |
| 18/11/2019 | Jonathan Maddox | $50.00 |
| 18/11/2019 | Jean Pierre Redestorff | $19.48 |
| 18/11/2019 | Jonathan Prendergast | $5.00 |
| 18/11/2019 | David Castleford | $10.00 |
| 16/11/2019 | Anon | $100.00 |
| 14/11/2019 | OTTWAY The Label | $2,000.00 |
| 14/11/2019 | Wayne Stanford | $20.00 |
| 14/11/2019 | Jonathan Prendergast | $5.00 |
| 12/11/2019 | Warwick Stone | $49.15 |
| 12/11/2019 | David Hamilton | $450.00 |
| 12/11/2019 | Paulie | $25.00 |
| 12/11/2019 | Leanne Frederiksen | $20.00 |
| 12/11/2019 | Hender family | $35.00 |
| 11/11/2019 | Char Grainger | $20.00 |
| 11/11/2019 | Kate & Harvey | $100.00 |
| 11/11/2019 | David Castleford | $10.00 |
| 08/11/2019 | SW | $25.00 |
| 07/11/2019 | Flight compensation | $500.00 |
| 04/11/2019 | David Gibson | $250.00 |
| 04/11/2019 | Jonathan Prendergast | $5.00 |
| 04/11/2019 | Panayiotis Tsakalis | $40.00 |
| 04/11/2019 | David Castleford | $10.00 |
| 03/11/2019 | Sean Benson | $50.00 |
| 31/10/2019 | Interest | $0.49 |
| 31/10/2019 | Greens MPs (flights) | $1,600.00 |
| 31/10/2019 | Wayne Stanford | $20.00 |
| 29/10/2019 | Jacinta Green | $5.00 |
| 28/10/2019 | Nab | $450.00 |
| 28/10/2019 | Michael Benson | $10.00 |
| 28/10/2019 | Anton Maurus | $35.00 |
| 28/10/2019 | David Castleford | $10.00 |
| 28/10/2019 | Clunes repayment | $900.00 |
| 25/10/2019 | Melanie Perkins | $19.48 |
| 25/10/2019 | Adrian Pyle | $98.60 |
| 25/10/2019 | Andrew Calder | $24.42 |
| 23/10/2019 | red.cellist | $100.00 |
| 21/10/2019 | Jean Pierre Redestorff | $19.48 |
| 21/10/2019 | Shirley | $5.00 |
| 21/10/2019 | David Lloyd | $25.00 |
| 21/10/2019 | Panayiotis Tsakalis | $40.00 |
| 21/10/2019 | Jonathan Prendergast | $5.00 |
| 21/10/2019 | David Castleford | $10.00 |
| 17/10/2019 | Guy Redden | $1,000.00 |
| 17/10/2019 | Chris Simmons | $10.00 |
| 17/10/2019 | Wayne Stanford | $20.00 |
| 16/10/2019 | Jonathan Maddox | $50.00 |
| 16/10/2019 | Anon | $100.00 |
| 14/10/2019 | R Monk | $25.00 |
| 14/10/2019 | Jonathan Prendergast | $5.00 |
| 14/10/2019 | Paulie | $25.00 |
| 14/10/2019 | David Castleford | $10.00 |
| 12/10/2019 | Hender family | $35.00 |
| 11/10/2019 | Char Grainger | $20.00 |
| 11/10/2019 | Warwick Stone | $49.15 |
| 10/10/2019 | mighty mouse | $500.00 |
| 09/10/2019 | SW | $25.00 |
| 08/10/2019 | Emma Johnston | $25.00 |
| 07/10/2019 | Panayiotis Tsakalis | $40.00 |
| 07/10/2019 | Jonathan Prendergast | $5.00 |
| 07/10/2019 | David Castleford | $10.00 |