Renewable Energy Project: Solar Panels
Ballina Byron Family Day Care believe in a nurturing, natural home environment to foster a warm and caring relationship within an intimate small group. This non-profit community based Family Day Care Scheme is sponsored by a community based Management committee.
Website: https://fdcballinabyron.com.au/
Project story…
The 6.2kW of solar PV for this project was installed by: Light Touch Solar and Electrical, Byron Bay. They didn't just install the system, but were a huge help in each stage of organising this project, making it one of our quickest and easiest projects ever.
The day care centre received an unexpected grant soon after this project was completed, so they managed to pay off the CORENA loan in just under a year.
This project has been fully funded – Thank you!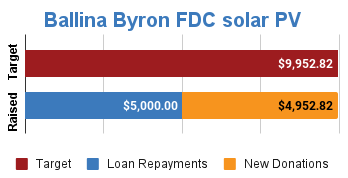 Status: Funded project – loan fully repaid
Loan amount: $9,952.82
Loan repayments: $553/quarter
Work details
19 x Winaico WST MS WST-325M6 panels
19 x Enphase IQ7PLUS-72-2-INT inverters
Tilt frames and other required products
Cost: $9,952.82
Expected savings: $2,190/year, 9,278kWh/year
Reduction in carbon emissions/yr: Equivalent to 1.67 average households using renewable electricity instead of grid electricity
Honour roll
Thank you to the following people for donating to this project.
| | | |
| --- | --- | --- |
| Date | Name | Amount |
| 10/01/2020 | Laura Dentrinos | $290.00 |
| 09/01/2020 | Wayne Stanford | $20.00 |
| 09/01/2020 | SW | $0.77 |
| 06/01/2020 | Macquarie workplace | $194.20 |
| 06/01/2020 | Laquorious Dee | $20.00 |
| 06/01/2020 | David Castleford | $10.00 |
| 06/01/2020 | David Gibson | $250.00 |
| 02/01/2020 | Fraser Argue | $500.00 |
| 31/12/2019 | Interest | $0.33 |
| 30/12/2019 | Jonathan Prendergast | $5.00 |
| 30/12/2019 | Jacinta Green | $5.00 |
| 30/12/2019 | Panayiotis Tsakalis | $40.00 |
| 30/12/2019 | Laquorious Dee | $20.00 |
| 30/12/2019 | David Castleford | $10.00 |
| 29/12/2019 | David Hamilton | $450.00 |
| 27/12/2019 | Wayne Stanford | $20.00 |
| 27/12/2019 | Michael Benson | $10.00 |
| 27/12/2019 | Anton Maurus | $35.00 |
| 26/12/2019 | Tim Growden | $100.00 |
| 25/12/2019 | Warwick Morton | $100.00 |
| 24/12/2019 | Laura Dentrinos | $111.00 |
| 23/12/2019 | Laquorious Dee | $20.00 |
| 23/12/2019 | David Castleford | $10.00 |
| 21/12/2019 | Shirley | $5.00 |
| 20/12/2019 | David Lloyd | $25.00 |
| 18/12/2019 | greengrub Toys | $25.00 |
| 18/12/2019 | Jean Pierre REDESTORFF | $19.48 |
| 18/12/2019 | Warwick Stone | $49.15 |
| 17/12/2019 | Zephine | $50.00 |
| 17/12/2019 | Chris Simmons | $10.00 |
| 16/12/2019 | Anon | $100.00 |
| 16/12/2019 | Jonathan Prendergast | $5.00 |
| 16/12/2019 | Panayiotis Tsakalis | $40.00 |
| 16/12/2019 | Laquorious Dee | $20.00 |
| 16/12/2019 | Jonathan Maddox | $50.00 |
| 16/12/2019 | David Castleford | $10.00 |
| 15/12/2019 | Emma Johnston | $50.00 |
| 15/12/2019 | Jonathan Prendergast | $5.00 |
| 12/12/2019 | Hender family | $35.00 |
| 12/12/2019 | Wayne Stanford | $20.00 |
| 12/12/2019 | Paulie | $25.00 |
| 11/12/2019 | Char Grainger | $20.00 |
| 11/12/2019 | Macquarie workplace | $872.30 |
| 09/12/2019 | Dee Dee | $500.00 |
| 09/12/2019 | Laquorious Dee | $20.00 |
| 09/12/2019 | David Castleford | $10.00 |
| 09/12/2019 | H Farrant | $240.00 |
| 09/12/2019 | SW | $25.00 |
| 05/12/2019 | R Monk | $25.00 |
| 04/12/2019 | David Gibson | $250.00 |
| 02/12/2019 | Jonathan Prendergast | $5.00 |
| 02/12/2019 | Panayiotis Tsakalis | $40.00 |
| 02/12/2019 | Laquorious Dee | $20.00 |
| 02/12/2019 | David Castleford | $10.00 |
| 30/11/2019 | Interest | $0.34 |
| 28/11/2019 | Laquorious Dee | $120.00 |
| 28/11/2019 | Wayne Stanford | $20.00 |
| 27/11/2019 | Michael Benson | $10.00 |
| 21/11/2019 | Shirley | $0.25 |
| 07/11/2019 | Yack Health repayment | $1,000.00 |
| 02/10/2019 | Camden part final | $4,000.00 |