Renewable Energy Project: Solar Panels
Camden Community Centre worked closely with local residents for many years and included a child care centre, men's shed, an op shop, and a community garden. It provided lunches and activities for the elderly and hosted a range of classes and activity groups.
Project story…
A CORENA loan funded a solar installation for their main building and another one and some energy efficiency measures for the child care centre in May 2015, but unfortunately the entire centre folded in early 2019. At that point $7,805 of their $17,900 loan was still outstanding. Loan repayments stopped during the winding up process and handover to new NFP owners, but as per our loan agreement, we received payment in full of the remaining amount (plus interest on the amount owing during the delay period) after handover in October 2019.
We were sad to see such an old established community centre fold, but the unscheduled lump sum repayment has already been put to good use in helping to fund three 2019-20 projects: Woden Valley Child Care Centre, Ballina-Byron Child Care Centre, and Tarremah Steiner school.
This project has been fully funded – Thank you!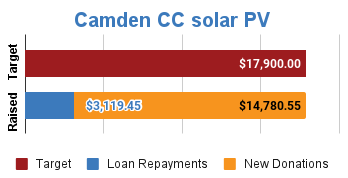 Big Win donations that were temporarily used for this project then later repaid to the Big Win funding stream where they helped fund the Enova Community Generator project:
Status: Funded project – loan fully repaid
Loan amount: $17,900
Loan repayments: $673/quarter
Work details
7.8kW Solar PV installed on 2 separate circuits with 30 x 260W Trina Honey panels with Enphase micro-inverters ($14,250)
2 x input-output meters ($1,300)
Electrical upgrade work required in order to enable solar installation ($2,000)
LED lights and downlight covers to replace 4 existing downlights ($350)

Total cost: $17,900
Expected savings: 11,731 kWh/year, $2,692/year
Reduction in carbon emissions/yr: Equivalent to 2.11 average households using renewable electricity instead of grid electricity
Note: The cost of this project was high for a 7.8kW system due to several atypical factors. It is really two separate systems, one for the child care area and one for the main office area, meaning two new input-output meters were required. Micro-inverters, which make the project a bit more expensive, were used so that the inverters are well out of reach of the children, and some extra electrical upgrade work was required to enable solar to be installed. Despite this, we expected the project to pay for itself in 6.9 years.
Thanks to Tom and Rachel of Down to Earth Sustainable Solutions. They provide environmental and energy efficiency services in SA, and generously volunteered their time to assess requirements, seek quotes, and organise work details for this project.
Honour roll
Thank you to the following people for donating to this project.
Date
Name
State
Amount
07/04/2015
Patricia Kelly
Qld
$250.00
07/04/2015
Pete Gorton
NSW
$77.59
07/04/2015
Michael Childs
NSW
$100.00
07/04/2015
Jack Rees
Qld
$399.04
07/04/2015
tengwirda
Vic
$50.00
07/04/2015
davidd
SA
$190.00
07/04/2015
Barb Frey
WA
$8.00
07/04/2015
Laquorious Dee
SA
$10.00
07/04/2015
Jacinta Green
NSW
$5.00
02/04/2015
Wayne Stanford
SA
$50.00
02/04/2015
Simon Payne
ACT
$100.00
02/04/2015
Dave &Denece Clarke
SA
$210.00
01/04/2015
Peter Wade
Qld
$11.00
01/04/2015
Hoadie
Vic
$25.00
01/04/2015
Harvey Family
SA
$50.00
31/03/2015
ww
Qld
$50.00
31/03/2015
forum donation jar
SA
$215.50
31/03/2015
Interest
$2.29
30/03/2015
Barb Frey
WA
$8.00
30/03/2015
Laquorious Dee
SA
$10.00
30/03/2015
Camden CH jar
SA
$68.15
28/03/2015
John Rolls
SA
$45.00
27/03/2015
Jonathan Doig
NSW
$10.00
26/03/2015
Wayne Stanford
SA
$25.00
26/03/2015
Anton Maurus
Vic
$35.00
25/03/2015
Peter Wade
Qld
$11.00
25/03/2015
Hoadie
Vic
$25.00
25/03/2015
Original Green Co
SA
$1,000.00
23/03/2015
Barb Frey
WA
$8.00
23/03/2015
Laquorious Dee
SA
$10.00
23/03/2015
Mackenzie Davey
$10.00
22/03/2015
Dandenong Fest jar
Vic
$30.00
20/03/2015
David Lloyd
SA
$25.00
18/03/2015
Christine Anderson
SA
$500.00
18/03/2015
Peter Wade
Qld
$11.00
18/03/2015
Hoadie
Vic
$25.00
17/03/2015
Sarah and Steven McCabe
WA
$20.00
17/03/2015
Jean Pierre Redestorff
$19.18
16/03/2015
Barb Frey
WA
$8.00
16/03/2015
Laquorious Dee
SA
$10.00
16/03/2015
Jonathan Maddox
NSW
$50.00
16/03/2015
Marty Booth
NSW
$60.00
16/03/2015
Jonathan Prendergast
NSW
$5.00
16/03/2015
Frank Lin
Qld
$10.00
13/03/2015
Stu (JM Powershop referral)
Vic
$75.00
13/03/2015
Gabriel Noronha
NSW
$10.00
12/03/2015
Wayne Stanford
SA
$25.00
11/03/2015
Peter Wade
Qld
$11.00
11/03/2015
Hoadie
Vic
$25.00
09/03/2015
Barb Frey
WA
$8.00
09/03/2015
Laquorious Dee
SA
$10.00
04/03/2015
Peter Wade
Qld
$11.00
04/03/2015
Hoadie
Vic
$25.00
04/03/2015
Jacinta Green
NSW
$5.00
03/03/2015
Trish
Qld
$250.00
02/03/2015
Barb Frey
WA
$8.00
02/03/2015
Laquorious Dee
SA
$10.00
28/02/2015
John Rolls
SA
$45.00
28/02/2015
Interest
$2.98
27/02/2015
Jonathan Doig
NSW
$10.00
26/02/2015
Wayne Stanford
SA
$25.00
26/02/2015
Anton Maurus
Vic
$35.00
25/02/2015
Peter Wade
Qld
$11.00
25/02/2015
Hoadie
Vic
$25.00
23/02/2015
Barb Frey
WA
$8.00
23/02/2015
Laquorious Dee
SA
$10.00
23/02/2015
Mackenzie Davey
$10.00
20/02/2015
David Lloyd
SA
$25.00
20/02/2015
Tulgeen repayment
NSW
$1,000.00
20/02/2015
Gawler repayment
SA
$2,119.45
18/02/2015
Peter Wade
Qld
$11.00
18/02/2015
Hoadie
Vic
$25.00
17/02/2015
Sarah and Steven McCabe
WA
$20.00
17/02/2015
Jean Pierre Redestorff
$19.18
16/02/2015
Barb Frey
WA
$8.00
16/02/2015
Laquorious Dee
SA
$10.00
16/02/2015
Jonathan Maddox
NSW
$50.00
16/02/2015
Marty Booth
NSW
$60.00
16/02/2015
Jonathan Prendergast
NSW
$5.00
16/02/2015
Frank Lin
Qld
$10.00
16/02/2015
Michael
NSW
$100.00
13/02/2015
Big Win loan
$7,000.00
13/02/2015
Gabriel Noronha
NSW
$10.00
12/02/2015
Wayne Stanford
SA
$25.00
12/02/2015
Margaret Penfold-Newton
SA
$200.00
11/02/2015
Peter Wade
Qld
$11.00
11/02/2015
Hoadie
Vic
$25.00
09/02/2015
Barb Frey
WA
$8.00
09/02/2015
Laquorious Dee
SA
$10.00
05/02/2015
Nick Cumbo
Vic
$5.00
04/02/2015
Peter Wade
Qld
$11.00
04/02/2015
Hoadie
Vic
$25.00
04/02/2015
Jacinta Green
NSW
$5.00
02/02/2015
Barb Frey
WA
$8.00
02/02/2015
Laquorious Dee
SA
$10.00
02/02/2015
William Weerts
Qld
$50.00
31/01/2015
Gift Marina Etherington
NSW
$30.00
31/01/2015
John Rolls
SA
$45.00
31/01/2015
Interest
$3.10
29/01/2015
Wayne Stanford
SA
$25.00
29/01/2015
Jonathan Doig
NSW
$10.00
28/01/2015
Peter Wade
Qld
$11.00
28/01/2015
Hoadie
Vic
$25.00
27/01/2015
Barb Frey
WA
$8.00
27/01/2015
Laquorious Dee
SA
$10.00
27/01/2015
Anton Maurus
Vic
$35.00
23/01/2015
Mackenzie Davey
$10.00
23/01/2015
Bill Gresham
ACT
$400.00
22/01/2015
Mike Craddock
NSW
$100.00
21/01/2015
Peter Wade
Qld
$11.00
21/01/2015
Hoadie
Vic
$25.00
20/01/2015
David Lloyd
SA
$25.00
20/01/2015
Stu (Tim H Powershop credit)
Vic
$50.00
19/01/2015
Barb Frey
WA
$8.00
19/01/2015
Laquorious Dee
SA
$10.00
19/01/2015
Sarah and Steven McCabe
WA
$20.00
17/01/2015
Jean Pierre Redestorff
$19.22
16/01/2015
Jonathan Maddox
NSW
$50.00
16/01/2015
Frank Lin
Qld
$10.00
15/01/2015
Wayne Stanford
SA
$25.00
15/01/2015
Tim H
Vic
$50.00
15/01/2015
Gabriel Noronha
NSW
$10.00
15/01/2015
Marty Booth
NSW
$60.00
14/01/2015
Jonathan Prendergast
NSW
$5.00
14/01/2015
Peter Wade
Qld
$11.00
14/01/2015
Hoadie
Vic
$25.00
12/01/2015
Barb Frey
WA
$8.00
12/01/2015
Laquorious Dee
SA
$10.00
07/01/2015
Peter Wade
Qld
$11.00
07/01/2015
Hoadie
Vic
$25.00
05/01/2015
Barb Frey
WA
$8.00
05/01/2015
Laquorious Dee
SA
$10.00
05/01/2015
Jacinta Green
NSW
$5.00
02/01/2015
Wayne Stanford
SA
$25.00
31/12/2014
Peter Wade
Qld
$11.00
31/12/2014
Interest
$2.43
30/12/2014
Anna Childs
NSW
$50.00
29/12/2014
Barb Frey
WA
$8.00
29/12/2014
Laquorious Dee
SA
$10.00
29/12/2014
Original Green Co
SA
$500.00
29/12/2014
Jonathan Doig
NSW
$10.00
29/12/2014
Anton Maurus
Vic
$35.00
29/12/2014
Catie
NSW
$100.00
29/12/2014
Nick Cumbo
Vic
$70.80
28/12/2014
gift for Paul & Adam
SA
$100.00
24/12/2014
Peter Wade
Qld
$11.00
23/12/2014
Mackenzie Davey
$10.00
22/12/2014
Gift for Wayne
Stanford
SA
$50.00
22/12/2014
Matt Farrell
SA
$50.00
22/12/2014
David Lloyd
SA
$25.00
22/12/2014
Barb Frey
WA
$8.00
22/12/2014
Laquorious Dee
SA
$10.00
22/12/2014
Bill Gresham
ACT
$100.00
22/12/2014
Chris Simmons
SA
$100.00
18/12/2014
Wayne Stanford
SA
$25.00
17/12/2014
Jean Pierre Redestorff
$19.22
17/12/2014
Jack Rees
Qld
$3.87