Renewable Energy Project: Solar Panels
The Abbeyfield Kooringal project will provide a 5.28kW solar photovoltaic installation for each of a group of six new 2-bedroom free-standing units, which have been designed to provide a safe, secure and affordable housing option for those living with an intellectual disability.
Project story…
The solar generation from this project will ease the cost of living pressures for the residents while reducing their environmental impact.
This project has been part-funded by a grant directly to Abbeyfield of $10,000 from Spark Infrastructure, the developers of the Bomen Solar Farm, with the CORENA interest-free loan covering the remainder of the project cost.
This project has been fully funded – Thank you!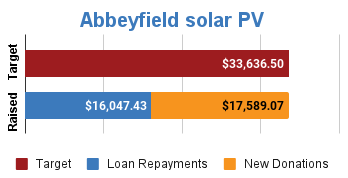 Status: Funded project – loan repayment in progress
Loan amount: $33,636.50
Loan repayments: $1,500/quarter
Work details
31.68 kW solar PV (5.28kW on each of six units)
– 96 x 330w Jinko Cheetah JKM330M-60 Mono Crystalline Panels
– 96 x Enphase IQ7PLUS-72-2-INT 290w Microinverters – includes: Enphase Q-Cable, Q-Relay Enphase Field
Wireables & Dehn surge protection
– Enphase Envoy S-Metered Communications Gateway + DRM
– Tin Roof Rack & Rail Kit for 6×16 panel AC System
Cost: Total cost $43,636.50, assisted by CORENA loan of $33,636.50
Expected savings: 46,824kWh/year, approx $8,000/year
Installed 29 October 2020
Honour roll
Thank you to the following people for donating to this project.
| | | |
| --- | --- | --- |
| Date | Name | Amount |
| 28/6/20 | Anon (part of $2k) | $182.76 |
| 27/6/20 | Adrian Pyle | $499.16 |
| 26/6/20 | Grant Adams | $100.00 |
| 26/6/20 | Warwick Grundy | $10.00 |
| 26/6/20 | Anton Maurus | $35.00 |
| 25/6/20 | Wayne Stanford | $20.00 |
| 23/6/20 | Tony Lane | $100.00 |
| 22/6/20 | Uralba repayment | $2,400.00 |
| 22/6/20 | Tom Lester | $10.00 |
| 22/6/20 | David Lloyd | $25.00 |
| 22/6/20 | Ray | $100.00 |
| 22/6/20 | Laquorious Dee | $20.00 |
| 22/6/20 | David Castleford | $10.00 |
| 21/6/20 | Shirley | $5.00 |
| 21/6/20 | Hubertus PA Jersmann | $300.00 |
| 19/6/20 | Leanne | $100.00 |
| 19/6/20 | Ivan Terriquez Macias | $25.00 |
| 19/6/20 | Lee family | $5,000.00 |
| 18/6/20 | Kuranda repayment | $5,230.88 |
| 18/6/20 | Jean Pierre REDESTORFF | $19.48 |
| 17/6/20 | Colin | $100.00 |
| 17/6/20 | Anon | $20.00 |
| 17/6/20 | Chris Simmons | $10.00 |
| 17/6/20 | Dane | $50.00 |
| 16/6/20 | Anon | $100.00 |
| 16/6/20 | Jonathan Maddox | $50.00 |
| 15/6/20 | Jonathan Prendergast | $5.00 |
| 15/6/20 | Jonathan Prendergast | $5.00 |
| 15/6/20 | Tim Hartley | $50.00 |
| 15/6/20 | Tom Lester | $10.00 |
| 15/6/20 | David, Kingsville | $250.00 |
| 15/6/20 | Laquorious Dee | $20.00 |
| 15/6/20 | David Castleford | $10.00 |
| 15/6/20 | David Francis | $20.00 |
| 14/6/20 | Cleo Lykos | $50.00 |
| 12/6/20 | Hender family | $35.00 |
| 12/6/20 | Paulie | $25.00 |
| 11/6/20 | Wayne Stanford | $20.00 |
| 11/6/20 | Char Grainger | $20.00 |
| 11/6/20 | Warwick Stone | $49.15 |
| 10/6/20 | Engadine repayment | $370.00 |
| 10/6/20 | Hawkes Family | $15.00 |
| 9/6/20 | SW | $25.00 |
| 8/6/20 | Tom Lester | $10.00 |
| 8/6/20 | Laquorious Dee | $20.00 |
| 8/6/20 | David Castleford | $10.00 |
| 8/6/20 | Yve and John | $27.50 |
| 7/6/20 | Gift for JP | $25.00 |
| 5/6/20 | William | $200.00 |
| 5/6/20 | KL | $25.00 |
| 4/6/20 | David Gibson | $250.00 |
| 4/6/20 | Kate and Harvey Read | $450.00 |
| 3/6/20 | dean | $5.00 |
| 3/6/20 | Anonymous | $5,000.00 |
| 2/6/20 | Dennis & Beverley Lambert | $100.00 |
| 1/6/20 | Ballina repayment | $530.00 |
| 1/6/20 | Jonathan Prendergast | $5.00 |
| 1/6/20 | Apple and Macquarie | $608.40 |
| 1/6/20 | Tom Lester | $10.00 |
| 1/6/20 | Laquorious Dee | $20.00 |
| 1/6/20 | David Castleford | $10.00 |
| 29/5/20 | Jacinta Green | $5.00 |
| 28/5/20 | Coast FM studio repay | $450.00 |
| 28/5/20 | Wayne Stanford | $20.00 |
| 27/5/20 | Michael Benson | $10.00 |
| 26/5/20 | Anton Maurus | $35.00 |
| 25/5/20 | Laquorious Dee | $20.00 |
| 25/5/20 | David Castleford | $10.00 |
| 22/5/20 | Fraser Argue | $450.00 |
| 21/5/20 | Shirley | $5.00 |
| 20/5/20 | David Lloyd | $25.00 |
| 18/5/20 | Jonathan Prendergast | $5.00 |
| 18/5/20 | Jonathan Maddox | $50.00 |
| 18/5/20 | Laquorious Dee | $20.00 |
| 18/5/20 | David Castleford | $10.00 |
| 18/5/20 | Anon | $20.00 |
| 18/5/20 | Jean Pierre REDESTORFF | $19.48 |
| 18/5/20 | Chris Simmons | $10.00 |
| 16/5/20 | Anon | $100.00 |
| 15/5/20 | Coorabell repayment | $416.70 |
| 14/5/20 | Wayne Stanford | $20.00 |
| 14/5/20 | Jonathan Prendergast | $5.00 |
| 14/5/20 | David Francis | $20.00 |
| 12/5/20 | Hender family | $35.00 |
| 12/5/20 | Paulie | $25.00 |
| 11/5/20 | Char Grainger | $20.00 |
| 11/5/20 | Laquorious Dee | $20.00 |
| 11/5/20 | David Castleford | $10.00 |
| 11/5/20 | Warwick Stone | $49.15 |
| 11/5/20 | Hawkes Family | $15.00 |
| 10/5/20 | R Monk | $25.00 |
| 8/5/20 | Guy Redden | $1,000.00 |
| 8/5/20 | SW | $25.00 |
| 5/5/20 | Tim Price | $500.00 |
| 4/5/20 | Jonathan Prendergast | $5.00 |
| 4/5/20 | Macquarie workplace | $388.40 |
| 4/5/20 | Laquorious Dee | $20.00 |
| 4/5/20 | David Castleford | $10.00 |
| 4/5/20 | David Gibson | $250.00 |
| 4/5/20 | dean | $5.00 |
| 3/5/20 | David Hamilton | $450.00 |
| 1/5/20 | Pegasus repayment | $320.00 |
| 1/5/20 | Clunes Coronation repay | $420.00 |
| 1/5/20 | Mansfield Kindy repay | $79.85 |
| 1/5/20 | Ballina repayment | $5,530.00 |
| 22/4/20 | Dee Dee | $26.32 |
| 20/4/20 | Dee Dee | $500.00 |