Renewable Energy Project: Solar Panels
Based in Wangaratta in North East Victoria, Merriwa is recognised as one of Australia's leading supported employment enterprises. We have a team of over 350 employees of which over half have a diagnosed disability, working across 5 business divisions; Packaging, Engineered Wood Products (Timbers), Park Lane Nursery and Garden Centre, and Child, Community Services. Our Purpose is to provide an environment which encourages people with disabilities to reach their potential while delivering quality products and services to our customers and clients.
www.merriwa.org.au
Huge thanks to Goulburn Valley Community Energy and Wangaratta Landcare and Sustainability for the substantial part they played in organising this project.
This project has been fully funded – Thank you!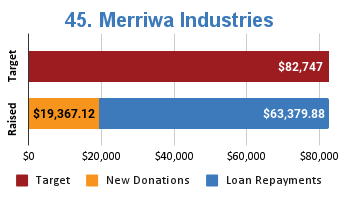 Loan details
Loan amount: $82,747
Loan repayments: $6,500/quarter
Status: Funded project
Installation date: 28 October 2022
Work details
99.5kW solar installation
199 x Trina 500W solar panels
Sungrow inverters
Cost: $82,747
Expected savings: $26,329/year and 116,000 kWh/year

Reduction in carbon emissions/yr: Equivalent to 20.9 average households using renewable electricity instead of grid electricity
---
Honour roll
Thank you to the following people for donating to this project.
| | | |
| --- | --- | --- |
| Date | Name | Amount |
| 6/5/21 | Macquarie Group | $1,161.34 |
| 07/05/21 | RMC repayment | $3,515.35 |
| 7/5/21 | Clunes Coronation repayment | $420.00 |
| 7/5/21 | David Yap | $20.00 |
| 7/5/21 | Peter Wade | $25.00 |
| 7/5/21 | Sharyn Wilson | $25.00 |
| 10/05/21 | Thomas Lester | $10.00 |
| 10/5/21 | David Castleford | $10.00 |
| 10/5/21 | Georgia Cooke | $15.00 |
| 10/5/21 | Mark Nolan | $30.00 |
| 11/5/21 | Char Grainger | $20.00 |
| 11/5/21 | Warwick Stone | $49.15 |
| 12/05/21 | Hender family | $35.00 |
| 12/5/21 | Paul Andrew | $25.00 |
| 13/05/21 | Wayne Stanford | $20.00 |
| 14/5/21 | Jonathan Prendergast | $5.00 |
| 14/05/21 | Peter Wade | $25.00 |
| 16/05/21 | Amie Blanden | $100.00 |
| 17/05/21 | Coorabell Hall repayment | $416.70 |
| 17/05/21 | Jonathan Prendergast | $5.00 |
| 17/5/21 | Jonathan Maddox | $100.00 |
| 17/5/21 | Thomas Lester | $10.00 |
| 17/5/21 | David Castleford | $10.00 |
| 17/5/21 | Paul Mattiske | $20.00 |
| 17/5/21 | Mark Nolan | $30.00 |
| 17/5/21 | Chris Simmons | $10.00 |
| 18/5/21 | Jean Pierre REDESTORFF | $19.48 |
| 19/05/21 | Dan Martens | $50.00 |
| 20/5/21 | David Lloyd | $25.00 |
| 21/5/21 | Peacemakers repayment | $1,000.00 |
| 21/5/21 | Shirley C Marsh | $5.00 |
| 21/05/21 | Gareth Judson | $20.00 |
| 21/5/21 | David Yap | $20.00 |
| 21/5/21 | Peter Wade | $25.00 |
| 24/5/21 | Thomas Lester | $10.00 |
| 24/5/21 | David Castleford | $10.00 |
| 24/05/21 | Hugh Nguyen-Mallen | $50.00 |
| 24/05/21 | Mark Nolan | $30.00 |
| 26/5/21 | Anton Maurus | $35.00 |
| 27/5/21 | Michael Benson | $10.00 |
| 27/5/21 | Wayne Stanford | $20.00 |
| 27/05/21 | Tassia Kolesnikow | $20.00 |
| 28/5/21 | Coast FM studio repayment | $450.00 |
| 28/5/21 | Peter Wade | $25.00 |
| 31/05/21 | Jonathan Prendergast | $5.00 |
| 31/05/21 | Jacinta Green | $5.00 |
| 31/5/21 | Thomas Lester | $10.00 |
| 31/05/21 | David Castleford | $10.00 |
| 31/05/21 | Mark Nolan | $30.00 |
| 31/05/21 | Maurice Clisby | $1,000.00 |
| 01/06/21 | Ruslan Sheptolut | $20.00 |
| 01/06/21 | Daryl Reinke | $800.00 |
| 02/06/21 | Macquarie Group | $384.60 |
| 03/06/21 | dean | $5.00 |
| 03/06/21 | Cloudera foundation/Benevity | $192.63 |
| 04/06/21 | David Yap | $20.00 |
| 04/06/21 | David Gibson | $250.00 |
| 04/06/21 | Geoff Callaghan | $19.48 |
| 04/06/21 | Phillip Nahed | $30.00 |
| 07/06/21 | Thomas Lester | $10.00 |
| 07/06/21 | David Castleford | $10.00 |
| 07/06/21 | Mark Nolan | $30.00 |
| 07/06/21 | Georgia Cooke | $1.68 |
| 8/6/21 | Abbeyfield repayment | $1,500.00 |
| 08/06/21 | Daniel Winn | $1,100.00 |
| 08/06/21 | Daniel Winn | $5.26 |
| 09/06/21 | Sharyn Wilson | $25.00 |
| 10/6/21 | Engadine repayment | $370.00 |
| 10/06/21 | Georgia Cooke | $15.00 |
| 10/06/21 | Wayne Stanford | $20.00 |
| 10/06/21 | Warwick Stone | $49.15 |
| 11/06/21 | Char Grainger | $20.00 |
| 11/06/21 | Peter Wade | $25.00 |
| 11/06/21 | Corinna Pereira | $100.00 |
| 12/06/21 | Hender family | $35.00 |
| 13/06/21 | Neil Rands | $2.10 |
| 14/06/21 | Thomas Lester | $10.00 |
| 14/06/21 | David Castleford | $10.00 |
| 14/06/21 | Jonathan Prendergast | $5.00 |
| 14/06/21 | Mark Nolan | $30.00 |
| 14/06/21 | Paul Andrew | $25.00 |
| 16/06/21 | Amie Blanden | $100.00 |
| 16/06/21 | Jonathan Maddox | $100.00 |
| 17/06/21 | Paul Mattiske | $20.00 |
| 17/06/21 | Chris Simmons | $10.00 |
| 18/06/21 | David Yap | $20.00 |
| 18/6/21 | Peter Wade | $25.00 |
| 18/06/21 | Jean Pierre REDESTORFF | $19.48 |
| 21/06/21 | Shirley C Marsh | $5.00 |
| 21/06/21 | Dan Martens | $50.00 |
| 21/06/21 | Thomas Lester | $10.00 |
| 21/06/21 | David Castleford | $10.00 |
| 21/06/21 | Gareth Judson | $20.00 |
| 21/06/21 | David Lloyd | $25.00 |
| 21/06/21 | Mark Nolan | $30.00 |
| 21/06/21 | Ethical Investment Advisers Pty Ltd | $2,500.00 |
| 23/6/21 | Tarremah repayment | $7,250.00 |
| 23/06/21 | Hugh Nguyen-Mallen | $50.00 |
| 23/06/21 | Zoe Evershed | $150.00 |
| 24/06/21 | Wayne Stanford | $20.00 |
| 25/06/21 | Peter Wade | $25.00 |
| 27/6/21 | Marlin Coast repayment | $1,850.00 |
| 28/6/21 | Walpole repayment | $12,500.00 |
| 28/06/21 | Thomas Lester | $10.00 |
| 28/06/21 | David Castleford | $10.00 |
| 28/06/21 | Michael Benson | $10.00 |
| 28/06/21 | Tassia Kolesnikow | $20.00 |
| 28/06/21 | Mark Nolan | $30.00 |
| 28/06/21 | Anton Maurus | $35.00 |
| 29/06/21 | Jacinta Green | $5.00 |
| 30/6/21 | CERES repayment | $1,210.00 |
| 30/06/21 | Macquarie Group | $393.71 |
| 1/7/21 | Brimbank repayment | $550.00 |
| 01/07/21 | Ruslan Sheptolut | $20.00 |
| 02/07/21 | UK Online Giving Foundation | $604.24 |
| 02/07/21 | David Yap | $20.00 |
| 02/07/21 | Peter Wade | $25.00 |
| 5/7/21 | Coast FM transmitter repay | $400.00 |
| 05/07/21 | Thomas Lester | $10.00 |
| 05/07/21 | David Castleford | $10.00 |
| 05/07/21 | Phillip Nahed | $30.00 |
| 05/07/21 | David Gibson | $250.00 |
| 05/07/21 | Mark Nolan | $30.00 |
| 05/07/21 | Geoff Callaghan | $19.48 |
| 08/07/21 | Woden Valley repayment | $1,500.00 |
| 08/07/21 | Wayne Stanford | $20.00 |
| 9/7/21 | Albert L-T repayment | $363.00 |
| 09/07/21 | Peter Wade | $25.00 |
| 09/07/21 | Sharyn Wilson | $25.00 |
| 12/07/21 | Hender family | $35.00 |
| 12/07/21 | Thomas Lester | $10.00 |
| 12/07/21 | David Castleford | $10.00 |
| 12/07/21 | Georgia Cooke | $15.00 |
| 12/07/21 | Char Grainger | $20.00 |
| 12/07/21 | Warwick Stone | $49.15 |
| 12/07/21 | Mark Nolan | $30.00 |
| 12/07/21 | Paul Andrew | $25.00 |
| 13/7/21 | Trish L-T repayment | $365.00 |
| 14/07/21 | Jonathan Prendergast | $5.00 |
| 16/07/21 | Amie Blanden | $100.00 |
| 16/07/21 | David Yap | $20.00 |
| 16/07/21 | Peter Wade | $25.00 |
| 16/07/21 | Jonathan Maddox | $100.00 |
| 19/07/21 | Thomas Lester | $10.00 |
| 19/07/21 | David Castleford | $10.00 |
| 19/07/21 | Paul Mattiske | $20.00 |
| 19/07/21 | Mark Nolan | $30.00 |
| 19/07/21 | Dan Martens | $50.00 |
| 19/07/21 | Chris Simmons | $10.00 |
| 20/07/21 | David Lloyd | $25.00 |
| 21/07/21 | Shirley C Marsh | $5.00 |
| 21/07/21 | Gareth Judson | $20.00 |
| 21/07/21 | Mike Palmer | $10.00 |
| 22/07/21 | Wayne Stanford | $20.00 |
| 23/07/21 | Peter Wade | $25.00 |
| 23/07/21 | Hugh Nguyen-Mallen | $50.00 |
| 26/07/21 | Thomas Lester | $10.00 |
| 26/07/21 | David Castleford | $10.00 |
| 26/07/21 | Mark Nolan | $30.00 |
| 26/07/21 | Anton Maurus | $35.00 |
| 26/07/21 | James Willcox | $35.00 |
| 27/7/21 | Uralba repayment | $7,200.00 |
| 27/7/21 | Enova repayment | $490.33 |
| 27/07/21 | Michael Benson | $10.00 |
| 27/07/21 | Tassia Kolesnikow | $20.00 |
| 28/07/21 | Mike Palmer | $10.00 |
| 28/07/21 | Mitchell McMillan | $20.00 |
| 29/07/21 | Jacinta Green | $5.00 |
| 30/07/21 | David Yap | $20.00 |
| 30/07/21 | Peter Wade | $25.00 |
| 31/07/21 | Maurice Clisby | $1,000.00 |
| 01/08/21 | Ruslan Sheptolut | $20.00 |
| 2/8/21 | Mansfield Kindy repayment | $600.00 |
| 02/08/21 | Thomas Lester | $10.00 |
| 02/08/21 | David Castleford | $10.00 |
| 02/08/21 | Mark Nolan | $30.00 |
| 03/08/21 | Geoff Callaghan | $19.48 |
| 4/8/21 | Clunes Coronation repayment | $420.00 |
| 04/08/21 | UK Online giving | $12.43 |
| 04/08/21 | David Gibson | $250.00 |
| 04/08/21 | Phillip Nahed | $30.00 |
| 5/8/21 | Pegasus repayment | $320.00 |
| 05/08/21 | Wayne Stanford | $20.00 |
| 06/08/21 | Peter Wade | $25.00 |
| 09/08/21 | Thomas Lester | $10.00 |
| 09/08/21 | David Castleford | $10.00 |
| 09/08/21 | Mark Nolan | $30.00 |
| 09/08/21 | Sharyn Wilson | $25.00 |
| 10/8/21 | RMC repayment | $3,600.00 |
| 10/08/21 | Macquarie Group | $411.92 |
| 10/08/21 | Georgia Cooke | $15.00 |
| 10/08/21 | James Willcox | $34.61 |
| 10/08/21 | Warwick Stone | $49.15 |
| 12/08/21 | Paul Andrew | $25.00 |
| 12/08/21 | Daniel Winn | $2,000.00 |
| 13/08/21 | David Yap | $20.00 |
| 13/08/21 | Peter Wade | $25.00 |
| 15/08/21 | Tim Hartley | $50.00 |
| 15/08/21 | William Adlong | $50.00 |
| 16/08/21 | Coorabell Hall repayment | $416.70 |
| 16/08/21 | Amie Blanden | $100.00 |
| 16/08/21 | Jonathan Prendergast | $5.00 |
| 16/08/21 | Thomas Lester | $10.00 |
| 16/08/21 | David Castleford | $10.00 |
| 16/08/21 | Char Grainger | $20.00 |
| 16/08/21 | Mark Nolan | $30.00 |
| 16/08/21 | Jonathan Maddox | $100.00 |
| 17/08/21 | Paul Mattiske | $20.00 |
| 17/08/21 | Chris Simmons | $10.00 |
| 18/08/21 | Jean Pierre REDESTORFF | $19.48 |
| 18/08/21 | Danae Bosler | $350.00 |
| 19/8/21 | Peacemakers repayment | $1,000.00 |
| 19/08/21 | Wayne Stanford | $20.00 |
| 19/08/21 | Dan Martens | $50.00 |
| 19/08/21 | Matthew Whitingbird | $7.61 |
| 20/08/21 | David Lloyd | $25.00 |
| 20/08/21 | Jacinta Mainstone | $100.00 |
| 21/08/21 | Shirley C Marsh | $5.00 |
| 23/08/21 | Thomas Lester | $10.00 |
| 23/08/21 | David Castleford | $10.00 |
| 23/08/21 | Michael Kubler | $15.00 |
| 23/08/21 | Gareth Judson | $20.00 |
| 23/08/21 | Mark Nolan | $30.00 |
| 23/08/21 | Hugh Nguyen-Mallen | $50.00 |
| 26/08/21 | Anton Maurus | $35.00 |
| 27/08/21 | Michael Benson | $10.00 |
| 27/08/21 | Tassia Kolesnikow | $20.00 |
| 27/08/21 | Andrea Wallace | $100.00 |
| 27/08/21 | Peter Wade | $25.00 |
| 29/08/21 | Dennis and Beverley Lambert | $40.00 |
| 29/08/21 | Robert Brookes | $75.00 |
| 30/8/21 | Coast FM studio repayment | $450.00 |
| 30/08/21 | Jacinta Green | $5.00 |
| 30/08/21 | Thomas Lester | $10.00 |
| 30/08/21 | David Castleford | $10.00 |
| 30/08/21 | Mark Nolan | $30.00 |
| 31/08/21 | Macquarie Group | $384.00 |
| 01/09/21 | Ruslan Sheptolut | $20.00 |
| 02/09/21 | Wayne Stanford | $20.00 |
| 02/09/21 | Andrea Wallace | $100.00 |
| 03/09/21 | UK Online Giving Foundation | $47.51 |
| 03/09/21 | Peter Wade | $25.00 |
| 03/09/21 | Geoff Callaghan | $19.48 |
| 03/09/21 | Kara Postle | $98.60 |
| 06/09/21 | Thomas Lester | $10.00 |
| 06/09/21 | David Castleford | $10.00 |
| 06/09/21 | Phillip Nahed | $30.00 |
| 06/09/21 | David Gibson | $250.00 |
| 06/09/21 | Mark Nolan | $30.00 |
| 8/9/21 | Abbeyfield repayment | $1,500.00 |
| 09/09/21 | Andrea Wallace | $100.00 |
| 09/09/21 | Sharyn Wilson | $25.00 |
| 10/9/21 | Engadine repayment | $370.00 |
| 10/09/21 | Georgia Cooke | $15.00 |
| 10/09/21 | David Yap | $20.00 |
| 10/09/21 | Peter Wade | $25.00 |
| 10/09/21 | Warwick Stone | $49.15 |
| 13/09/21 | Thomas Lester | $10.00 |
| 13/09/21 | David Castleford | $10.00 |
| 13/09/21 | Char Grainger | $20.00 |
| 13/09/21 | Mark Nolan | $30.00 |
| 13/09/21 | Paul Andrew | $25.00 |
| 14/09/21 | Jonathan Prendergast | $5.00 |
| 16/9/21 | Parkholme repayment | $1,214.50 |
| 16/09/21 | Wayne Stanford | $20.00 |
| 16/09/21 | Andrea Wallace | $100.00 |
| 16/09/21 | Jonathan Maddox | $100.00 |
| 17/09/21 | Paul Mattiske | $20.00 |
| 17/09/21 | Peter Wade | $25.00 |
| 17/09/21 | Chris Simmons | $10.00 |
| 20/09/21 | Dan Martens | $50.00 |
| 20/09/21 | Matthew Whitingbird | $7.61 |
| 20/09/21 | Thomas Lester | $10.00 |
| 20/09/21 | David Castleford | $10.00 |
| 20/09/21 | Jean Pierre REDESTORFF | $19.48 |
| 20/09/21 | David Lloyd | $25.00 |
| 20/09/21 | Mark Nolan | $30.00 |
| 20/09/21 | James Willcox | $50.00 |
| 21/9/21 | Uralba repayment | $2,400.00 |
| 21/09/21 | Shirley C Marsh | $5.00 |
| 21/09/21 | Gareth Judson | $20.00 |
| 22/09/21 | Michael Kubler | $15.00 |
| 22/09/21 | Tim Price | $300.00 |
| 23/09/21 | Andrea Wallace | $100.00 |
| 23/09/21 | Hugh Nguyen-Mallen | $50.00 |
| 24/09/21 | David Yap | $20.00 |
| 24/09/21 | Peter Wade | $25.00 |
| 27/09/21 | Woden Valley repayment | $1,500.00 |
| 27/09/21 | Thomas Lester | $10.00 |
| 27/09/21 | Michael Benson | $10.00 |
| 27/09/21 | David Castleford | $10.00 |
| 27/09/21 | Tassia Kolesnikow | $20.00 |
| 27/09/21 | Mark Nolan | $30.00 |
| 27/09/21 | Anton Maurus | $35.00 |
| 28/9/21 | Tarremah repayment (part) | $8,238.30 |
| 29/09/21 | Jacinta Green | $5.00 |
| 30/09/21 | Wayne Stanford | $20.00 |
| 30/09/21 | Andrea Wallace | $100.00 |