Renewable Energy Project: Solar Panels
Murray Mallee Aged Care Group are an Australian Government funded, not for profit, non-government organisation that supports older people to live independently in their own home with the supports that they require to live the life they choose. A 25.73kW solar PV system will be installed on their administration and training centre. Murray Mallee Aged Care Group have a number of fleet vehicles and the system has been sized to allow for electric vehicle charging in the future using the excess solar.
Murray Mallee Aged Care Group CEO Anna Howard said "Murray Mallee Aged Care Group are committed to contributing to projects that positively impact the environment. Installing and operating solar panels enable the organisation to operate in an environmentally responsible manner."
Website: https://murraymalleeagedcareservices.com.au/
This project has been fully funded – Thank you!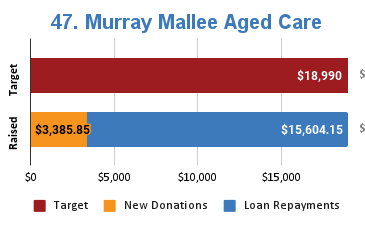 Loan details
Loan amount: $18,990
Loan repayments: $1,300 quarterly
Status: Completed project
Installation date: 7th and 8th of November 2022
Work details
25.73 kW solar electricity system
Canadian Solar 415W MONO (BLK) solar panels
Fronius SYMO 20.0-3-M Inverter
Fronius web monitoring and a Fronius smart meter
Cost: $18,990
Expected savings: 35,609 kWh and $5,909 per year

Reduction in carbon emissions/yr: Equivalent to 6.4 average households using renewable electricity instead of grid electricity.
Honour roll
Thank you to the following people for donating to this project.
| | | |
| --- | --- | --- |
| Date | Name | Amount |
| 28/09/21 | Tarremah repayment | $761.70 |
| 30/9/21 | CERES repayment | $1,210.00 |
| 01/10/21 | Ruslan Sheptolut | $20.00 |
| 1/10/21 | Peter Wade | $25.00 |
| 1/10/21 | Marlin Coast repayment | $1,850.00 |
| 4/10/21 | dean | $5.00 |
| 4/10/21 | Thomas Lester | $10.00 |
| 4/10/21 | David Castleford | $10.00 |
| 4/10/21 | Geoff Callaghan | $19.48 |
| 4/10/21 | David Gibson | $250.00 |
| 4/10/21 | Mark Nolan | $30.00 |
| 4/10/21 | Phillip Nahed | $30.00 |
| 4/10/21 | Coast FM transmitter repay | $400.00 |
| 05/10/21 | UK Online Giving Foundation | $236.54 |
| 6/10/21 | Macquarie Group | $384.40 |
| 7/10/21 | Andrea Wallace | $100.00 |
| 8/10/21 | David Yap | $20.00 |
| 8/10/21 | Peter Wade | $25.00 |
| 8/10/21 | Sharyn Wilson | $25.00 |
| 8/10/21 | Albert L-T repayment | $363.00 |
| 11/10/21 | Thomas Lester | $10.00 |
| 11/10/21 | David Castleford | $10.00 |
| 11/10/21 | Georgia Cooke | $15.00 |
| 11/10/21 | Char Grainger | $20.00 |
| 11/10/21 | Mark Nolan | $30.00 |
| 12/10/21 | Paul Andrew | $25.00 |
| 13/10/21 | Kasrynne Huolohan Investment Trust Fund | $1,000.00 |
| 13/10/21 | Trish L-T repayment | $365.00 |
| 14/10/21 | Wayne Stanford | $20.00 |
| 14/10/21 | Andrea Wallace | $100.00 |
| 14/10/21 | Jonathan Prendergast | $5.00 |
| 15/10/21 | Warwick Stone | $49.15 |
| 15/10/21 | Peter Wade | $25.00 |
| 16/10/21 | Brimbank repayment | $550.00 |
| 18/10/21 | Jonathan Maddox | $100.00 |
| 18/10/21 | Thomas Lester | $10.00 |
| 18/10/21 | David Castleford | $10.00 |
| 18/10/21 | Paul Mattiske | $20.00 |
| 18/10/21 | Mark Nolan | $30.00 |
| 18/10/21 | Stella King | $20.00 |
| 18/10/21 | Chris Simmons | $10.00 |
| 19/10/21 | Dan Martens | $50.00 |
| 20/10/21 | David Lloyd | $25.00 |
| 20/10/21 | John Ellis | $100.00 |
| 20/10/21 | Geelong Bowls repayment | $3,000.00 |
| 21/10/21 | Shirley C Marsh | $5.00 |
| 21/10/21 | Gareth Judson | $20.00 |
| 21/10/21 | Andrea Wallace | $100.00 |
| 21/10/21 | Geelong Bowls repayment | $3,000.00 |
| 22/10/21 | Michael Kubler | $15.00 |
| 22/10/21 | David Yap | $20.00 |
| 22/10/21 | Peter Wade | $25.00 |
| 22/10/21 | Glenn Gale | $50.00 |
| 25/10/21 | Thomas Lester | $10.00 |
| 25/10/21 | David Castleford | $10.00 |
| 25/10/21 | Jean Pierre REDESTORFF | $19.48 |
| 25/10/21 | Hugh Nguyen-Mallen | $50.00 |
| 25/10/21 | Mark Nolan | $30.00 |
| 26/10/21 | Anton Maurus | $35.00 |
| 27/10/21 | Michael Benson | $10.00 |
| 27/10/21 | Tassia Kolesnikow | $20.00 |
| 28/10/21 | Wayne Stanford | $20.00 |
| 28/10/21 | Andrea Wallace | $100.00 |
| 29/10/21 | Peter Wade | $25.00 |
| 29/10/21 | Jacinta Green | $5.00 |
| 29/10/21 | Enova repayment | $490.33 |
| 1/11/21 | Thomas Lester | $10.00 |
| 1/11/21 | David Castleford | $10.00 |
| 1/11/21 | Ruslan Sheptolut | $20.00 |
| 01/11/21 | Mark Nolan | $30.00 |
| 1/11/21 | Michelle Howie | $50.00 |
| 01/11/21 | Mansfield Kindy repayment | $600.00 |
| 02/11/21 | Tarremah repayment (part) | $3,014.12 |