Renewable Energy Project: Solar Panels
Lockington Community Care Committee own and manage 14 low-cost units, in a highly desirable location, for retired and/or disabled residents in the small town of Lockington.
Goulburn Valley Community Energy assisted the group to install a 6.6kW solar system on each of their units and recommended CORENA to the group for a zero interest loan. For many residents, their homes are cold in winter and hot in summer because they use little electricity due to their low-income status. This project will reduce carbon emissions, reduce cost of living pressures for residents and improve comfort and health outcomes by providing lower cost electricity.
This project has been fully funded – Thank you!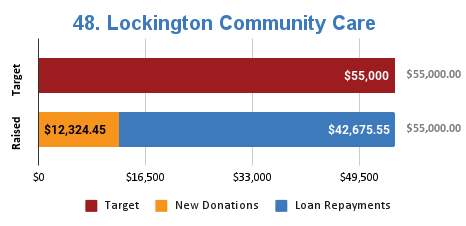 Loan details
Loan amount: $55,000 (part loan)
Loan repayments: $2750 quarterly
Status: Completed project
Installation date: October 2022
Work details
14 X 6.63 kW solar electricity system
17 X 390W Hyundai Green Energy UF Series
Inverter 1 X Fronius Primo 5kW
Cost: $70,000
Expected savings: 9,505 kWh and $443.02 per year per unit

Reduction in carbon emissions/yr: Equivalent to 24 average households using renewable electricity instead of grid electricity.
Honour roll
Thankyou to the following people for donating to this project
| | | |
| --- | --- | --- |
| Date | Name | Amount |
| 02/11/21 | Tarremah part repayment | $23,962.88 |
| 3/11/21 | dean | $5.00 |
| 3/11/21 | Geoff Callaghan | $19.48 |
| 3/11/21 | Dane Cowley | $120.00 |
| 4/11/21 | UK Online Giving Foundation | $2,107.41 |
| 4/11/21 | Andrea Wallace | $100.00 |
| 4/11/21 | David Gibson | $250.00 |
| 4/11/21 | Phillip Nahed | $30.00 |
| 4/11/21 | Wendy Harper | $98.60 |
| 04/11/21 | Pegasus repayment | $320.00 |
| 5/11/21 | Macquarie Group | $384.40 |
| 5/11/21 | Peter Wade | $25.00 |
| 5/11/21 | David Yap | $20.00 |
| 8/11/21 | Thomas Lester | $10.00 |
| 8/11/21 | David Castleford | $10.00 |
| 8/11/21 | Mark Nolan | $30.00 |
| 9/11/21 | Sharyn Wilson | $25.00 |
| 09/11/21 | RMC repayment | $3,600.00 |
| 10/11/21 | Georgia Cooke | $15.00 |
| 10/11/21 | Warwick Stone | $49.15 |
| 11/11/21 | Wayne Stanford | $20.00 |
| 11/11/21 | Char Grainger | $20.00 |
| 11/11/21 | Andrea Wallace | $100.00 |
| 12/11/21 | Peter Wade | $25.00 |
| 12/11/21 | Paul Andrew | $25.00 |
| 15/11/21 | Jonathan Prendergast | $5.00 |
| 15/11/21 | Thomas Lester | $10.00 |
| 15/11/21 | David Castleford | $10.00 |
| 15/11/21 | Mark Nolan | $30.00 |
| 15/11/21 | Coorabell Hall repayment | $416.70 |
| 16/11/21 | Jonathan Maddox | $100.00 |
| 17/11/21 | Paul Mattiske | $20.00 |
| 17/11/21 | Chris Simmons | $10.00 |
| 18/11/21 | Andrea Wallace | $100.00 |
| 18/11/21 | Jean Pierre REDESTORFF | $19.48 |
| 19/11/21 | David Yap | $20.00 |
| 19/11/21 | Peter Wade | $25.00 |
| 19/11/21 | Dan Martens | $50.00 |
| 20/11/21 | Peacemakers repayment | $1,000.00 |
| 21/11/21 | Shirley C Marsh | $5.00 |
| 22/11/21 | Thomas Lester | $10.00 |
| 22/11/21 | David Castleford | $10.00 |
| 22/11/21 | Michael Kubler | $15.00 |
| 22/11/21 | Gareth Judson | $20.00 |
| 22/11/21 | David Lloyd | $25.00 |
| 22/11/21 | Mark Nolan | $30.00 |
| 23/11/21 | Hugh Nguyen-Mallen | $50.00 |
| 24/11/21 | Parkholme repayment | $1,214.50 |
| 25/11/21 | Wayne Stanford | $20.00 |
| 25/11/21 | Andrea Wallace | $100.00 |
| 25/11/21 | Clunes Coronation repayment | $420.00 |
| 26/11/21 | Peter Wade | $25.00 |
| 26/11/21 | Anton Maurus | $35.00 |
| 29/11/21 | Thomas Lester | $10.00 |
| 29/11/21 | Michael Benson | $10.00 |
| 29/11/21 | David Castleford | $10.00 |
| 29/11/21 | Tassia Kolesnikow | $20.00 |
| 29/11/21 | Mark Nolan | $30.00 |
| 29/11/21 | Jacinta Green | $5.00 |
| 29/11/21 | Woonona Bulli repayment | $424.17 |
| 1/12/21 | UK Online Giving Foundation | $109.54 |
| 1/12/21 | Ruslan Sheptolut | $20.00 |
| 01/12/21 | Geelong Bowls repayment | $3,000.00 |
| 2/12/21 | Macquarie Group | $384.40 |
| 2/12/21 | Andrea Wallace | $100.00 |
| 2/12/21 | Good2Give | $9.60 |
| 3/12/21 | dean | $5.00 |
| 3/12/21 | David Yap | $20.00 |
| 3/12/21 | Geoff Callaghan | $19.48 |
| 03/12/21 | Peter Wade | $25.00 |
| 06/12/21 | Thomas Lester | $10.00 |
| 06/12/21 | David Castleford | $10.00 |
| 06/12/21 | Phillip Nahed | $30.00 |
| 06/12/21 | David Gibson | $250.00 |
| 06/12/21 | Mark Nolan | $30.00 |
| 08/12/21 | Abbeyfield repayment | $1,500.00 |
| 09/12/21 | Wayne Stanford | $20.00 |
| 09/12/21 | Andrea Wallace | $20.00 |
| 09/12/21 | Sharyn Wilson | $25.00 |
| 10/12/21 | Georgia Cooke | $15.00 |
| 10/12/21 | Peter Wade | $25.00 |
| 10/12/21 | Warwick Stone | $49.15 |
| 10/12/21 | Engadine repayment | $370.00 |
| 13/12/21 | Thomas Lester | $10.00 |
| 13/12/21 | David Castleford | $10.00 |
| 13/12/21 | Char Grainger | $20.00 |
| 13/12/21 | Mark Nolan | $30.00 |
| 13/12/21 | Paul Andrew | $25.00 |
| 14/12/21 | Jonathan Prendergast | $5.00 |
| 15/12/21 | Good2Give | $19.20 |
| 16/12/21 | Andrea Wallace | $20.00 |
| 16/12/21 | Jonathan Maddox | $100.00 |
| 17/12/21 | Paul Mattiske | $20.00 |
| 17/12/21 | David Yap | $20.00 |
| 17/12/21 | Peter Wade | $25.00 |
| 17/12/21 | Chris Simmons | $10.00 |
| 20/12/21 | Dan Martens | $50.00 |
| 20/12/21 | Thomas Lester | $10.00 |
| 20/12/21 | David Castleford | $10.00 |
| 20/12/21 | Jean Pierre REDESTORFF | $19.48 |
| 20/12/21 | David Lloyd | $25.00 |
| 20/12/21 | Mark Nolan | $30.00 |
| 20/12/21 | Wayne Stanford | $50.00 |
| 20/12/21 | Wayne Stanford | $50.00 |
| 21/12/21 | Shirley C Marsh | $5.00 |
| 21/12/21 | Gareth Judson | $20.00 |
| 22/12/21 | Michael Kubler | $15.00 |
| 22/12/21 | Uralba repayment | $2,400.00 |
| 23/12/21 | Wayne Stanford | $20.00 |
| 23/12/21 | Andrea Wallace | $20.00 |
| 23/12/21 | Hugh Nguyen-Mallen | $50.00 |
| 23/12/21 | Mike Palmer | $100.00 |
| 24/12/21 | Peter Wade | $25.00 |
| 29/12/21 | UK Online Giving Foundation | $1,174.44 |
| 29/12/21 | Macquarie Group | $2,050.78 |
| 29/12/21 | Thomas Lester | $10.00 |
| 29/12/21 | Michael Benson | $10.00 |
| 29/12/21 | David Castleford | $10.00 |
| 29/12/21 | Tassia Kolesnikow | $20.00 |
| 29/12/21 | Jacinta Green | $5.00 |
| 29/12/21 | Mark Nolan | $30.00 |
| 29/12/21 | Anton Maurus | $35.00 |
| 30/12/21 | Andrea Wallace | $20.00 |
| 31/12/21 | David Yap | $20.00 |
| 31/12/21 | Peter Wade | $25.00 |
| 31/12/21 | CERES repayment | $1,210.00 |
| 01/01/22 | Ruslan Sheptolut | $20.00 |
| 04/01/22 | Thomas Lester | $10.00 |
| 04/01/22 | David Castleford | $10.00 |
| 04/01/22 | Geoff Callaghan | $19.48 |
| 04/01/22 | David Gibson | $250.00 |
| 04/01/22 | Phillip Nahed | $30.00 |
| 04/01/22 | Mark Nolan | $30.00 |
| 06/01/22 | Wayne Stanford | $20.00 |
| 06/01/22 | Andrea Wallace | $20.00 |
| 07/01/22 | Peter Wade | $25.00 |
| 07/01/22 | Sharyn Wilson | $25.00 |
| 09/01/22 | Mary Falkner | $50.00 |
| 09/01/22 | Albert L-T repayment | $363.00 |
| 10/01/22 | Thomas Lester | $10.00 |
| 10/01/22 | David Castleford | $10.00 |
| 10/01/22 | Mark Nolan | $30.00 |
| 10/01/22 | Warwick Stone | $49.15 |
| 11/01/22 | Char Grainger | $20.00 |
| 12/01/22 | Paul Andrew | $25.00 |
| 13/01/22 | Andrea Wallace | $20.00 |
| 13/01/22 | Trish L-T repayment | $365.00 |
| 14/01/22 | Jonathan Prendergast | $5.00 |
| 14/01/22 | Peter Wade | $25.00 |
| 17/01/22 | Jonathan Maddox | $100.00 |
| 17/01/22 | Thomas Lester | $10.00 |
| 17/01/22 | David Castleford | $10.00 |
| 17/01/22 | Paul Mattiske | $20.00 |
| 17/01/22 | Mark Nolan | $30.00 |
| 17/01/22 | Chris Simmons | $10.00 |
| 17/01/22 | Woden Valley repayment | $1,500.00 |
| 18/01/22 | Tom Halbert | $100.00 |
| 18/01/22 | Jean Pierre REDESTORFF | $19.48 |
| 19/01/22 | Dan Martens | $50.00 |
| 19/01/22 | Good2Give | $19.20 |
| 20/01/22 | Wayne Stanford | $20.00 |
| 20/01/22 | Andrea Wallace | $20.00 |
| 20/01/22 | David Lloyd | $25.00 |
| 21/01/22 | Shirley C Marsh | $5.00 |
| 21/01/22 | Gareth Judson | $20.00 |
| 21/01/22 | Peter Wade | $25.00 |
| 24/01/22 | Thomas Lester | $10.00 |
| 24/01/22 | David Castleford | $10.00 |
| 24/01/22 | Michael Kubler | $15.00 |
| 24/01/22 | Hugh Nguyen-Mallen | $50.00 |
| 24/01/22 | Mark Nolan | $30.00 |
| 27/01/22 | Michael Benson | $10.00 |
| 27/01/22 | Tassia Kolesnikow | $20.00 |
| 27/01/22 | Andrea Wallace | $20.00 |
| 27/01/22 | Anton Maurus | $35.00 |
| 28/01/22 | Peter Wade | $25.00 |
| 31/01/22 | Jacinta Green | $5.00 |
| 31/01/22 | Thomas Lester | $10.00 |
| 31/01/22 | David Castleford | $10.00 |
| 31/01/22 | Mark Nolan | $30.00 |
| 01/02/22 | Ruslan Sheptolut | $20.00 |
| 01/02/22 | Mansfield Kindy repayment | $600.00 |
| 02/02/22 | Macquarie Group | $384.40 |
| 02/02/22 | UK Online Giving Foundation | $1,303.13 |
| 02/02/22 | Good2Give | $19.20 |
| 03/02/22 | Wayne Stanford | $20.00 |
| 03/02/22 | Andrea Wallace | $20.00 |
| 03/02/22 | Geoff Callaghan | $19.48 |
| 04/02/22 | Clunes Coronation part repayment | $9.30 |