Renewable Energy Project: Solar Panels
The Mary Knoll Retreat Centre provides meeting rooms and accommodation for offsite meetings and retreats. It is run by Mary Knoll Refuge Inc, a non-profit benevolent institution and registered charity. Founded within the Catholic Faith it welcomes everyone.
Website: http://maryknollrefuge.com.au/
This project has been fully funded – Thank you!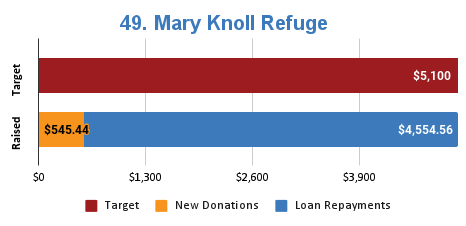 Loan details
Loan amount: $5,100
Loan repayments: $240 quarterly
Status: Completed project
Installation date: 8th February 2023
Work details
6.64 kW solar electricity system
Seraphim MBB Half-Cut PERC mono (SRP-415-BMD-HV)
1 X GoodWe 5 kW 1 Phase 2 MPPT Grid Connect
Cost: $5100
Expected savings: 9400 kWh and $1,164 per year

Reduction in carbon emissions/yr: Equivalent to 1.69 average households using renewable electricity instead of grid electricity.
Honour roll
Thank you to the following people for donating to this project
| | | |
| --- | --- | --- |
| Date | Name | Amount |
| 4/2/22 | David Gibson | $250.00 |
| 4/2/22 | Peter Wade | $25.00 |
| 4/2/22 | Phillip Nahed | $30.00 |
| 4/2/22 | Clunes Coronation part repayment | $410.70 |
| 7/2/22 | Thomas Lester | $10.00 |
| 7/2/22 | David Castleford | $10.00 |
| 7/2/22 | Mark Nolan | $30.00 |
| 8/2/22 | RMC repayment | $3,600.00 |
| 9/2/22 | Sharyn Wilson | $25.00 |
| 10/2/22 | Andrea Wallace | $20.00 |
| 11/2/22 | Char Grainger | $20.00 |
| 11/2/22 | Peter Wade | $25.00 |
| 11/2/22 | Warwick Stone | $49.15 |
| 11/2/22 | Enova repayment | $490.33 |
| 14/2/22 | Thomas Lester | $10.00 |
| 14/2/22 | David Castleford | $10.00 |
| 14/2/22 | Jonathan Prendergast | $5.00 |
| 14/2/22 | Mark Nolan | $30.00 |
| 14/2/22 | Paul Andrew | $25.00 |
| 15/2/22 | Coorabell Hall part repayment | $53.53 |