Renewable Energy Project: Solar Panels
Believe Housing Australia is a nationally accredited tier one community housing provider with more than 20 years' experience in delivering safe and secure social and affordable housing, and tenancy services. They own or manage more than 2,000 homes and support around 5,000 tenants who are mainly people on low incomes, including those who have experienced homelessness, young and older people, First Nations people, individuals living with disability and mental health issues, survivors of domestic violence, and people from non-English speaking backgrounds. Believe Housing Australia is part of the AnglicareSA family, which means tenants have access to a wide range of support services.
This project will install 13 solar systems on community housing for tenants who are experiencing significant cost of living pressures. The installation will include a Pulse® home monitoring system connected to a centralised monitoring and control system.
This innovative approach uses a patented hardware/software system that allows landlords to install solar and then sell the solar power to the tenants, at a rate that is much lower than grid costs, while Believe Housing Australia and Anglicare SA still receive income from the systems to pay off their loan. This addresses one of the major barriers to community housing organisations installing solar panels.
The Pulse® system includes an in-home display and smart device app which shows energy consumption and solar production in real time. The in-home display shows when excess solar power is available allowing residents to shift their energy use to make the most of their low cost solar electricity. This patented Australia innovation is a powerful tool which allows residents to reduce their carbon emissions and energy costs even further.
Partner Websites: https://believehousing.org.au/; https://anglicaresa.com.au/; https://369labs.com.au; & https://beatenergy.com.au/
This project has been fully funded – Thank you!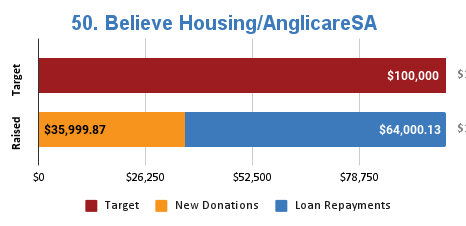 Loan details
Loan amount: $100,000
Loan repayments: $5,000 quarterly
Status: Funded project
Installation date: 27th of February 2023
Work details
13 X 5.81 kW solar electricity system
5kW Goodwe inverter. Pulse Embermeter, Beatbox energy metering unit.
Expected savings (per system): 7,588kWh and $1,307 per year

Reduction in carbon emissions/yr (per system): Equivalent to 1.6 average households using renewable electricity instead of grid electricity.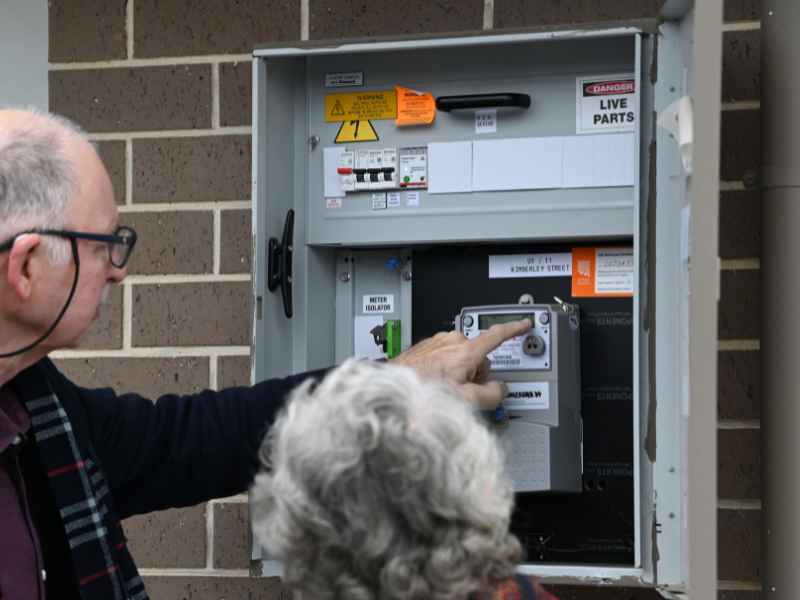 Honour roll
Thank you to the following donors who contributed to this project.
| | | |
| --- | --- | --- |
| Date | Name | Amount |
| 15/02/22 | Coorabell Hall part repayment | $363.17 |
| 16/02/22 | Jonathan Maddox | $100.00 |
| 16/02/22 | Good2Give | $48.00 |
| 17/02/22 | Wayne Stanford | $20.00 |
| 17/02/22 | Andrea Wallace | $20.00 |
| 17/02/22 | Anon | $20.00 |
| 17/02/22 | Georgia Cooke | $10.00 |
| 17/02/22 | Chris Simmons | $10.00 |
| 18/02/22 | Pete61 | $25.00 |
| 18/02/22 | Jean Pierre REDESTORFF | $19.48 |
| 21/02/22 | Shirley | $5.00 |
| 21/02/22 | Dan Martens | $50.00 |
| 21/02/22 | Tom Lester | $10.00 |
| 21/02/22 | David Castleford | $10.00 |
| 21/02/22 | GJ | $20.00 |
| 21/02/22 | David Lloyd | $25.00 |
| 21/02/22 | Laquorious Dee | $30.00 |
| 21/02/22 | Pegasus final repayment | $199.00 |
| 22/02/22 | Michael Kubler | $15.00 |
| 23/02/22 | Hugh Nguyen-Mallen | $50.00 |
| 23/02/22 | Mike | $200.00 |
| 24/02/22 | Andrea Wallace | $20.00 |
| 24/02/22 | Peacemakers repayment | $1,000.00 |
| 25/02/22 | Pete61 | $25.00 |
| 28/02/22 | Tom Lester | $10.00 |
| 28/02/22 | David Castleford | $10.00 |
| 28/02/22 | Michael Benson | $10.00 |
| 28/02/22 | Tassia, Rick, Karu, Xanda | $20.00 |
| 28/02/22 | Laquorious Dee | $30.00 |
| 28/02/22 | Jacinta Green | $5.00 |
| 28/02/22 | Anton Maurus | $35.00 |
| 28/02/22 | Woden Valley repayment | $1,500.00 |
| 01/03/22 | Benevity | $384.40 |
| 01/03/22 | Ruslan Sheptolut | $20.00 |
| 01/03/22 | Geelong Bowls repayment | $3,000.00 |
| 03/03/22 | dean | $5.00 |
| 03/03/22 | Wayne Stanford | $20.00 |
| 03/03/22 | Andrea Wallace | $20.00 |
| 04/03/22 | David Gibson | $250.00 |
| 04/03/22 | Pete61 | $25.00 |
| 04/03/22 | Phil | $30.00 |
| 07/03/22 | UK online giving | $96.77 |
| 07/03/22 | Tom Lester | $10.00 |
| 07/03/22 | David Castleford | $10.00 |
| 07/03/22 | Laquorious Dee | $30.00 |
| 08/03/22 | Andrea Wallace | $50.00 |
| 09/03/22 | SW | $25.00 |
| 10/03/22 | Warwick Stone | $49.15 |
| 10/03/22 | Engadine repayment | $370.00 |
| 11/03/22 | Char Grainger | $20.00 |
| 11/03/22 | Pete61 | $25.00 |
| 14/03/22 | Tom Lester | $10.00 |
| 14/03/22 | David Castleford | $10.00 |
| 14/03/22 | Jonathan Prendergast | $5.00 |
| 14/03/22 | Laquorious Dee | $30.00 |
| 14/03/22 | Paulie | $25.00 |
| 14/03/22 | OTTWAY The Label | $3,000.00 |
| 15/03/22 | Andrea Wallace | $50.00 |
| 16/03/22 | Jonathan Maddox | $100.00 |
| 17/03/22 | Wayne Stanford | $20.00 |
| 17/03/22 | Anon | $20.00 |
| 17/03/22 | Chris Simmons | $10.00 |
| 18/03/22 | Pete61 | $25.00 |
| 18/03/22 | Jean Pierre REDESTORFF | $19.48 |
| 21/03/22 | Shirley | $5.00 |
| 21/03/22 | Dan Martens | $100.00 |
| 21/03/22 | Tom Lester | $10.00 |
| 21/03/22 | David Castleford | $10.00 |
| 21/03/22 | GJ | $20.00 |
| 21/03/22 | David Lloyd | $25.00 |
| 21/03/22 | Laquorious Dee | $30.00 |
| 21/03/22 | Uralba repayment | $2,400.00 |
| 22/03/22 | Andrea Wallace | $50.00 |
| 22/03/22 | 2tbc1887 | $50.00 |
| 22/03/22 | Michael Kubler | $15.00 |
| 23/03/22 | Hugh Nguyen-Mallen | $50.00 |
| 24/03/22 | Zoe E | $350.00 |
| 25/03/22 | Pete61 | $25.00 |
| 26/03/22 | AP | $100.00 |
| 28/03/22 | Tom Lester | $10.00 |
| 28/03/22 | Michael Benson | $10.00 |
| 28/03/22 | David Castleford | $10.00 |
| 28/03/22 | Tassia, Rick, Karu, Xanda | $20.00 |
| 28/03/22 | Laquorious Dee | $30.00 |
| 28/03/22 | Anton Maurus | $35.00 |
| 29/03/22 | Kay Doecke | $100.00 |
| 29/03/22 | Benevity | $384.40 |
| 29/03/22 | Andrea Wallace | $50.00 |
| 29/03/22 | Jacinta Green | $5.00 |
| 30/03/22 | Briony O'Shea | $10.00 |
| 31/03/22 | UK online giving | $126.54 |
| 31/03/22 | Wayne Stanford | $20.00 |
| 31/03/22 | CERES repayment | $1,210.00 |
| 31/03/22 | Coast FM studio repayment | $900.00 |
| 31/03/22 | Coast FM transmitter repay | $800.00 |
| 01/04/22 | Ruslan Sheptolut | $20.00 |
| 01/04/22 | Pete61 | $25.00 |
| 04/04/22 | dean | $5.00 |
| 04/04/22 | Tom Lester | $10.00 |
| 04/04/22 | David Castleford | $10.00 |
| 04/04/22 | David Gibson | $250.00 |
| 04/04/22 | Laquorious Dee | $30.00 |
| 04/04/22 | Phil | $30.00 |
| 05/04/22 | Andrea Wallace | $50.00 |
| 08/04/22 | Pete61 | $25.00 |
| 08/04/22 | SW | $25.00 |
| 10/04/22 | Albert L-T repayment | $363.00 |
| 11/04/22 | Tom Lester | $10.00 |
| 11/04/22 | David Castleford | $10.00 |
| 11/04/22 | Char Grainger | $20.00 |
| 11/04/22 | Warwick Stone | $49.15 |
| 11/04/22 | Laquorious Dee | $30.00 |
| 12/04/22 | Andrea Wallace | $50.00 |
| 12/04/22 | Paulie | $25.00 |
| 13/04/22 | Trish L-T repayment | $365.00 |
| 14/04/22 | Wayne Stanford | $20.00 |
| 14/04/22 | Jonathan Prendergast | $5.00 |
| 19/04/22 | Pete61 | $25.00 |
| 19/04/22 | Jonathan Maddox | $100.00 |
| 19/04/22 | Tom Lester | $10.00 |
| 19/04/22 | David Castleford | $10.00 |
| 19/04/22 | Anon | $20.00 |
| 19/04/22 | Laquorious Dee | $30.00 |
| 19/04/22 | Dan Martens | $100.00 |
| 19/04/22 | Jean Pierre REDESTORFF | $19.48 |
| 19/04/22 | Chris Simmons | $10.00 |
| 19/04/22 | Parkholme repayment | $1,214.50 |
| 19/04/22 | CC Steiner repayment | $3,000.00 |
| 20/04/22 | David Lloyd | $25.00 |
| 20/04/22 | Andrea Wallace | $50.00 |
| 21/04/22 | Shirley | $5.00 |
| 21/04/22 | GJ | $20.00 |
| 21/04/22 | Denece and David Clarke | $1,000.00 |
| 22/04/22 | Michael Kubler | $15.00 |
| 22/04/22 | Pete61 | $25.00 |
| 26/04/22 | Tom Lester | $10.00 |
| 26/04/22 | David Castleford | $10.00 |
| 26/04/22 | Hugh Nguyen-Mallen | $50.00 |
| 26/04/22 | Laquorious Dee | $30.00 |
| 26/04/22 | Anton Maurus | $35.00 |
| 27/04/22 | Michael Benson | $10.00 |
| 27/04/22 | Tassia, Rick, Karu, Xanda | $20.00 |
| 28/04/22 | Patrick Maslen | $200.00 |
| 29/04/22 | Benevity | $384.40 |
| 29/04/22 | Pete61 | $25.00 |
| 29/04/22 | Jacinta Green | $5.00 |
| 29/04/22 | Marlin Coast repayment | $1,850.00 |
| 29/04/22 | Enova repayment | $490.33 |
| 01/05/22 | Ruslan Sheptolut | $20.00 |
| 02/05/22 | Tom Lester | $10.00 |
| 02/05/22 | David Castleford | $10.00 |
| 02/05/22 | Laquorious Dee | $30.00 |
| 02/05/22 | Mansfield Kindy repayment | $600.00 |
| 02/05/22 | Parkholme repayment | $1,214.50 |
| 03/05/22 | dean | $5.00 |
| 03/05/22 | Woden Valley repayment | $1,500.00 |
| 04/05/22 | David Gibson | $250.00 |
| 04/05/22 | UK online giving | $6.53 |
| 04/05/22 | Phil | $30.00 |
| 04/05/22 | Clunes Coronation repayment | $420.00 |
| 05/05/22 | D Reinke | $800.00 |
| 06/05/22 | Pete61 | $25.00 |
| 07/05/22 | Anon | $25.00 |
| 09/05/22 | Tom Lester | $10.00 |
| 09/05/22 | David Castleford | $10.00 |
| 09/05/22 | Laquorious Dee | $30.00 |
| 09/05/22 | SW | $25.00 |
| 10/05/22 | Andrea Wallace | $50.00 |
| 10/05/22 | Robert Brookes | $100.00 |
| 10/05/22 | Warwick Stone | $49.15 |
| 10/05/22 | RMC repayment | $3,600.00 |
| 11/05/22 | Char Grainger | $20.00 |
| 12/05/22 | Paulie | $25.00 |
| 13/05/22 | Pete61 | $25.00 |
| 16/05/22 | Jonathan Prendergast | $5.00 |
| 16/05/22 | Tom Lester | $10.00 |
| 16/05/22 | David Castleford | $10.00 |
| 16/05/22 | Laquorious Dee | $30.00 |
| 16/05/22 | Jonathan Maddox | $100.00 |
| 16/05/22 | Coorabell Hall repayment | $416.70 |
| 17/05/22 | Anon | $20.00 |
| 17/05/22 | Andrea Wallace | $50.00 |
| 17/05/22 | Mike | $75.00 |
| 17/05/22 | Chris Simmons | $10.00 |
| 18/05/22 | Jean Pierre REDESTORFF | $19.48 |
| 19/05/22 | Dan Martens | $100.00 |
| 20/05/22 | David Lloyd | $25.00 |
| 20/05/22 | Pete61 | $25.00 |
| 21/05/22 | Shirley | $5.00 |
| 23/05/22 | Tom Lester | $10.00 |
| 23/05/22 | David Castleford | $10.00 |
| 23/05/22 | Michael Kubler | $15.00 |
| 23/05/22 | GJ | $20.00 |
| 23/05/22 | Laquorious Dee | $30.00 |
| 23/05/22 | Hugh Nguyen-Mallen | $50.00 |
| 24/05/22 | Andrea Wallace | $50.00 |
| 25/05/22 | Peacemakers repayment | $1,000.00 |
| 26/05/22 | Anton Maurus | $35.00 |
| 27/05/22 | Michael Benson | $10.00 |
| 27/05/22 | Tassia, Rick, Karu, Xanda | $20.00 |
| 27/05/22 | Pete61 | $25.00 |
| 30/05/22 | Jacinta Green | $5.00 |
| 30/05/22 | Tom Lester | $10.00 |
| 30/05/22 | David Castleford | $10.00 |
| 30/05/22 | Laquorious Dee | $30.00 |
| 31/05/22 | Andrea Wallace | $50.00 |
| 01/06/22 | Ruslan Sheptolut | $20.00 |
| 01/06/22 | Geelong Bowls repayment | $3,000.00 |
| 03/06/22 | dean | $5.00 |
| 03/06/22 | Pete61 | $25.00 |
| 06/06/22 | R. Drysdale | $2,000.00 |
| 06/06/22 | Tom Lester | $10.00 |
| 06/06/22 | David Castleford | $10.00 |
| 06/06/22 | Phil | $30.00 |
| 06/06/22 | David Gibson | $250.00 |
| 06/06/22 | Laquorious Dee | $30.00 |
| 07/06/22 | Andrea Wallace | $50.00 |
| 09/06/22 | SW | $25.00 |
| 10/06/22 | Pete61 | $25.00 |
| 10/06/22 | | $500.00 |
| 10/06/22 | | $100.00 |
| 13/06/22 | Benevity | $384.40 |
| 13/06/22 | Tom Lester | $10.00 |
| 13/06/22 | David Castleford | $10.00 |
| 13/06/22 | Char Grainger | $20.00 |
| 13/06/22 | Laquorious Dee | $30.00 |
| 13/06/22 | Paulie | $25.00 |
| 14/06/22 | Andrea Wallace | $50.00 |
| 14/06/22 | Jonathan Prendergast | $5.00 |
| 16/06/22 | Jonathan Maddox | $100.00 |
| 17/06/22 | Anon | $20.00 |
| 17/06/22 | Pete61 | $25.00 |
| 17/06/22 | Chris Simmons | $10.00 |
| 20/06/22 | Dan Martens | $100.00 |
| 20/06/22 | Tom Lester | $10.00 |
| 20/06/22 | David Castleford | $10.00 |
| 20/06/22 | David Lloyd | $25.00 |
| 20/06/22 | H Khoury | $5,000.00 |
| 20/06/22 | Laquorious Dee | $30.00 |
| 21/06/22 | Shirley | $5.00 |
| 21/06/22 | GJ | $20.00 |
| 21/06/22 | Andrea Wallace | $50.00 |
| 21/06/22 | Jean Pierre REDESTORFF | $19.48 |
| 21/06/22 | Warwick Stone | $49.15 |
| 21/06/22 | Uralba repayment | $2,015.04 |
| 22/06/22 | Michael Kubler | $15.00 |
| 23/06/22 | Hugh Nguyen-Mallen | $50.00 |
| 24/06/22 | Pete61 | $25.00 |
| 27/06/22 | Tom Lester | $10.00 |
| 27/06/22 | David Castleford | $10.00 |
| 27/06/22 | Michael Benson | $10.00 |
| 27/06/22 | Tassia, Rick, Karu, Xanda | $20.00 |
| 27/06/22 | Laquorious Dee | $30.00 |
| 27/06/22 | Anton Maurus | $35.00 |
| 28/06/22 | Andrea Wallace | $50.00 |
| 28/06/22 | Dane | $148.05 |
| 28/06/22 | Woonona Bulli repayment | $424.17 |
| 29/06/22 | Benevity | $384.40 |
| 29/06/22 | Brittle Family | $500.00 |
| 29/06/22 | Jacinta Green | $5.00 |
| 30/06/22 | Marg Gaita | $200.00 |
| 30/06/22 | G Varian | $140.00 |
| 30/06/22 | CERES repayment | $1,210.00 |
| 01/07/22 | Ruslan Sheptolut | $20.00 |
| 01/07/22 | Pete61 | $25.00 |
| 01/07/22 | Pandimensional | $1,483.20 |
| 04/07/22 | dean | $5.00 |
| 04/07/22 | Tom Lester | $10.00 |
| 04/07/22 | David Castleford | $10.00 |
| 04/07/22 | David Gibson | $250.00 |
| 04/07/22 | Laquorious Dee | $30.00 |
| 04/07/22 | Phil | $30.00 |
| 05/07/22 | Monica Oliphant | $75.00 |
| 08/07/22 | Pete61 | $25.00 |
| 08/07/22 | SW | $25.00 |
| 08/07/22 | michael | $42.00 |
| 09/07/22 | Albert L-T repayment | $363.00 |
| 11/07/22 | Tom Lester | $10.00 |
| 11/07/22 | David Castleford | $10.00 |
| 11/07/22 | Char Grainger | $20.00 |
| 11/07/22 | Warwick Stone | $49.15 |
| 11/07/22 | Laquorious Dee | $30.00 |
| 12/07/22 | Andrea Wallace | $50.00 |
| 12/07/22 | Paulie | $25.00 |
| 13/07/22 | Trish L-T repayment | $365.00 |
| 14/07/22 | Jonathan Prendergast | $5.00 |
| 14/07/22 | Pete61 | $25.00 |
| 15/07/22 | Mike | $8.00 |
| 18/07/22 | Jonathan Maddox | $100.00 |
| 18/07/22 | Tom Lester | $10.00 |
| 18/07/22 | David Castleford | $10.00 |
| 18/07/22 | Phil | $12.50 |
| 18/07/22 | Anon | $20.00 |
| 18/07/22 | Yong family | $100.00 |
| 18/07/22 | Laquorious Dee | $30.00 |
| 18/07/22 | Jean Pierre REDESTORFF | $19.48 |
| 18/07/22 | Chris Simmons | $10.00 |
| 18/07/22 | CC Steiner repayment | $3,000.00 |
| 19/07/22 | Andrea Wallace | $50.00 |
| 19/07/22 | Dan Martens | $100.00 |
| 19/07/22 | Abbeyfield repayment | $3,000.00 |
| 20/07/22 | David Lloyd | $25.00 |
| 21/07/22 | Shirley | $5.00 |
| 21/07/22 | GJ | $20.00 |
| 22/07/22 | Michael Kubler | $15.00 |
| 22/07/22 | Pete61 | $25.00 |
| 25/07/22 | Tom Lester | $10.00 |
| 25/07/22 | David Castleford | $10.00 |
| 25/07/22 | Phil | $12.50 |
| 25/07/22 | Hugh Nguyen-Mallen | $50.00 |
| 25/07/22 | Laquorious Dee | $30.00 |
| 25/07/22 | Marlin Coast repayment | $1,850.00 |
| 25/07/22 | Sonia L-T repayment | $200.00 |
| 26/07/22 | Andrea Wallace | $50.00 |
| 27/07/22 | Michael Benson | $10.00 |
| 27/07/22 | Tassia, Rick, Karu, Xanda | $20.00 |
| 29/07/22 | UK online giving | $6.64 |
| 29/07/22 | Pete61 | $25.00 |
| 29/07/22 | Jacinta Green | $5.00 |
| 29/07/22 | Janette Allison | $63.00 |
| 29/07/22 | Marlin Coast repayment | $1,530.00 |
| 01/08/22 | Ruslan Sheptolut | $20.00 |
| 01/08/22 | Tom Lester | $10.00 |
| 01/08/22 | Laquorious Dee | $30.00 |
| 01/08/22 | David Castleford | $10.00 |
| 01/08/22 | Timothy Brown | $100.00 |
| 01/08/22 | Mansfield Kindy repayment | $600.00 |
| 01/08/22 | Clunes Coronation repayment | $420.00 |
| 02/08/22 | Andrea Wallace | $50.00 |
| 02/08/22 | RMC repayment | $3,600.00 |
| 03/08/22 | dean | $5.00 |
| 03/08/22 | Phil | $12.50 |
| 04/08/22 | David Gibson | $250.00 |
| 04/08/22 | Phil | $30.00 |
| 04/08/22 | Anon | $25.00 |
| 05/08/22 | Benevity | $384.40 |
| 05/08/22 | Pete61 | $25.00 |
| 07/08/22 | Coast FM studio repayment | $450.00 |
| 08/08/22 | Tom Lester | $10.00 |
| 08/08/22 | David Castleford | $10.00 |
| 08/08/22 | Laquorious Dee | $30.00 |
| 08/08/22 | Coast FM transmitter repay | $400.00 |
| 09/08/22 | Andrea Wallace | $50.00 |
| 09/08/22 | SW | $25.00 |
| 10/08/22 | Phil | $12.50 |
| 10/08/22 | Warwick Stone | $49.15 |
| 11/08/22 | Benevity | $485.50 |
| 11/08/22 | Char Grainger | $20.00 |
| 12/08/22 | Pete61 | $25.00 |
| 12/08/22 | Paulie | $25.00 |
| 15/08/22 | Jonathan Prendergast | $5.00 |
| 15/08/22 | Tom Lester | $10.00 |
| 15/08/22 | David Castleford | $10.00 |
| 15/08/22 | Laquorious Dee | $30.00 |
| 15/08/22 | Coorabell Hall repayment | $416.70 |
| 16/08/22 | Jonathan Maddox | $100.00 |
| 16/08/22 | Andrea Wallace | $50.00 |
| 17/08/22 | Chris Simmons | $10.00 |
| 17/08/22 | Adam Hooper | $25.00 |
| 17/08/22 | Yong family | $100.00 |
| 17/08/22 | Phil | $12.50 |
| 17/08/22 | Anon | $20.00 |
| 18/08/22 | Parkholme repayment | $1,214.50 |
| 19/08/22 | Dan Martens | $100.00 |
| 19/08/22 | Jean Pierre REDESTORFF | $19.48 |
| 21/08/22 | Shirley | $5.00 |
| 22/08/22 | Tom Lester | $10.00 |
| 22/08/22 | David Castleford | $10.00 |
| 22/08/22 | Michael Kubler | $15.00 |
| 22/08/22 | GJ | $20.00 |
| 22/08/22 | David Lloyd | $25.00 |
| 22/08/22 | Laquorious Dee | $30.00 |
| 23/08/22 | Andrea Wallace | $50.00 |
| 23/08/22 | Hugh Nguyen-Mallen | $50.00 |
| 24/08/22 | Phil | $12.50 |
| 24/08/22 | Timothy Brown | $100.00 |
| 24/08/22 | Peacemakers repayment | $400.00 |
| 26/08/22 | Gift for Callum M | $150.00 |
| 26/08/22 | Benevity | $384.40 |
| 26/08/22 | Pete61 | $25.00 |
| 29/08/22 | Tom Lester | $10.00 |
| 29/08/22 | Michael Benson | $10.00 |
| 29/08/22 | David Castleford | $10.00 |
| 29/08/22 | Tassia, Rick, Karu, Xanda | $20.00 |
| 29/08/22 | Laquorious Dee | $30.00 |
| 29/08/22 | Jacinta Green | $5.00 |
| 30/08/22 | UK online giving | $13.16 |
| 30/08/22 | Andrea Wallace | $50.00 |
| 31/08/22 | Phil | $12.50 |
| 01/09/22 | Ruslan Sheptolut | $20.00 |
| 01/09/22 | Woden Valley repayment | $1,500.00 |
| 01/09/22 | Geelong Bowls repayment | $3,000.00 |
| 02/09/22 | Robyn Drysdale | $2,000.00 |
| 02/09/22 | Pete61 | $25.00 |
| 05/09/22 | David Gibson | $250.00 |
| 05/09/22 | dean | $5.00 |
| 05/09/22 | Tom Lester | $10.00 |
| 05/09/22 | David Castleford | $10.00 |
| 05/09/22 | Phil | $30.00 |
| 05/09/22 | Laquorious Dee | $30.00 |
| 06/09/22 | Andrea Wallace | $50.00 |
| 07/09/22 | Phil | $12.50 |
| 09/09/22 | Pete61 | $25.00 |
| 9/9/22 | SW | $25.00 |
| 12/9/22 | Tom Lester | $10.00 |
| 12/9/22 | David Castleford | $10.00 |
| 12/9/22 | Char Grainger | $20.00 |
| 12/9/22 | Laquorious Dee | $30.00 |
| 12/9/22 | Paulie | $25.00 |
| 12/09/22 | Club Italia repayment | $500.00 |
| 13/9/22 | Andrea Wallace | $50.00 |
| 13/9/22 | Anon | $25.00 |
| 13/09/22 | Abbeyfield repayment | $1,500.00 |
| 14/9/22 | Jonathan Prendergast | $5.00 |
| 14/9/22 | Phil | $12.50 |
| 16/9/22 | Pete61 | $25.00 |
| 16/9/22 | Jonathan Maddox | $100.00 |
| 19/9/22 | Laquorious Dee | $30.00 |
| 19/9/22 | Dan Martens | $100.00 |
| 19/9/22 | David Castleford | $10.00 |
| 19/9/22 | Tom Lester | $10.00 |
| 19/9/22 | Anon | $20.00 |
| 19/9/22 | Yong family | $100.00 |
| 19/9/22 | Chris Simmons | $10.00 |
| 20/9/22 | David Lloyd | $25.00 |
| 20/9/22 | Andrea Wallace | $50.00 |
| 21/9/22 | GJ | $20.00 |
| 21/9/22 | Phil | $12.50 |
| 21/9/22 | Shirley | $5.00 |
| 23/9/22 | Michael Kubler | $15.00 |
| 23/9/22 | Timothy Brown | $100.00 |
| 23/9/22 | Pete61 | $25.00 |
| 23/9/22 | Hugh Nguyen-Mallen | $50.00 |
| 23/9/22 | Jean Pierre REDESTORFF | $20.00 |
| 23/9/22 | Warwick Stone | $50.00 |
| 26/9/22 | David Castleford | $10.00 |
| 26/9/22 | Tom Lester | $10.00 |
| 26/9/22 | Laquorious Dee | $30.00 |
| 27/9/22 | Michael Benson | $10.00 |
| 27/9/22 | Tassia, Rick, Karu, Xanda | $20.00 |
| 27/9/22 | Andrea Wallace | $20.00 |
| 27/9/22 | red.cellist | $384.40 |
| 28/9/22 | Phil | $12.50 |
| 29/9/22 | Neil Rands | $2.77 |
| 29/9/22 | Jacinta Green | $5.00 |
| 30/9/22 | Pete61 | $25.00 |
| 30/09/22 | CERES repayment | $1,210.00 |
| 1/10/22 | Ruslan Sheptolut | $20.00 |
| 3/10/22 | Tom Lester | $10.00 |
| 3/10/22 | David Castleford | $10.00 |
| 3/10/22 | Laquorious Dee | $30.00 |
| 04/10/22 | dean | $5.00 |
| 04/10/22 | Andrea Wallace | $20.00 |
| 04/10/22 | David Gibson | $250.00 |
| 04/10/22 | UK online giving | $10.99 |
| 04/10/22 | Phil | $30.00 |
| 04/10/22 | Coast FM transmitter repayment | $400.00 |
| 05/10/22 | Phil | $12.50 |
| 07/10/22 | Pete61 | $25.00 |
| 07/10/22 | SW | $25.00 |
| 07/10/22 | Brimbank Bicycle Education | $550.00 |
| 10/10/22 | Tom Lester | $10.00 |
| 10/10/22 | David Castleford | $10.00 |
| 10/10/22 | Laquorious Dee | $30.00 |
| 11/10/22 | Char Grainger | $20.00 |
| 11/10/22 | Andrea Wallace | $50.00 |
| 12/10/22 | Phil | $12.50 |
| 12/10/22 | Paulie | $25.00 |
| 13/10/22 | Trish L-T repayment | $365.00 |
| 14/10/22 | Albert Nyssen | $363.00 |
| 17/10/22 | Jonathan Maddox | $100.00 |
| 17/10/22 | Tom Lester | $10.00 |
| 17/10/22 | David Castleford | $10.00 |
| 17/10/22 | Anon | $20.00 |
| 17/10/22 | Laquorious Dee | $30.00 |
| 17/10/22 | Yong family | $100.00 |
| 17/10/22 | Jonathan Prendergast | $5.00 |
| 17/10/22 | Pete61 | $25.00 |
| 17/10/22 | Chris Simmons | $10.00 |
| 18/10/22 | Andrea Wallace | $50.00 |
| 18/10/22 | Jean Pierre REDESTORFF | $18.96 |
| 18/10/22 | Warwick Stone | $48.30 |
| 18/10/22 | Peacemakers | $490.00 |
| 19/10/22 | Dan Martens | $100.00 |
| 19/10/22 | Phil | $12.50 |
| 20/10/22 | David Lloyd | $25.00 |
| 20/10/22 | CC Steiner school | $3,000.00 |
| 21/10/22 | GJ | $20.00 |
| 21/10/22 | Pete61 | $25.00 |
| 24/10/22 | Tom Lester | $10.00 |
| 24/10/22 | David Castleford | $10.00 |
| 24/10/22 | Laquorious Dee | $30.00 |
| 24/10/22 | Michael Kubler | $15.00 |
| 24/10/22 | Hugh Nguyen-Mallen | $50.00 |
| 25/10/22 | Andrea Wallace | $50.00 |
| 26/10/22 | Robert Brookes | $200.00 |
| 26/10/22 | Phil | $12.50 |
| 27/10/22 | Michael Benson | $10.00 |
| 27/10/22 | Tassia, Rick, Karu, Xanda | $20.00 |
| 28/10/22 | Benevity | $384.20 |
| 28/10/22 | Pete61 | $25.00 |
| 31/10/22 | Jacinta Green | $5.00 |
| 31/10/22 | Tom Lester | $10.00 |
| 31/10/22 | Laquorious Dee | $30.00 |
| 31/10/22 | David Castleford | $10.00 |
| 31/10/22 | UK online giving | $7.53 |
| 1/11/22 | Andrea Wallace | $50.00 |
| 01/11/22 | Mansfield Kindergarten | $600.00 |
| 2/11/22 | Phil | $12.50 |
| 02/11/22 | Ruslan Sheptolut | $20.00 |
| 03/11/22 | dean | $5.00 |
| 04/11/22 | Pete61 | $25.00 |
| 04/11/22 | Phil | $30.00 |
| 04/11/22 | David Gibson | $250.00 |
| 07/11/22 | Laquorious Dee | $30.00 |
| 07/11/22 | Tom Lester | $10.00 |
| 07/11/22 | David Castleford | $10.00 |
| 08/11/22 | Andrea Wallace | $50.00 |
| 08/11/22 | Robert Menzies College repayment | $3,600.00 |
| 09/11/22 | Phil | $12.50 |
| 09/11/22 | SW | $25.00 |
| 11/11/22 | Char Grainger | $25.00 |
| 11/11/22 | Pete61 | $25.00 |
| 14/11/22 | Tom Lester | $10.00 |
| 14/11/22 | David Castleford | $10.00 |
| 14/11/22 | Jonathan Prendergast | $5.00 |
| 14/11/22 | Laquorious Dee | $30.00 |
| 14/11/22 | Paulie | $25.00 |
| 15/11/22 | Warwick Stone | $49.15 |
| 15/11/22 | Andrea Wallace | $50.00 |
| 15/11/22 | Coorabell Hall repayment | $416.70 |
| 16/11/22 | Jonathan Maddox | $100.00 |
| 16/11/22 | Phil | $12.50 |
| 17/11/22 | Anon | $20.00 |
| 17/11/22 | Yong family | $100.00 |
| 17/11/22 | Chris Simmons | $10.00 |
| 17/11/22 | Parkholme repayment | $1,214.50 |
| 18/11/22 | Pete61 | $25.00 |
| 21/11/22 | Dan Martens | $100.00 |
| 21/11/22 | Tom Lester | $10.00 |
| 21/11/22 | David Castleford | $10.00 |
| 21/11/22 | GJ | $20.00 |
| 21/11/22 | Laquorious Dee | $30.00 |
| 21/11/22 | Jean Pierre REDESTORFF | $19.48 |
| 22/11/22 | Michael Kubler | $15.00 |
| 22/11/22 | Andrea Wallace | $50.00 |
| 23/11/22 | Phil | $12.50 |
| 23/11/22 | Hugh Nguyen-Mallen | $50.00 |
| 23/11/22 | Timothy Brown | $50.00 |
| 25/11/22 | Pete61 | $25.00 |
| 25/11/22 | Coast FM studio repayment | $450.00 |
| 28/11/22 | Tom Lester | $10.00 |
| 28/11/22 | David Castleford | $10.00 |
| 28/11/22 | Michael Benson | $10.00 |
| 28/11/22 | Tassia, Rick, Karu, Xanda | $20.00 |
| 28/11/22 | Laquorious Dee | $30.00 |
| 29/11/22 | Benevity | $226.23 |
| | Lori and Gavin | $20.00 |