Renewable Energy Project: Solar Panels
Manjimup Community Resource Centre is part of the Western Australian Community Resource Network (WACRN) which is comprised of over 100 rural, remote and regional Community Resource Centres (CRCs). The centres are not-for-profit organisations that are independently owned and operated by their local community.
CRCs provide access to government and community services and information, and undertake community, business and economic development activities. Manjimup CRC provides a Centrelink Agency, Department of Transport Agency, access to Government Services, room hire and administrative services.
This solar installation will include a monitor that measures the centre's energy use alongside energy produced by the solar panels. This will allow the centre to adjust their energy use to maximise the use of their solar energy and minimise carbon emissions and costs even further.
Website – http://www.manjimup.crc.net.au/
This project has been fully funded – Thank you!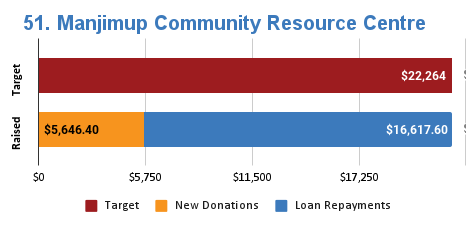 Loan details
Loan amount: $22,264
Loan repayments: $1,200 quarterly
Status: Funded project
Installation date: 1st September 2023
Work details
15 kW solar electricity system
QCELLS Solar panels (Q.PEAK DUO L G8 430w)
System smart meter – monitors site consumption and system production.
Cost: $22,264
Expected savings: 24,248 kWh and $4,952 per year

Reduction in carbon emissions/yr: Equivalent to 4.37 average households using renewable electricity instead of grid electricity.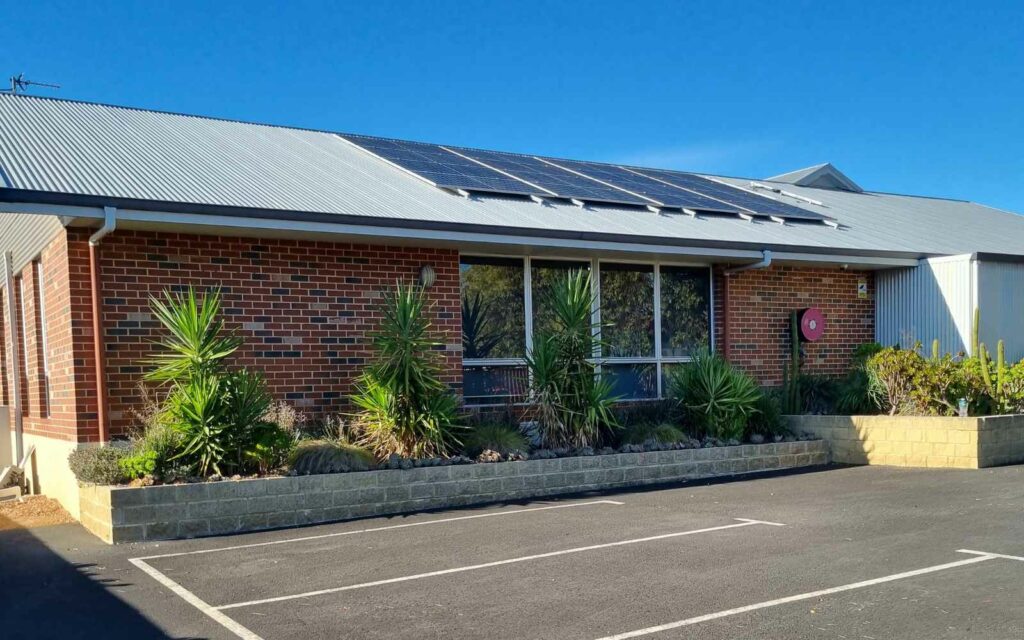 Honour roll
Thankyou to the following people for donating to this project
| | | |
| --- | --- | --- |
| Date | Name | Amount |
| 29/11/22 | Benevity | $157.97 |
| 29/11/22 | Andrea Wallace | $50.00 |
| 29/11/22 | Jacinta Green | $5.00 |
| 30/11/22 | Gift for Katie, Adam, Rhona, Alex | $100.00 |
| 01/12/22 | UK online giving | $9.17 |
| 01/12/22 | Geelong Bowls repayment | $3,000.00 |
| 02/12/22 | Pete61 | $25.00 |
| 03/12/22 | Andrea Wallace | $50.00 |
| 05/12/22 | dean | $5.00 |
| 05/12/22 | David Castleford | $10.00 |
| 05/12/22 | Tom Lester | $10.00 |
| 05/12/22 | Phil | $30.00 |
| 05/12/22 | David Gibson | $250.00 |
| 05/12/22 | Laquorious Dee | $30.00 |
| 06/12/22 | Andrea Wallace | $50.00 |
| 07/12/22 | Clunes Coronation repayment | $420.00 |
| 09/12/22 | Pete61 | $25.00 |
| 09/12/22 | SW | $25.00 |
| 12/12/22 | Tom Lester | $10.00 |
| 12/12/22 | David Castleford | $10.00 |
| 12/12/22 | Char Grainger | $25.00 |
| 12/12/22 | Laquorious Dee | $30.00 |
| 12/12/22 | Paulie | $25.00 |
| 13/12/22 | Merriwa Industries repayment | $4,747.00 |
| 13/12/22 | Merriwa Industries repayment | $6,500.00 |
| 14/12/22 | Jonathan Prendergast | $5.00 |
| 16/12/22 | Pete61 | $25.00 |
| 16/12/22 | Jonathan Maddox | $100.00 |
| 19/12/22 | Tom Lester | $10.00 |
| 19/12/22 | David Castleford | $10.00 |
| 19/12/22 | Anon | $20.00 |
| 19/12/22 | Yong family | $100.00 |
| 19/12/22 | Laquorious Dee | $30.00 |
| 19/12/22 | Dan Martens | $150.00 |
| 19/12/22 | Chris Simmons | $10.00 |
| 20/12/22 | Andrea Wallace | $50.00 |
| 20/12/22 | Abbeyfield repayment | $1,500.00 |
| 21/12/22 | GJ | $20.00 |
| 21/12/22 | Jean Pierre REDESTORFF | $19.48 |
| 21/12/22 | Warwick Stone | $49.15 |
| 22/12/22 | Michael Kubler | $15.00 |
| 22/12/22 | Woden Valley repayment | $1,500.00 |
| 23/12/22 | Pete61 | $25.00 |
| 23/12/22 | #N/A | $50.00 |
| 28/12/22 | Tom Lester | $10.00 |
| 28/12/22 | Michael Benson | $10.00 |
| 28/12/22 | David Castleford | $10.00 |
| 28/12/22 | Tassia, Rick, Karu, Xanda | $20.00 |
| 28/12/22 | Laquorious Dee | $30.00 |
| 29/12/22 | Andrea Wallace | $50.00 |
| 29/12/22 | Jacinta Green | $5.00 |
| 30/12/22 | Benevity | $386.14 |
| 30/12/22 | Pete61 | $25.00 |
| 30/12/22 | OTTWAY The Label | $2,000.00 |
| 03/01/23 | Tom Lester | $10.00 |
| 03/01/23 | David Castleford | $10.00 |
| 03/01/23 | David Gibson | $250.00 |
| 03/01/23 | Zoe Evershed | $350.00 |
| 03/01/23 | Laquorious Dee | $30.00 |
| 03/01/23 | dean | $5.00 |
| 03/01/23 | CERES repayment | $1,210.00 |
| 04/01/23 | Phil | $30.00 |
| 04/01/23 | Coast FM transmitter repayment | $400.00 |
| 06/01/23 | Pete61 | $25.00 |
| 09/01/23 | Tom Lester | $10.00 |
| 09/01/23 | David Castleford | $10.00 |
| 09/01/23 | Laquorious Dee | $30.00 |
| 09/01/23 | SW | $25.00 |
| 10/01/23 | Andrea Wallace | $50.00 |
| 10/01/23 | Warwick Stone | $49.15 |
| 10/01/23 | Craig & Caroline Hind | $88.71 |
| 10/01/23 | Col Shaw | $137.17 |
| 10/01/23 | James Hone | $369.46 |
| 13/01/23 | Trish L-T repayment | $365.00 |
| 16/01/23 | Club Italia repayment | $500.00 |
| 18/01/23 | Engadine repayment | $267.00 |
| 18/01/23 | Albert Nyssen | $363.00 |