Renewable Energy Project: Solar Panels
Ravenshoe is a rural and remote township situated on the western edge of the Atherton Tablelands in Queensland. Ravenshoe Community Centre provides a range of services to the communities of Ravenshoe, Millaa, and Mt Garnet including outlying rural areas. The site is shared by the Yabu Mija indigenous women's organisation, and the grounds feature a community garden. Contact: [email protected]
Project story…
The community centre installed 6kW of solar PV in September 2015, using $2,000 of their own funds and a $7,000 CORENA loan. At the time they had just received a grant to replace all their lighting with LEDs and that, in conjunction with their co-contribution to the solar cost, meant they could expect much greater savings on power bills than could be attributed solely to our loan. But they wanted to pay back their loan quickly, so they voluntarily elected to pay back the loan in just 2 years (instead of about 4 years) and made their final quarterly repayment in January 2018.
This project has been fully funded – Thank you!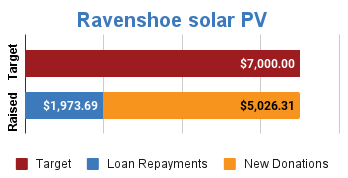 Big Win donations that were temporarily used for this project then later repaid to the Big Win funding stream where they helped fund the Enova Community Generator project.
Status: Funded project – loan fully repaid
Loan amount: $7,000
Loan repayments: $855/quarter
Work details
Solar 6kW grid connect system
• 24 x 250W ET Solar ET-P660250WW Polycrystalline Panel
• 1 x SMA SB5000TL-21 Inverter
Cost: $9,000 ($2,000 paid up front by Ravenshoe Community Centre and a $7,000 loan from CORENA)
Expected savings: 26kWh per day, $2,460/yr
Reduction in carbon emissions/yr: Equivalent to 1.71 average households using renewable electricity instead of grid electricity
Honour roll
Thank you to the following people for donating to this project.
Date
Name
State
Amount
12/08/2015
Gawler repayment (part)
$780.69
12/08/2015
Peter Wade
Qld
$11.00
12/08/2015
Hoadie
Vic
$25.00
12/08/2015
Char Grainger
Vic
$20.00
12/08/2015
Paul Andrew
$20.00
10/08/2015
Laquorious Dee
SA
$10.00
07/08/2015
SW
NSW
$25.00
05/08/2015
Peter Wade
Qld
$11.00
05/08/2015
Hoadie
Vic
$25.00
05/08/2015
Mike F
NSW
$100.00
05/08/2015
Luke Schubert
SA
$25.00
03/08/2015
Laquorious Dee
SA
$10.00
03/08/2015
Jacinta Green
NSW
$5.00
03/08/2015
Camden repayment
$673.00
31/07/2015
Interest
$0.13
30/07/2015
Wayne Stanford
SA
$25.00
29/07/2015
Peter Wade
Qld
$11.00
29/07/2015
Hoadie
Vic
$25.00
29/07/2015
Jonathan Doig
NSW
$10.00
28/07/2015
John Rolls
SA
$45.00
28/07/2015
Gaby Jung
Tas
$25.00
27/07/2015
Laquorious Dee
SA
$10.00
27/07/2015
Anton Maurus
Vic
$35.00
23/07/2015
Mackenzie Davey
$10.00
22/07/2015
Jean Pierre Redestorff
$19.18
22/07/2015
Peter Wade
Qld
$11.00
22/07/2015
Hoadie
Vic
$25.00
20/07/2015
Barb Frey
WA
$8.00
20/07/2015
Laquorious Dee
SA
$10.00
20/07/2015
David Lloyd
SA
$25.00
16/07/2015
Wayne Stanford
SA
$25.00
16/07/2015
Jonathan Maddox
NSW
$50.00
16/07/2015
Frank Lin
Qld
$10.00
15/07/2015
Peter Wade
Qld
$11.00
15/07/2015
Hoadie
Vic
$25.00
15/07/2015
Marty Booth
NSW
$60.00
15/07/2015
Gabriel Noronha
NSW
$10.00
14/07/2015
Jonathan Prendergast
NSW
$5.00
13/07/2015
Barb Frey
WA
$8.00
13/07/2015
Laquorious Dee
SA
$10.00
13/07/2015
Char Grainger
Vic
$20.00
13/07/2015
Paulie
SA
$20.00
09/07/2015
SW
NSW
$25.00
08/07/2015
Peter Wade
Qld
$11.00
08/07/2015
Hoadie
Vic
$25.00
08/07/2015
Robert A
NSW
$141.34
08/07/2015
Margaret Penfold-Newton
SA
$200.00
06/07/2015
Barb Frey
WA
$8.00
06/07/2015
Laquorious Dee
SA
$10.00
06/07/2015
Jacinta Green
NSW
$5.00
02/07/2015
Wayne Stanford
SA
$25.00
01/07/2015
Peter Wade
Qld
$11.00
01/07/2015
Hoadie
Vic
$25.00
30/06/2015
Interest
$0.11
29/06/2015
Barb Frey
WA
$8.00
29/06/2015
Laquorious Dee
SA
$10.00
29/06/2015
Jonathan Doig
NSW
$10.00
28/06/2015
John Rolls
SA
$45.00
26/06/2015
Anton Maurus
Vic
$35.00
24/06/2015
Peter Wade
Qld
$11.00
24/06/2015
Hoadie
Vic
$25.00
23/06/2015
Mackenzie Davey
$10.00
22/06/2015
Barb Frey
WA
$8.00
22/06/2015
Laquorious Dee
SA
$10.00
22/06/2015
Bill Gresham
ACT
$500.00
22/06/2015
David Lloyd
SA
$25.00
22/06/2015
ww
Qld
$50.00
19/06/2015
Stu
Vic
$50.00
19/06/2015
Karen Hamilton
SA
$75.00
18/06/2015
Cate, Zoe, Seamus
Qld
$9.44
18/06/2015
Wayne Stanford
SA
$25.00
17/06/2015
Peter Wade
Qld
$11.00
17/06/2015
Hoadie
Vic
$25.00
17/06/2015
Ben
Vic
$31.69
17/06/2015
Jean Pierre Redestorff
$19.18
16/06/2015
Jonathan Maddox
NSW
$50.00
16/06/2015
Frank Lin
Qld
$10.00
15/06/2015
Barb Frey
WA
$8.00
15/06/2015
Laquorious Dee
SA
$10.00
15/06/2015
Jonathan Prendergast
NSW
$5.00
15/06/2015
Marty Booth
NSW
$60.00
15/06/2015
Gabriel Noronha
NSW
$10.00
12/06/2015
Paulie
SA
$20.00
11/06/2015
Charlene Grainger
Vic
$20.00
10/06/2015
Big Win loan
$1,000.00
10/06/2015
Peter Wade
Qld
$11.00
10/06/2015
Hoadie
Vic
$25.00
09/06/2015
SW
NSW
$25.00
08/06/2015
Mike Craddock
NSW
$100.00
08/06/2015
Barb Frey
WA
$8.00
08/06/2015
Laquorious Dee
SA
$10.00
07/06/2015
Greengowrie
SA
$50.00
04/06/2015
Wayne Stanford
SA
$25.00
04/06/2015
Original Green Co
SA
$1,000.00
04/06/2015
Fraser A
ACT
$250.00
04/06/2015
Jacinta Green
NSW
$5.00
03/06/2015
Beechworth repayment (part)
$520.00
03/06/2015
Hender family
SA
$5.44