Renewable Energy Project: Solar Panels
Warradale Community Children's Centre opened in 1993. Its programs include Child Care for babies and children up to school age and DECD funded Pre-school for 4 year olds. The curriculum is a play based one which incorporates music sessions, a nutrition program, permaculture and sustainability programs.
Contact: [email protected]
Project story…
This was a challenging project despite great cooperation from the child care centre director! We'd almost raised enough funds for the proposed solar loan when SAPN (network providers) brought in new regulations that could have severely affected its cost-effectiveness, so we delayed the project while we collected interval data to assess the outcome. In the meantime we replaced their lighting with LED alternatives in case the solar project had to be shelved. Ultimately we calculated an overall project payback time (solar + LEDs) of around 5 years, and the 6.59kW solar installation went ahead in January 2016.
Note: The install date shown above is adjusted to take into account the difference between the install dates of the two parts of this project. The LED lighting was actually installed on 12/10/15, and the solar panels on 11/01/16. You can see the solar output component of this project online at https://monitoringpublic.solaredge.com/solaredge-web/p/kiosk?guid=9575422c-971c-426c-8601-971f3a7026e7
This project has been fully funded – Thank you!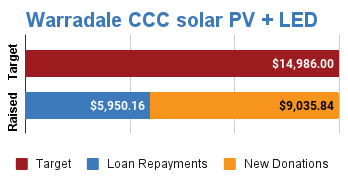 Status: Funded project – loan repayment completed
Loan amount: $14,986
Loan repayments: $761/quarter
Work details
5kW solar installation:
– 22 x Jinko JKMS260P (5.72kW peak) Solar High performance panels and SolarEdge Optimizers
– 1x SE5K-Euro 3ph SolarEdge string inverter ($10,090)
3-phase input-output meter ($615)
Timer for hot water heater ($440)
Replacement of 61 x 36W fluorescent lamps to 18W VIBE LED lamps ($3,841)
Total cost: $14,986
Expected savings: $3,044/year, 12,260kWh/year
Reduction in carbon emissions/yr: Equivalent to 2.21 average households using renewable electricity instead of grid electricity
Honour roll
Thank you to the following people for donating to this project.
| | | |
| --- | --- | --- |
| Date | Name | Amount |
| 22/12/2015 | Stephen Rothwell | $165.55 |
| 21/12/2015 | Laquorious Dee | $10.00 |
| 21/12/2015 | David Castleford | $8.00 |
| 21/12/2015 | David Lloyd | $25.00 |
| 21/12/2015 | Ben Elliston | $100.00 |
| 18/12/2015 | Jean-Pierre Redestroff | $19.18 |
| 17/12/2015 | Wayne Stanford | $25.00 |
| 17/12/2015 | Adam Hutty | $50.00 |
| 16/12/2015 | Peter Wade | $11.00 |
| 16/12/2015 | Hoadie | $25.00 |
| 16/12/2015 | Marty Booth | $60.00 |
| 16/12/2015 | Jonathan Maddox | $50.00 |
| 15/12/2015 | Gabriel Noronha | $10.00 |
| 15/12/2015 | Merry Xmas for Emma Brown | $100.00 |
| 14/12/2015 | Laquorious Dee | $10.00 |
| 14/12/2015 | David Castleford | $8.00 |
| 14/12/2015 | Paulie | $20.00 |
| 14/12/2015 | Jonathan Prendergast | $5.00 |
| 14/12/2015 | Wayne Stanford xmas gifts | $60.00 |
| 11/12/2015 | Char Grainger | $20.00 |
| 11/12/2015 | Tim Price | $500.00 |
| 10/12/2015 | Nick Cumbo | $9.86 |
| 10/12/2015 | Robert A | $10.00 |
| 9/12/2015 | Peter Wade | $11.00 |
| 9/12/2015 | Hoadie | $25.00 |
| 9/12/2015 | Wendy H | $100.00 |
| 9/12/2015 | SW | $25.00 |
| 8/12/2015 | Fraser A | $100.00 |
| 8/12/2015 | Lois Goldsmith | $100.00 |
| 8/12/2015 | Matching: L Goldsmith | $17.65 |
| 7/12/2015 | Laquorious Dee | $10.00 |
| 7/12/2015 | David Castleford | $8.00 |
| 7/12/2015 | Matching: D Castleford | $8.00 |
| 4/12/2015 | Jacinta Green | $5.00 |
| 4/12/2015 | Stu | $50.00 |
| 4/12/2015 | Sean Thompson | $9.44 |
| 4/12/2015 | Matching: S Thompson | $9.44 |
| 3/12/2015 | Wayne Stanford | $25.00 |
| 2/12/2015 | Peter Wade | $11.00 |
| 2/12/2015 | Hoadie | $25.00 |
| 2/12/2015 | ww | $50.00 |
| 2/12/2015 | Tim Hartley | $50.00 |
| 1/12/2015 | Beechworth repayment | $770.00 |
| 1/12/2015 | Ravenshoe repayment | $855.00 |
| 1/12/2015 | C. Elliston | $5.00 |
| 1/12/2015 | Matching: C. Elliston | $5.00 |
| 30/11/2015 | Laquorious Dee | $10.00 |
| 30/11/2015 | David Castleford | $8.00 |
| 30/11/2015 | Matching: D Castleford | $8.00 |
| 30/11/2015 | Interest | $0.99 |
| 30/11/2015 | Nick Cumbo | $3.01 |
| 30/11/2015 | Sandy P | $75.00 |
| 30/11/2015 | Matching: Sandy P | $75.00 |
| 29/11/2015 | Adelaide climate march | $63.95 |
| 29/11/2015 | Matching: Adel march | $63.95 |
| 29/11/2015 | James Berkenfeld | $28.92 |
| 29/11/2015 | Matching: J Berkenfeld | $28.92 |
| 28/11/2015 | John Rolls | $45.00 |
| 26/11/2015 | Anton Maurus | $35.00 |
| 26/11/2015 | Hugh Mallen | $180.00 |
| 26/11/2015 | Nick Cumbo | $11.82 |
| 25/11/2015 | Peter Wade | $11.00 |
| 25/11/2015 | Hoadie | $25.00 |
| 23/11/2015 | Laquorious Dee | $10.00 |
| 23/11/2015 | David Castleford | $8.00 |
| 23/11/2015 | Matching: D Castleford | $8.00 |
| 23/11/2015 | Tulgeen repayment | $1,000.00 |
| 23/11/2015 | Ben Elliston | $50.00 |
| 20/11/2015 | David Lloyd | $25.00 |
| 20/11/2015 | Robert A | $10.00 |
| 19/11/2015 | Wayne Stanford | $25.00 |
| 19/11/2015 | Paul | $100.00 |
| 19/11/2015 | Matching: Paul | $100.00 |
| 18/11/2015 | Jean-Pierre Redestroff | $19.18 |
| 18/11/2015 | Peter Wade | $11.00 |
| 18/11/2015 | Hoadie | $25.00 |
| 17/11/2015 | Michael | $50.00 |
| 16/11/2015 | Jonathan Prendergast | $5.00 |
| 16/11/2015 | Peter C | $10.00 |
| 16/11/2015 | Matching: Peter C | $10.00 |
| 16/11/2015 | Marty Booth | $60.00 |
| 16/11/2015 | Greg Walpole | $20.00 |
| 16/11/2015 | Matching: G Walpole | $20.00 |
| 16/11/2015 | Bill Gresham | $20.00 |
| 16/11/2015 | Anon | $10.00 |
| 16/11/2015 | Matching: Anon | $10.00 |
| 16/11/2015 | Laquorious Dee | $10.00 |
| 16/11/2015 | Jonathan Maddox | $50.00 |
| 16/11/2015 | David Castleford | $8.00 |
| 16/11/2015 | Matching: D Castleford | $8.00 |
| 14/11/2015 | Excess from Project 9 | $0.05 |
| 12/10/2015 | Matching (for David C) | $8.00 |
| 12/10/2015 | David Castleford | $8.00 |
| 12/10/2015 | Paulie | $20.00 |
| 12/10/2015 | Char Grainger | $20.00 |
| 12/10/2015 | Wendy H | $100.00 |
| 12/10/2015 | Laquorius Dee | $10.00 |
| 10/10/2015 | Colin George | $28.92 |
| 10/10/2015 | Matching (Colin G) | 28.92 |
| 10/10/2015 | James Saunders | $24.05 |
| 9/10/2015 | Janet Rice | $1,000.00 |
| 9/10/2015 | Greens MPs | $1,760.00 |
| 9/10/2015 | SW | $25.00 |
| 8/10/2015 | Wayne Stanford | $25.00 |
| 7/10/2015 | Peter Wade | $11.00 |
| 7/10/2015 | Matching (for David C) | $10.00 |
| 7/10/2015 | Hoadie | $25.00 |
| 7/10/2015 | David Castleford | $10.00 |
| 6/10/2015 | Trish Kelly | $200.00 |
| 5/10/2015 | RossC | $50.00 |
| 5/10/2015 | Matching (for RossC) | $50.00 |
| 5/10/2015 | Laquorius Dee | $10.00 |
| 5/10/2015 | Jacinta Green | $5.00 |
| 1/10/2015 | Nannup repayment | $1,040.00 |
| 30/09/2015 | Peter Wade | $11.00 |
| 30/09/2015 | Nick Cumbo | $10.85 |
| 30/09/2015 | Interest | $0.06 |
| 30/09/2015 | Hoadie | $25.00 |
| 29/09/2015 | Warradale CCC jar | $12.90 |
| 28/09/2015 | ww | $50.00 |
| 28/09/2015 | Laquorius Dee | $10.00 |
| 28/09/2015 | John Rolls | $45.00 |
| 28/09/2015 | Anton Maurus | $35.00 |
| 24/09/2015 | Wayne Stanford | $25.00 |
| 24/09/2015 | Monica Oliphant | $75.00 |
| 24/09/2015 | Jill C | $100.00 |
| 23/09/2015 | Peter Wade | $11.00 |
| 23/09/2015 | Mackenzie Davey | $10.00 |
| 23/09/2015 | Hoadie | $25.00 |
| 21/09/2015 | Laquorius Dee | $10.00 |
| 21/09/2015 | David Lloyd | $25.00 |
| 21/09/2015 | Ben | $28.00 |
| 19/09/2015 | Dave Clarke | $210.00 |
| 18/09/2015 | Jean Pierre Redestorff | $19.18 |
| 17/09/2015 | Nick Cumbo | $9.23 |
| 16/09/2015 | Peter Wade | $11.00 |
| 16/09/2015 | Jonathan Maddox | $50.00 |
| 16/09/2015 | Hoadie | $25.00 |
| 15/09/2015 | T Dahms | $100.00 |
| 15/09/2015 | Marty Booth | $60.00 |
| 15/09/2015 | Gabriel Noronha | $10.00 |
| 14/09/2015 | Sam Frost | $50.00 |
| 14/09/2015 | Paulie | $20.00 |
| 14/09/2015 | NB | $100.00 |
| 14/09/2015 | Laquorius Dee | $10.00 |
| 14/09/2015 | Jonathan Prendergast | $5.00 |
| 14/09/2015 | Ben Elliston | $100.00 |
| 11/09/2015 | Char Grainger | $20.00 |
| 10/09/2015 | Wayne Stanford | $25.00 |
| 09/09/2015 | SW | $25.00 |
| 09/09/2015 | Peter Wade | $11.00 |
| 09/09/2015 | Hoadie | $25.00 |
| 07/09/2015 | Laquorius Dee | $10.00 |
| 04/09/2015 | Jacinta Green | $5.00 |
| 03/09/2015 | Nick Cumbo | $12.70 |
| 03/09/2015 | Beechworth repayment | $770.00 |
| 02/09/2015 | Peter Wade | $11.00 |
| 02/09/2015 | Hoadie | $25.00 |
| 31/08/2015 | Laquorius Dee | $10.00 |
| 31/08/2015 | Interest | $0.12 |
| 28/08/2015 | John Rolls | $45.00 |
| 26/08/2015 | Wayne Stanford | $25.00 |
| 26/08/2015 | Peter Wade | $11.00 |
| 26/08/2015 | Hoadie | $25.00 |
| 26/08/2015 | Anton Maurus | $35.00 |
| 24/08/2015 | Michael | $100.00 |
| 24/08/2015 | Mackenzie Davey | $10.00 |
| 24/08/2015 | Laquorius Dee | $10.00 |
| 20/08/2015 | Nick Cumbo | $10.82 |
| 20/08/2015 | David Lloyd | $25.00 |
| 20/08/2015 | Tulgeen repayment | $1,000.00 |
| 19/08/2015 | ww | $50.00 |
| 19/08/2015 | Peter Wade | $11.00 |
| 19/08/2015 | Hoadie | $25.00 |
| 18/08/2015 | Jean Pierre Redestorff | $19.18 |
| 17/08/2015 | Marty Booth | $60.00 |
| 17/08/2015 | Laquorius Dee | $10.00 |
| 17/08/2015 | Jonathan Maddox | $50.00 |
| 14/08/2015 | Stu | $75.00 |
| 14/08/2015 | Jonathan Prendergast | $5.00 |
| 14/08/2015 | Gabriel Noronha | $10.00 |
| 13/08/2015 | Wayne Stanford | $25.00 |
| 13/08/2015 | Mike Craddock | $145.00 |
| 13/08/2015 | Hugh Mallen | $50.00 |
| 12/08/2015 | Gawler repayment (part) | $515.16 |