Renewable Energy Project: Solar Panels
Moss Vale Community Garden (NSW) is a place where the community can gather to grow and share healthy food whilst developing supportive friendships. The community garden aims include being a demonstration site for sustainable technologies relating to building materials, energy & water capture and use as well as diverse, permaculture & organic food production strategies.
Website: https://www.facebook.com/MossValeCommunityGarden
Project story…
This was CORENA's first off-grid solar installation. The community garden had no electricity on site, so this installation enabled them to expand their activities and to function as a demonstration site for cost-effective off-grid power using gel batteries.
Regional partner CANWin instigated and assisted with this project.
Manuel Cilia of Cilectric carefully designed an off-grid system to suit the needs of the community garden and donated his time to install it.
Huge thank you to Embark for matching contributions from new donors (from Oct 15).
This project has been fully funded – Thank you!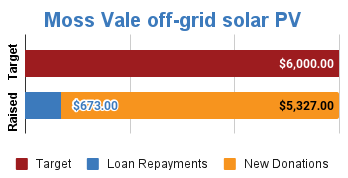 Status: Funded project – loan repayment in progress
Loan amount: $6,000
Loan repayments: $300/quarter
Work details
– 12 x Suntech STP250/20/WD-SPC 250w polypanel panels (3kw)
– Clenergy Solar railing and earthing system to suit
– Solar conduit and dc cabling
– 1 x SMA 3000TL-21
– 1 x SMA sunny island 4.4kw inverter/charger
– 8 x hoppecke 6v 250amp/h gel batteries
– Cabinets to house batteries

Cost: $8,498.20 ($6,000 loan from CORENA, with the remainder paid by the community garden)

Expected savings: 4,380kWh/yr. Since there was no power at the site previously and therefore no savings on electricity bills, loan repayments were set to enable the 5-year payback time that is typical of other projects.
Honour roll
Thank you to the following people for donating to this project.
| | | |
| --- | --- | --- |
| Date | Name | Amount |
| 10/01/2023 | James Hone | $124.74 |
| 29/09/2023 | Anon | $4.32 |
| 20/09/2023 | Michael Moylan Childs | $105.71 |
| 18/09/2023 | Tim Price | $450.00 |
| 05/09/2023 | Anon | $981.32 |
| 04/09/2023 | Gift for Marina Etherington | $50.00 |
| 11/04/2023 | Pete61 | $0.16 |
| 06/04/2023 | SW | $25.00 |
| 04/04/2023 | Andrea Wallace | $50.00 |
| 04/04/2023 | Phil | $30.00 |
| 03/04/2023 | dean | $5.00 |
| 03/04/2023 | Tom Lester | $10.00 |
| 03/04/2023 | David Castleford | $10.00 |
| 03/04/2023 | David Gibson | $250.00 |
| 03/04/2023 | Laquorious Dee | $30.00 |
| 03/04/2023 | Anon | $100.00 |
| 31/03/2023 | William | $200.00 |
| 31/03/2023 | Pete61 | $25.00 |
| 29/03/2023 | Jacinta Green | $5.00 |
| 27/03/2023 | Tom Lester | $10.00 |
| 27/03/2023 | Michael Benson | $10.00 |
| 27/03/2023 | David Castleford | $10.00 |
| 27/03/2023 | Tassia, Rick, Karu, Xanda | $20.00 |
| 27/03/2023 | Laquorious Dee | $30.00 |
| 24/03/2023 | Pete61 | $25.00 |
| 23/03/2023 | #N/A | $50.00 |
| 22/03/2023 | Michael Kubler | $15.00 |
| 21/03/2023 | GJ | $20.00 |
| 20/03/2023 | Dan Martens | $150.00 |
| 20/03/2023 | Tom Lester | $10.00 |
| 20/03/2023 | David Castleford | $10.00 |
| 20/03/2023 | Laquorious Dee | $30.00 |
| 17/03/2023 | Anon | $20.00 |
| 17/03/2023 | Pete61 | $25.00 |
| 17/03/2023 | Yong family | $100.00 |
| 17/03/2023 | Chris Simmons | $10.00 |
| 16/03/2023 | Jonathan Maddox | $100.00 |
| 16/03/2023 | Timothy Brown | $50.00 |
| 14/03/2023 | Jonathan Prendergast | $5.00 |
| 13/03/2023 | Tom Lester | $10.00 |
| 13/03/2023 | David Castleford | $10.00 |
| 13/03/2023 | Char Grainger | $25.00 |
| 13/03/2023 | Laquorious Dee | $30.00 |
| 13/03/2023 | Paulie | $25.00 |
| 10/03/2023 | Pete61 | $25.00 |
| 09/03/2023 | SW | $25.00 |
| 06/03/2023 | Tom Lester | $10.00 |
| 06/03/2023 | Phil | $30.00 |
| 06/03/2023 | Laquorious Dee | $30.00 |
| 06/03/2023 | David Castleford | $10.00 |
| 03/03/2023 | dean | $5.00 |
| 03/03/2023 | Pete61 | $25.00 |
| 02/03/2023 | Anonymous | $2.00 |
| 01/03/2023 | David Gibson | $250.00 |
| 28/02/2023 | Anonymous | $2.00 |
| 28/02/2023 | Jacinta Green | $5.00 |
| 27/02/2023 | Tom Lester | $10.00 |
| 27/02/2023 | Michael Benson | $10.00 |
| 27/02/2023 | David Castleford | $10.00 |
| 27/02/2023 | Tassia, Rick, Karu, Xanda | $20.00 |
| 27/02/2023 | Laquorious Dee | $30.00 |
| 24/02/2023 | Pete61 | $25.00 |
| 23/02/2023 | #N/A | $50.00 |
| 23/02/2023 | Enova repayment | $10,296.73 |
| 22/02/2023 | Michael Kubler | $15.00 |
| 22/02/2023 | Timothy Brown | $50.00 |
| 22/02/2023 | Coast FM Studio repayment | $450.00 |
| 21/02/2023 | GJ | $20.00 |
| 20/02/2023 | Dan Martens | $150.00 |
| 20/02/2023 | Tom Lester | $10.00 |
| 20/02/2023 | David Castleford | $10.00 |
| 20/02/2023 | Laquorious Dee | $30.00 |
| 20/02/2023 | Brimbank Bicycle Education repayment | $550.00 |
| 17/02/2023 | Anon | $20.00 |
| 17/02/2023 | Pete61 | $25.00 |
| 17/02/2023 | Yong family | $100.00 |
| 17/02/2023 | Chris Simmons | $10.00 |
| 16/02/2023 | Jonathan Maddox | $100.00 |
| 14/02/2023 | Andrea Wallace | $50.00 |
| 14/02/2023 | Jonathan Prendergast | $5.00 |
| 13/02/2023 | Tom Lester | $10.00 |
| 13/02/2023 | David Castleford | $10.00 |
| 13/02/2023 | Char Grainger | $25.00 |
| 13/02/2023 | Laquorious Dee | $30.00 |
| 13/02/2023 | Paulie | $25.00 |
| 13/02/2023 | Warwick Stone | $49.15 |
| 10/02/2023 | Pete61 | $25.00 |
| 09/02/2023 | SW | $25.00 |
| 08/02/2023 | Robert Menzies College repayment | $3,600.00 |
| 07/02/2023 | Jean Pierre REDESTORFF | $19.48 |
| 07/02/2023 | Andrea Wallace | $50.00 |
| 07/02/2023 | Clunes Coronation repayment | $420.00 |
| 07/02/2023 | Murray Mallee Aged Care repayment | $1,300.00 |
| 06/02/2023 | Laquorious Dee | $30.00 |
| 06/02/2023 | Tom Lester | $10.00 |
| 06/02/2023 | David Castleford | $10.00 |
| 06/02/2023 | Phil | $30.00 |
| 03/02/2023 | dean | $5.00 |
| 03/02/2023 | Pete61 | $25.00 |
| 01/02/2023 | Benevity | $387.74 |
| 01/02/2023 | David Gibson | $250.00 |
| 01/02/2023 | Mansfield Kindergarten repayment | $600.00 |
| 01/02/2023 | CC Steiner School repayment | $3,000.00 |
| 31/01/2023 | Andrea Wallace | $50.00 |
| 30/01/2023 | Jacinta Green | $5.00 |
| 30/01/2023 | Tom Lester | $10.00 |
| 30/01/2023 | David Castleford | $10.00 |
| 30/01/2023 | Laquorious Dee | $30.00 |
| 27/01/2023 | Michael Benson | $10.00 |
| 27/01/2023 | Tassia, Rick, Karu, Xanda | $20.00 |
| 27/01/2023 | Pete61 | $25.00 |
| 24/01/2023 | Andrea Wallace | $50.00 |
| 23/01/2023 | Tom Lester | $10.00 |
| 23/01/2023 | David Castleford | $10.00 |
| 23/01/2023 | Michael Kubler | $15.00 |
| 23/01/2023 | Laquorious Dee | $30.00 |
| 23/01/2023 | GJ | $20.00 |
| 23/01/2023 | Anon | $50.00 |
| 20/01/2023 | Pete61 | $25.00 |
| 19/01/2023 | Dan Martens | $150.00 |
| 19/01/2023 | Woden Valley CCC repayment | $1,500.00 |
| 17/01/2023 | Anon | $20.00 |
| 17/01/2023 | Andrea Wallace | $50.00 |
| 17/01/2023 | Yong family | $100.00 |
| 17/01/2023 | Tim Brown | $50.00 |
| 17/01/2023 | Chris Simmons | $10.00 |
| 16/01/2023 | Jonathan Prendergast | $5.00 |
| 16/01/2023 | Tom Lester | $10.00 |
| 16/01/2023 | David Castleford | $10.00 |
| 16/01/2023 | Laquorious Dee | $30.00 |
| 16/01/2023 | Jonathan Maddox | $100.00 |
| 13/01/2023 | Pete61 | $25.00 |
| 12/01/2023 | Paulie | $25.00 |
| 11/01/2023 | Char Grainger | $25.00 |