Renewable Energy Project: Solar Panels
Pegasus is a not-for-profit community organisation in ACT that provides equestrian activities for people with disabilities. Pegasus brings horses and people together to achieve their potential. Apart from being fun, horse riding helps to improve co-ordination, balance, muscle development and fitness. It also boosts personal confidence, self-esteem, communication skills, leadership and trust.
Website: http://www.pegasusact.com.au/
Project story…
This proved to be a very popular project due to strong community regard for Pegasus. It was fully funded in just 11 days entirely from donations, and was the first to be funded without any assistance from loan repayments (except for our first project of course).
Thanks are due to Embark for matching contributions from new donors $ for $, and to SolarHub Canberra for a generous 15% discount on the solar installation.
This project has been fully funded – Thank you!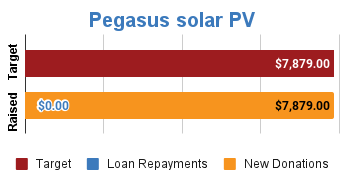 Status: Funded project – loan fully repaid
Loan amount: $7,879
Loan repayments: $320/quarter
Work details
Solar PV – 5.98kW
23 x Trina 260W Honey
Inverter: SMA SB 5000 TL-21
Cost: $7,879
Expected savings: $1,347/year, 8,350 kWh/year
Reduction in carbon emissions/yr: Equivalent to 1.5 average households using renewable electricity instead of grid electricity
Honour roll
Thank you to the following people for donating to this project.
| | | |
| --- | --- | --- |
| Date | Name | Amount |
| 14/11/2015 | Jack | $1040.00 |
| 14/11/2015 | C Elliston | $5.00 |
| 14/11/2015 | Matching: C Elliston | $5.00 |
| 13/11/2015 | Margaret | $25.00 |
| 13/11/2015 | Matching: Margaret, ACT | $25.00 |
| 13/11/2015 | Mount Douglas Family | $50.00 |
| 13/11/2015 | Matching: Mt Douglas | $50.00 |
| 13/11/2015 | Andrew Tridgell | $100.00 |
| 13/11/2015 | Matching: A Tridgell | $100.00 |
| 13/11/2015 | Jeckson Saba | $10.00 |
| 13/11/2015 | Matching: J Saba | $10.00 |
| 13/11/2015 | Martin O'Hare | $20.00 |
| 13/11/2015 | Matching: M O'Hare | $20.00 |
| 13/11/2015 | Gabriel Noronha | $10.00 |
| 12/11/2015 | Paulie | $20.00 |
| 12/11/2015 | Nick Cumbo | $11.78 |
| 11/11/2015 | Peter Wade | $11.00 |
| 11/11/2015 | Hoadie | $25.00 |
| 11/11/2015 | Char Grainger | $20.00 |
| 10/11/2015 | CC | $100.00 |
| 10/11/2015 | Matching: CC | $100.00 |
| 9/11/2015 | Scott Farquhar | $1,000.00 |
| 9/11/2015 | Matching: S Farquhar | $1,000.00 |
| 9/11/2015 | Ronald Bryson | $50.00 |
| 9/11/2015 | Matching: R Bryson | $50.00 |
| 9/11/2015 | Laquorious Dee | $10.00 |
| 9/11/2015 | David Castleford | $8.00 |
| 9/11/2015 | Matching: D Castleford | $8.00 |
| 9/11/2015 | Anonymous | $50.00 |
| 9/11/2015 | Matching: Anon | $50.00 |
| 9/11/2015 | Rob Sandow | $50.00 |
| 9/11/2015 | Matching: Rob | $50.00 |
| 9/11/2015 | SW | $25.00 |
| 7/11/2015 | N Elliston | $10.00 |
| 7/11/2015 | Matching: N Elliston | $10.00 |
| 6/11/2015 | Mark Diesendorf | $200.00 |
| 6/11/2015 | Matching: M Diesendorf | $200.00 |
| 6/11/2015 | Simon Payne | $200.00 |
| 5/11/2015 | Stephen Rothwell | $450.00 |
| 5/11/2015 | Matching: S Rothwell | $450.00 |
| 5/11/2015 | Fraser Argue | $450.00 |
| 5/11/2015 | Robert A | $10.00 |
| 5/11/2015 | CEH | $450.00 |
| 5/11/2015 | Matching: CEH | $450.00 |
| 5/11/2015 | Wayne Stanford | $25.00 |
| 4/11/2015 | Ben Elliston | $200.00 |
| 4/11/2015 | Bill Gresham | $500.00 |
| 4/11/2015 | Jacinta Green | $5.00 |
| 4/11/2015 | Peter Wade | $11.00 |
| 4/11/2015 | Hoadie | $25.00 |
| 3/11/2015 | Matching: DT & MM | $124.27 |