Renewable Energy Project: Solar Panels
The Parkholme Community Child Care centre provides long daycare services to the local community. Back in 2016 we loaned the centre the funds for LED lighting (since fully repaid into our revolving fund – Project 10), and now we have funded a 15kW solar installation for them.
Website: https://www.warradaleccc.com.au/parkholme-campus
This project has been fully funded – Thank you!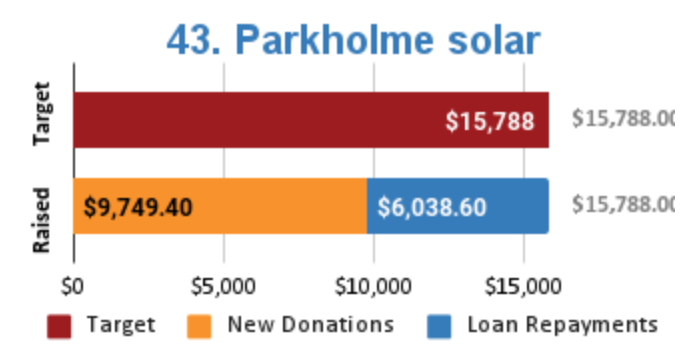 Loan details
Loan amount: $15,788
Loan repayments: $1214.50/quarter
Status: Completed project
Installation date: 8 September 2021
Work details
40 x Longi 370W panels
15kW Solar Edge three phase inverter
40 Solar Edge optimisers to minimise the impact of shading
Cost: $15,788
Expected savings: 21,900kWh/yr and $5,280/yr

Reduction in carbon emissions/yr: Equivalent to 3.95 average households using renewable electricity instead of grid electricity
Honour roll
Thank you to the following people for donating to this project.
| | | |
| --- | --- | --- |
| Date | Name | Amount |
| 14/07/21 | Georgia | $5.00 |
| 12/07/21 | David Hamilton | $450.00 |
| 30/06/21 | Nick Watson | $50.00 |
| 30/06/21 | Pandimensional | $1,483.20 |
| 29/06/21 | David L. | $200.00 |
| 29/06/21 | Adrian Pyle | $200.00 |
| 29/06/21 | Anon | $200.00 |
| 28/06/21 | HL | $1,000.00 |
| 28/06/21 | ISTECNIK | $450.00 |
| 27/06/21 | Anna and Rob | $1,000.00 |
| 26/06/21 | Ottway The Label | $2,000.00 |
| 08/06/21 | Daniel | $1,000.00 |
| 01/02/21 | Mansfield repayment | $178.90 |
| 01/02/21 | Thomas Lester | $10.00 |
| 01/02/21 | Ruslan Sheptolut | $20.00 |
| 01/02/21 | Peter Wade | $25.00 |
| 01/02/21 | Mark Nolan | $30.00 |
| 01/02/21 | David Castleford | $10.00 |
| 29/01/21 | David Yap | $20.00 |
| 29/01/21 | Jacinta Green | $5.00 |
| 27/01/21 | Hugh Nguyen-Mallen | $765.84 |
| 27/01/21 | Tassia Kolesnikow | $20.00 |
| 27/01/21 | Michael Benson | $10.00 |
| 27/01/21 | Anton Maurus | $35.00 |
| 25/01/21 | Jonathan Prendergast | $5.00 |
| 25/01/21 | Thomas Lester | $10.00 |
| 25/01/21 | Hugh Nguyen-Mallen | $50.00 |
| 25/01/21 | Mark Nolan | $30.00 |
| 25/01/21 | David Castleford | $10.00 |
| 25/01/21 | James Willcox | $19.48 |
| 25/01/21 | Jean Pierre REDESTORFF | $19.48 |
| 23/01/21 | michael m childs | $100.00 |
| 21/01/21 | Wayne Stanford | $20.00 |
| 21/01/21 | Gareth Judson | $20.00 |
| 20/01/21 | David Lloyd | $25.00 |
| 20/01/21 | Shirley C Marsh | $5.00 |
| 18/01/21 | Woden Valley repayment | $1,500.00 |
| 18/01/21 | Jonathan Maddox | $100.00 |
| 18/01/21 | Thomas Lester | $10.00 |
| 18/01/21 | Mark Nolan | $30.00 |
| 18/01/21 | David Castleford | $10.00 |
| 18/01/21 | James Willcox | $14.53 |
| 18/01/21 | Paul Mattiske | $20.00 |
| 18/01/21 | Chris Simmons | $10.00 |
| 17/01/21 | Elle | $30.00 |
| 16/01/21 | Amie Blanden | $100.00 |
| 16/01/21 | Hayley | $25.00 |
| 15/01/21 | David Yap | $20.00 |
| 14/01/21 | Jonathan Prendergast | $5.00 |
| 14/01/21 | Chris Anderson | $500.00 |
| 13/01/21 | Trish L-T repayment | $365.00 |
| 13/01/21 | Mitchell McMillan | $25.00 |
| 12/01/21 | Warradale repayment | $1,028.80 |
| 12/01/21 | Hender family | $35.00 |
| 12/01/21 | Paul Andrew | $25.00 |
| 08/01/21 | Marlin Coast repayment | $2,965.90 |