Installing solar panels and transitioning to renewable energy is one of the best ways your organisation can reduce carbon emissions and energy costs. Here at CORENA, we work with a wide range of not for profits, providing interest-free loans to install solar panels and other energy efficiency measures to tackle the climate emergency.
If your non profit organisation has decided to install solar, how do you make sure you get a good installer and a good quote? We've put together this guide to help.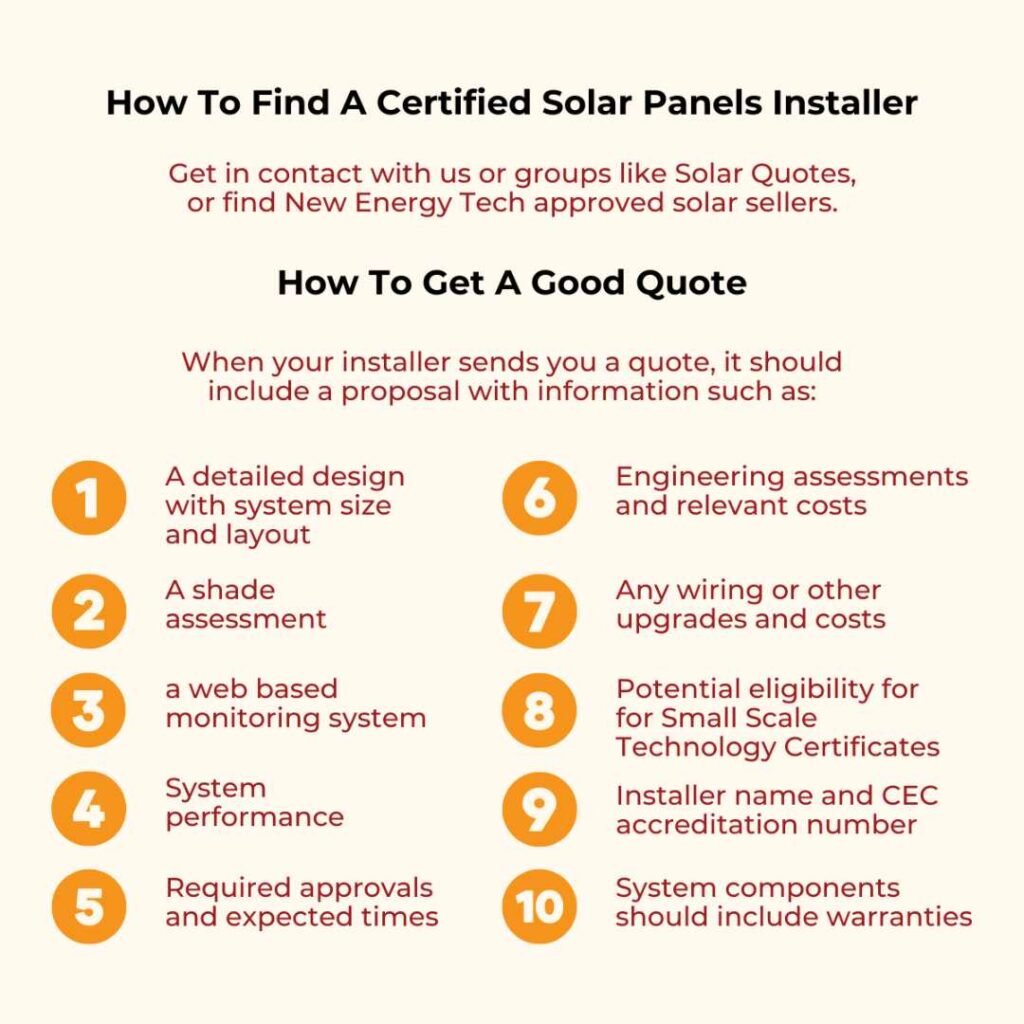 Find Reputable & Certified Solar Panels Installers
The first step to finding a reputable installer is to get in contact with us! CORENA or our loan recipients may have worked with solar installers in your area and can point you in the direction of installers we have worked with successfully in the past.
Another great place to start is by asking for a quote through our friends at Solar Quotes. They can help connect you with accredited and well regarded solar installers in your local area. Solar quotes also offers an independent database of installers with reviews and rankings so even if you don't use their quote service you can check their reviews in this database.
You can also search for New Energy Tech approved solar sellers in your area. These installers have adopted a voluntary consumer protection code of conduct.
What will the installer ask for to size and quote your system?
Your installer should ask you for several past electricity bills and ideally, if you have a smart meter, your "interval data". This is a spreadsheet with your energy use at regular intervals, from 10 minutes up to an hour depending on your meter. This is important because it means they see your actual electricity use overnight and in the middle of the day instead of just guessing when you use your power. If your overnight use is a large portion of your electricity consumption, your solar panels won't be able to offset this and the system can be sized smaller to just cover your daytime use.
It can be really handy to look at your interval data regardless of whether you are installing solar panels or not. If it is high and you are able to reduce your night time use by, for example, switching appliances off or setting them on timers, you can actually save a lot of power for very little outlay.
Your interval data can sometimes be downloaded from your online electricity retailer portal or your solar installer will get you to sign a form so they can access it on your behalf. If you have a smart meter, check your solar installer has used this data to size your system.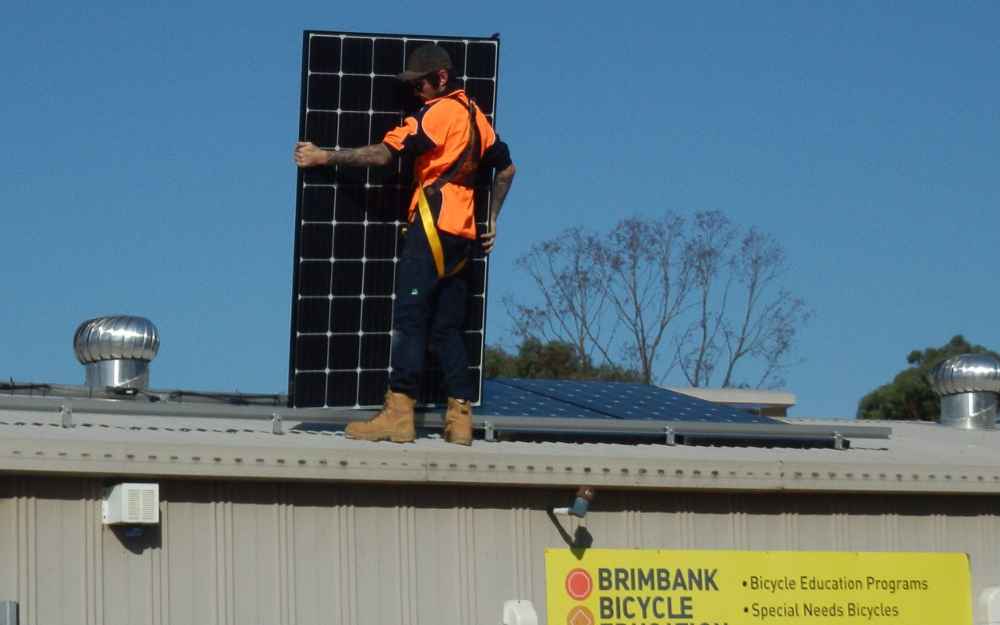 How do you know you have a good quote?
When your installer sends you a quote, it should include a proposal with information about their proposed system.
It should include the following.
1. A detailed design with the proposed system size and layout on the roof. The size of the system should allow for some excess solar generation to be exported to the grid (if possible – sometimes your roof size limits this).
A solar PV system that is slightly larger than your needs will allow some export for any future battery and will also cover any increase in energy use or charging of electric vehicles. A good quote will give you a "self consumption" figure which is how much power you will consume yourself. An ideal figure is around 70%-80%. If your roof is small and your power use high it may be higher. Lower figures mean you are probably exporting a bit too much power and your system may take a long time to pay off.
Learn more in How To Make The Most Of Your Solar Panels To Charge Electric Vehicles
2. The report should include a shade assessment if your roof has trees, aerials or other equipment on the roof that may shade the panels. Your anticipated production should be adjusted based on this.
3. Includes a web based monitoring system that displays your building's energy consumption and monitors your system's production. Most inverters include an online portal that only monitors production, but a consumption monitor is really helpful for maximising your self consumption and therefore making the most of your solar production.
Learn more in How To Benefit Most From Your Organisation's Solar Panels
4. Information on the performance of the system including –
The expected monthly and annual electricity yield in kWh,
Estimated greenhouse gas savings.
Estimated percentage of production to be self consumed and the percentage that will be exported.
Financial returns in the form of annual savings, Net Present Value, Internal Rate of Return and Payback Period based on your specific electricity tariff from your power bills. These are the most robust financial measures which take into account things like the time value of money.
5. The approvals required from relevant bodies, anticipated timeframes for gaining these approvals as well as any anticipated issues.
6. Engineering assessments required and relevant costs. This is usually a roof structural report and roof condition report.
7. Any wiring/metering/switchboard upgrades required and relevant costs
8. If your system is under 100kW, it should be eligible for Small Scale Technology Certificates (STC's). Check the number and value of STCs is clearly stated.
9. The name and CEC accreditation number of the designer and installer of the system. This is really important. All individual solar designers and installers need a Clean Energy Council Accreditation number – accreditation is only available to individuals. You can ask the installer to show their Clean Energy Council Accreditation card when they arrive to install the system.
This differs from Clean Energy Council membership, which is available to businesses that work in the clean energy sector.
10. The system components should include the following warranties ideally with the below terms or better:
Panel performance warranty – 25 years
Panel product warranty – 12 years
Inverter product warranty – 10 years
Installation workmanship warranty – 5 years
The product and installation workmanship warranties are particularly important. A reduction in panel performance is very difficult to prove as solar panel production varies from year to year based on the weather conditions. It is therefore very difficult to make a claim on the panel performance warranty. However if a panel fails entirely the panel product warranty will cover a replacement.
Learn more in Solar Panels & Systems Maintenance Guide
Are the panels and inverter quoted good quality brands?
CORENA is happy to look at your quotes to see if the brands are reputable.
The Solar Quotes website also has an excellent guide to good quality inverters and solar panels.
Is my quote expensive?
When you receive your quote – the system should currently cost roughly $1,000 per each kW of solar. For example, a 20kW system should cost around $20,000. The installer should visit the site before you accept the final quote. There are often costs that can't be anticipated before they have actually checked the site.
Where to put the inverter/s
It's important to check with the installer where they are intending to install the inverter/s. Remember that:
An inverter in direct sunlight will get hot and not work as efficiently. Avoid west or east walls that get very hot. Ask the installer to include shading if this is unavoidable.
Inverters can be a bit noisy – don't install them near where people are working or sleeping.
Avoid having it on the roof if the roof is difficult to access. Sometimes you will need to check the inverter screen, this is much easier if it's on the ground.
If installing in a store room remember that the inverters will need some space kept around them for ventilation. If storage is limited it may be best to avoid storage rooms.
Learn more in Solar Panels – A Guide For Non Profits
Solar Panels Funding for Non Profits
CORENA can provide free technical advice and zero interest loan funding to community organisations looking to reduce their emissions and green their energy consumption. We are funded by donations from local community members across Australia. Donations are used for loans for:
Installing energy efficiency measures such as switching to efficient alternatives or installing insulation
Getting Off Gas – Replacement of fossil gas appliances with electric alternatives
A combination of the above
Learn more in 5 Ways CORENA Helps Non Profits Reduce Carbon Emissions & Energy Costs
Interest Free Solar Panels Loan For Non Profits, Community Organisations, Charities, & Social Enterprises
You don't pay any interest on your CORENA loan, and the quarterly loan repayments are usually set to be a little less than the savings on your operating costs averaged over a year. This means you are never out of pocket. After your loan is fully repaid, you will reap the full financial benefit of having lower operating costs.
To learn more, check out how to apply for a loan, or register for one of our upcoming Online Q&A Information Sessions.