Climate change is a global challenge that demands local solutions. We need to shift rapidly to net zero and support the uptake of renewable energy, electrification of vehicles and heating, plus opportunities which will see use reduce carbon emissions immediately.
Citizens Own Renewable Energy Network Australia (CORENA) is an Australian renewable energy and community energy charity dedicated to supporting communities to reduce emissions through practical projects that otherwise wouldn't happen. 
Through your support, CORENA can provide a vital bridge to foster understanding of the opportunities and challenges that a transition to a zero-carbon energy system raises and provide game changing funding in the form of interest-free loans to community organisations, not for profits, charities and socially minded businesses to play their part in tackling the climate emergency.
Here are our 7 top tips why you should donate to a renewable energy charity like CORENA
1. Support An Important Climate Cause
The global climate emergency requires that we use all available strategies and types of action as soon as we can. A major blockage to community led climate action is funding and technical skills.
CORENA offers a practical and effective way for everyone to collectively fund new renewable energy installations and to 'electrify everything' now instead of waiting on government action.
Our revolving fund modelenables everyone to help collectively achieve prompt and tangible climate outcomes that benefit everyone everywhere.
Practical projects are at the heart of CORENA's easily accessible action pathway for addressing the climate emergency.We focus on implementing projects that will reduce carbon emissions immediately, such as projects that generate and use renewable electricity to replace fossil fuel use.
CORENA, can provide free technical advice and zero interest funding to community groups and businesses looking to reduce their emissions and green their energy consumption. Your donation can help fund installation of:
Installation of energy efficiency measures such as switching to efficient alternatives or installing insulation
A combination of the above
Learn more in 5 Ways CORENA Helps Non Profits Reduce Carbon Emissions & Energy Costs
2. Help People In Your Community
Your donations are powerful! They continue revolving and growing in impact forever. They enable community organisations, not for profits, charities and social enterprises to reduce carbon emissions at no cost to themselves. And we all receive the climate benefit.
We receive, record, and transparently report voluntary contributions from the public. We use that money to give interest-free loans to pay for Quick Win climate projects based on expert advice on the most effective use of funds, and we report all expenditure.
See Our Projects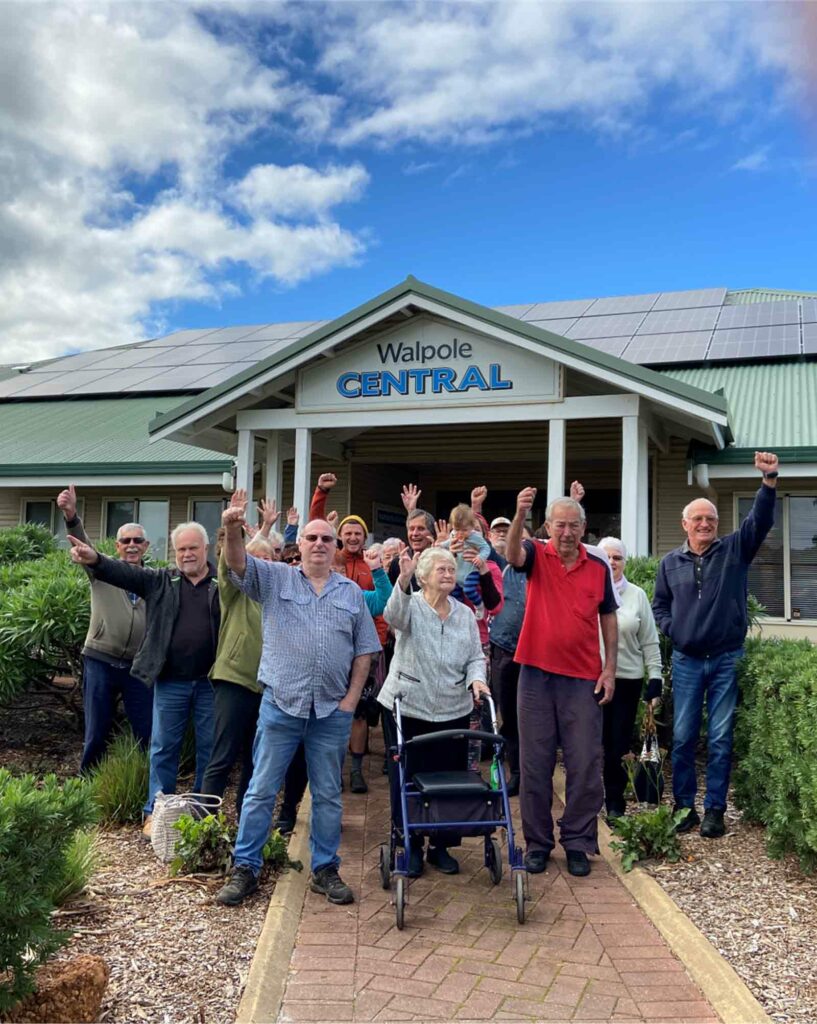 3. Be Part Of A Powerful Movement
The entire world needs to decarbonise as quickly as possible, but that is easier for some of us than for others. We offer financial help and technical advice for projects that make it possible for non profit and community organisations to do their part in reducing overall carbon emissions. And we invite everyone else to help cover the immediate cost of those projects or to join our team of volunteers who make this climate action pathway available to all.
CORENA's revolving fund is one way we can achieve immediate tangible results, and it is simple enough to be emulated or modified by other groups anywhere to help achieve yet more reductions in carbon emissions.
4. A Revolving Fund
Our revolving fund is a key element in our climate emergency action strategy. It means that the money donated to projects is never exhausted and continues paying for more and more climate benefits far into the future.
The revolving fund model enables all of us who want immediate reductions in carbon emissions to chip in and collectively help pay for practical climate-beneficial projects. Small amounts of money from LOTS of people can achieve much more than any of us can alone.
Community organisations, non profits, charities and social enterprises apply for zero-interest loans to pay for projects such as installing solar panels, improving energy efficiency, switching away from fossil gas use, or purchasing electric vehicles. The resultant savings on energy/fuel bills cover the loan repayments into our revolving fund. This means organisations can reduce their carbon footprint at no cost to themselves, and after their loan is fully repaid they reap the additional benefit of having lower operating costs.
We then invite everyone to chip in to help fund the project. We use those new donations and recent loan repayments from earlier projects to give a loan to cover the project costs.
Your donation does not just help fund one project. It will be used over and over again as loan repayments return your money to the revolving fund. As a project 'pays for itself', the loans are repaid out of savings on expenses and we use that money again and again in subsequent projects. In our first 5 years, each dollar donated to our first climate project paid a total of $2.44 of project costs as loan repayments from the first helped pay for subsequent ones, and they continue to do so – that dollar will never be 'used up'.
Together we have funded more than 50 projects that reduce community carbon emissions since 2013.
Learn more in CORENA's Revolving fund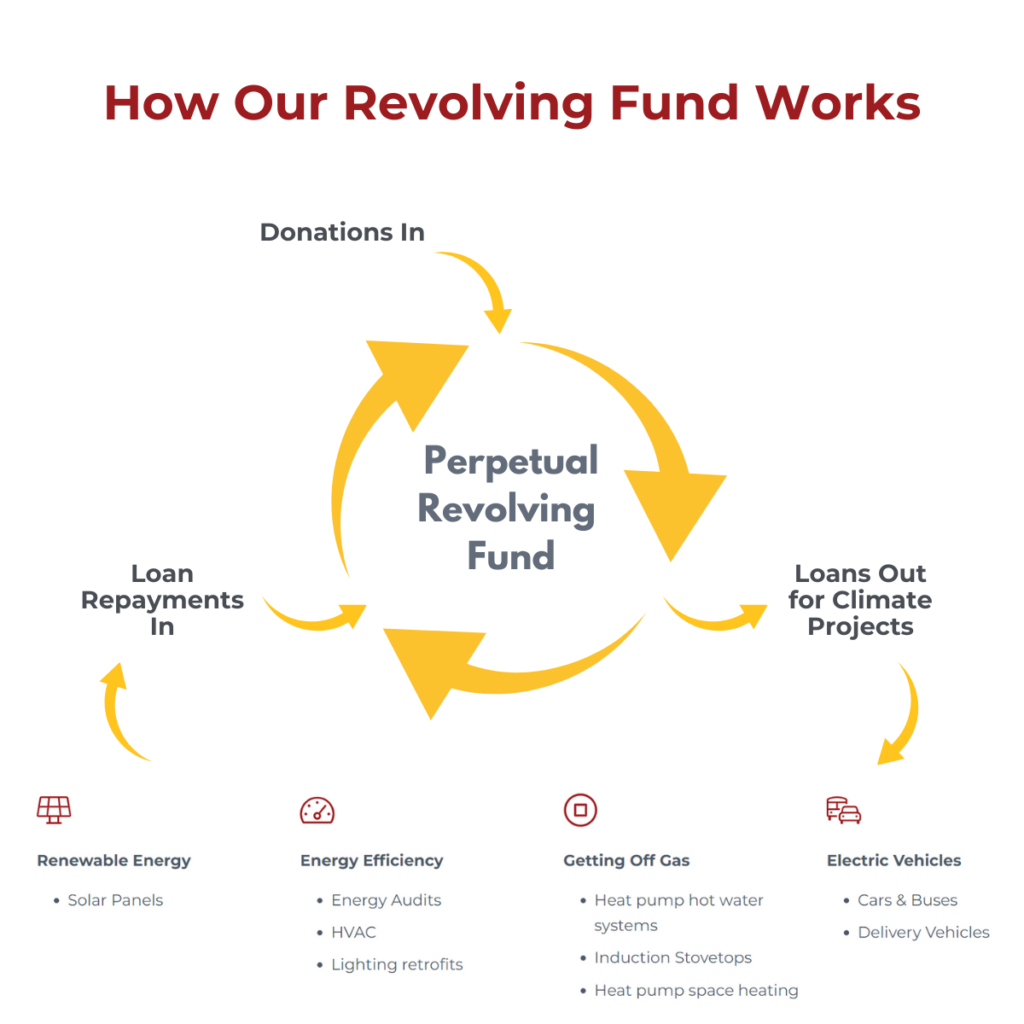 5. See The Impact Of Your Generosity
After donating to a project you can use our impact calculator to work out what YOU have achieved so far via your contributions to Quick Win climate projects.
See our Donation Impact Calculator
6. Multiple Ways To Give
You can set up a recurring weekly or monthly contribution and we will allocate your donation to whichever project is next in line for funding at the time your contributions arrive.
Learn more in Donate to a project
7. Donations Are Tax Deductible
In April 2016 the Department of the Environment, Water, Heritage and the Arts added our Public Fund, Citizens Own Renewable Energy Network Australia Fund, to the list of environmental funds granted tax deductible donation status.
Further to this, The Australian Charities and Not-for-profits Commission explains that DGR organisations are entitled to receive donations that a donor can deduct from their income tax. A deductible gift recipient (DGR) is an organisation or fund that registers to receive tax deductible gifts or donations. CORENA is endorsed as a deductible gift recipient (DGR). 
As per the ATO Website, to claim a deduction, you must have a record of your donation such as a receipt – you can then claim the amount of your donation, as long as it totals $2 or more.