Organisations and individuals have a role to play in reducing emissions and tackling the climate crisis. But that doesn't mean it has to be difficult. There are some relatively easy ways to green your workplace, as well as help reduce your emissions and become more environmentally friendly. Best of all – you'll become more energy efficient in the process!
You can play your part by starting small, taking small actions that over time can lead to significant reductions. You can not only help the planet but also utilise your organisation's resources far more effectively providing a far healthier and happier environment for you and your staff to work in.
Although some of these tips may seem expensive by installing energy-saving equipment they will soon get paid back over time from ongoing savings in energy costs. CORENA works with a wide range of not for profits, providing technical advice and interest-free loans to install solar panels and appliances to green your workplace and reduce costs. Learn more about how you can take action below.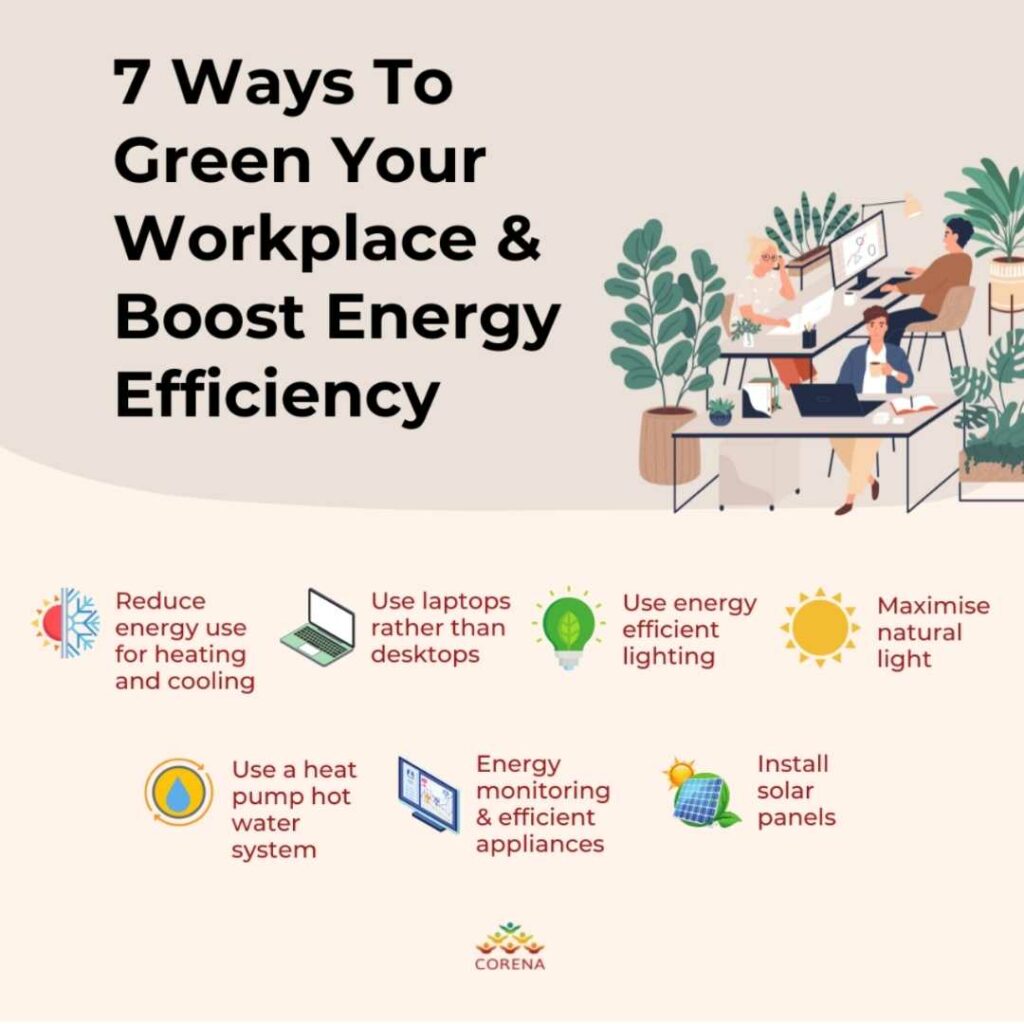 1. Reduce Energy Use For Heating and Cooling
Heating or cooling a workplace usually requires a substantial amount of energy, so if you can maximise natural ways to either cool or warm your workplace, the power savings can be significant.
In warmer weather, a good place to start is to install blinds to block out and reflect excess sunlight, open windows for natural ventilation, and reserve airconditioner use for excessively hot days, instead of constantly having it running.
In colder weather, insulation materials are invaluable in keeping warmth inside and bringing down heating bills. Locate draughts in your office and seal them, or cover them with a door snake to avoid cold air from leaking in.
Although these changes may seem simple, they can go a long way in reducing your organisation\'s energy use and carbon footprint.
2. Use Laptops Rather Than Desktops
Generally, desktop computers are far less efficient in their use of energy than laptops. Using laptops, when feasible, can have a significant impact on energy usage each day. If your organisation has a large number of workstations with desktops, the benefits can be substantial, in some cases by as much as 80%!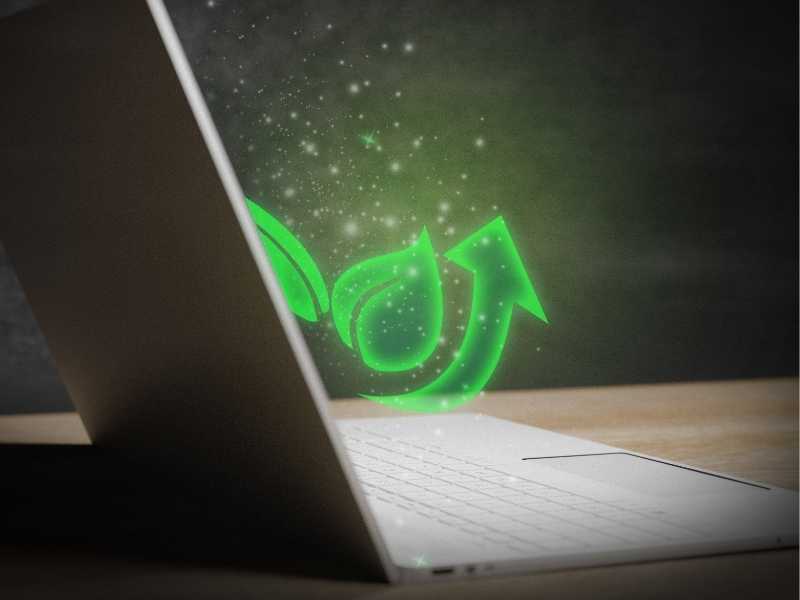 In addition, there are other changes you can make in the realm of technology.
Monitors – Big ones use far more power than smaller ones; get smaller monitors when possible.
Printers – They use a lot of power. Although lots of printers may be convenient, it could be time to have one printer for more people and to use printers that consume less energy. For information about this, see this article.
Although obvious, there are real savings to be made when computers are switched off. If they're not in use, they shouldn\'t be in sleep mode – switch them off!
3. Use Energy Efficient Lighting
Lighting costs make up a big portion of the average office's energy bill. Incandescent or halogen bulbs are far more energy intensive than compact fluorescent (CFL) or light-emitting diode (LED) lighting. These lighting technologies only use a small fraction of the energy required and can see a dramatic drop in energy costs.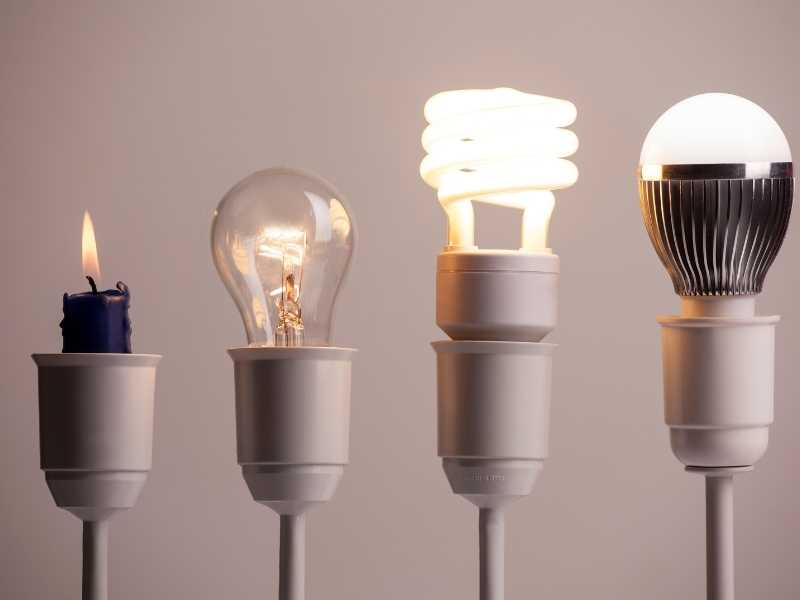 4. Maximise Natural Light
In most cases artificial lighting, just like cooling or heating, can be minimised by making better use of natural sources.
Encourage staff to switch off lights as much as possible, pull back curtains and blinds, and only use the lights when necessary. Setting a good example and reinforcing these actions can soon make them second nature in your workplace.
5. Eliminate Energy Leaks
On occasion, heating, cooling, and other appliances do not work to their optimum and this leads to leaks of energy resulting in huge extra energy bills, whose source may be an absolute mystery. If you have a sudden spike in electricity use with no obvious cause ask an electrician to investigate.
6. Energy Monitoring & Efficient Appliances
Energy monitoring can take many forms and can help you better understand your organisation's usage. By reporting and measuring your energy use at regular intervals throughout the day, you can find if there are devices you can switch off to reduce your energy consumption.
Learn more in How Monitoring Can Reduce Carbon Emissions & Energy Costs For Non Profits
If your organisation is using old equipment, the impact on energy efficiency and power bills can be substantial. Over time as you replace older equipment, make sure to upgrade to appliances and their peripherals that have high energy ratings. Learn more about energy ratings in this article.
Heat pumps
As already discussed, heating and cooling can be a major user of resources. A heat pump is an efficient alternative to standard heaters which works by transference of thermal energy between a building and outdoors.
Heat pumps are the most efficient way of using electricity for either heating or cooling and a great way to help your organisation to get off gas.
Learn more in Heat Pumps Guide For Non Profits
Induction stovetops
An induction stovetop uses magnetic fields for cooking instead of a flame or electric element. Did you know gas stovetops can create more emissions than an electric alternative? especially if you have excess solar you can use. Swapping your applicances can reduce your organisation's footprint and energy usage in the long-term.
There are many benefits to induction stovetops. They cook food much quicker than other methods, plus they are both temperature and power-sensitive, resulting in power savings.
When switched on, if no pot or other cookware is found, then generally the device automatically turns off. As a result, far less electricity is used and the need for gas in the kitchen is eliminated.
Learn more in Induction Stovetops Guide For Non Profits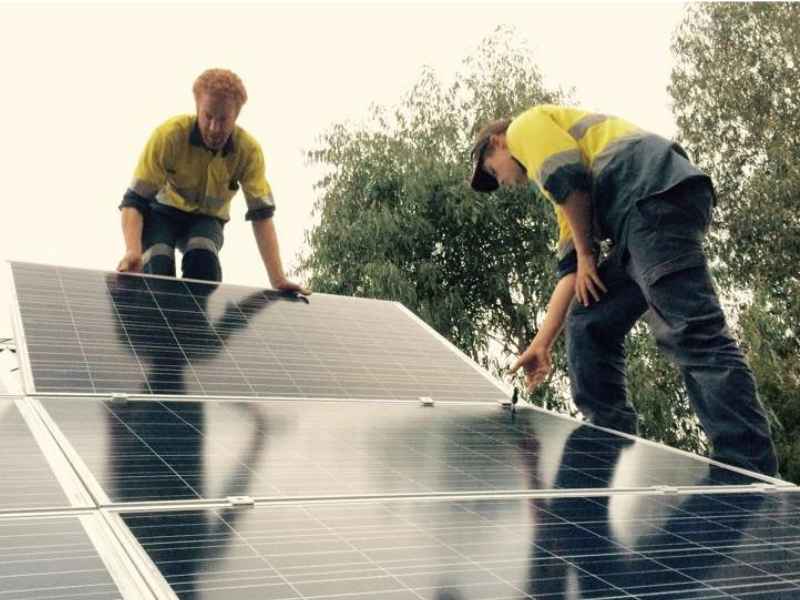 7. Install Solar Panels
Probably the best thing you can do to green your workplace is by installing solar panels, reducing the demand for fossil fuels such as coal and gas. They are very efficient producers of power and with advancements in technology, are expected to improve even more so in the future.
Although there is an upfront cost in installing a solar panel system, the overall savings over time can make the initial investment pay for itself many times over. Once installed and paid for, solar panels keep producing energy that is virtually free. Not for profits that operate during the day are in a particularly good position to save money as they are able to self-consume their solar power. CORENA's solar panel projects typically pay for themselves in 3-6 years and deliver excellent financial returns over their lifetime.
Learn more in Solar Panels – A Guide For Non Profits
With a solar energy system installed it can also be beneficial to invest in an electric vehicle fleet. These can be charged at your workplace making use of the power produced by your solar panels.
Learn more in Electric Vehicles Guide for Not For Profits
Interest Free Loans For Energy Efficiency, Solar Panels & Electric Vehicles
Here at CORENA we receive, record, and transparently report donations from the community. We use that money to give interest-free loans to fund projects that benefit the planet including:
Solar panels
Energy efficiency
Replacement of fossil gas appliances with electric alternatives
Electric vehicles (to cover the difference in purchase cost)
A combination of the above
Learn more in 5 Ways CORENA Helps Non Profits Reduce Carbon Emissions & Energy Costs
You don't pay any interest on your CORENA loan, and the quarterly loan repayments are set to be a little less than the savings on your operating costs averaged over a year.
This means you are never out of pocket and after your loan is fully repaid you reap the full financial benefit of having lower operating costs.
To learn more, check out how to apply for a loan, or register for one of our upcoming Online Q&A Information Sessions.