No matter whether your office is commercial or not-for-profit, there are certain appliances, devices, and other power guzzlers that routinely use a significant amount of energy. By being more conscious of where your biggest energy consumption is coming from, you can take positive actions to not only reduce carbon emissions, but also save on your energy costs, and improve your organisation's carbon footprint.
CORENA works with a wide range of non profits, providing technical advice and interest free loans to fund energy efficiency and other initiatives in order to help tackle the climate emergency.
Let's take a look at some of the top energy consumers in the average office. This data has been collected as part of 2022 Commercial Building Baseline Study. As you can see, in most offices, the vast majority of energy use goes to Heating, Ventilation and Air Conditioning (HVAC) and/or gas space heating. This is important because instead of focusing on one of the smaller categories, we know that to get the best reduction in your carbon emissions and power bills it's important to focus on the categories that make up the greatest share of the pie.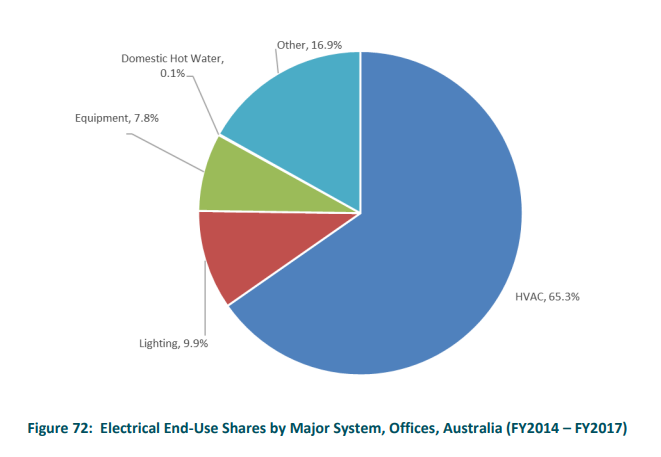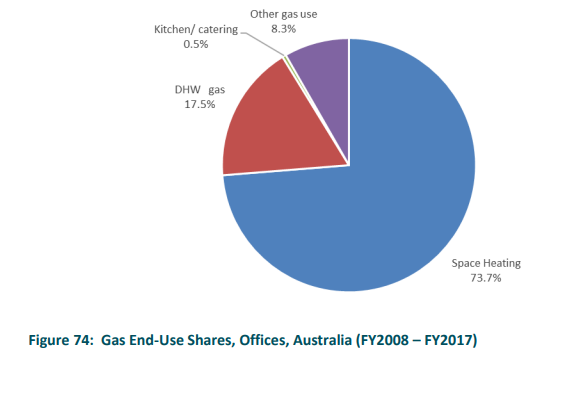 Source: pages 116 and 117 Commercial Building Baseline Study 2022 Final Report Department of Climate Change, Energy, the Environment and Water
So, in order of importance, below are the major energy consumers in most offices and some things you can do to reduce their energy use.
1. Heating, Ventilation & Air Conditioning (HVAC)
HVAC systems are the major source of energy consumption in offices. These systems are needed to maintain comfortable indoor temperatures that enable workers to function without distraction. 
To reduce your HVAC system's energy consumption, one of the easiest and cheapest things you can do is optimise your thermostat settings and timers to help reduce the heating or cooling requirements during hours when nobody is around, such as overnight, weekends and public holidays. Additionally, you could set the temperature a few degrees higher in the summer and a few degrees lower in the winter to reduce the amount of work that the HVAC system has to do to maintain an even climate.
Regular HVAC system maintenance is essential to ensuring that it operates more efficiently and that it doesn't struggle to maintain a comfortable temperature. Maintenance includes cleaning out and replacing air filters and ducts to minimise any obstructions to airflow. Also, maintaining the motors and fans within the HVAC system can help ensure that it is operating in an energy-efficient manner.
Zoning should also be implemented to ensure that only the occupied areas of the office are temperature-controlled to avoid wasting unnecessary energy heating or cooling unoccupied areas.
If you have gas heating or your HVAC system is old and requiring significant maintenance, it may be time to replace it with something more energy efficient. This can pay for itself with reduced energy costs (especially if your building has solar panels) as well as reduced maintenance call outs and costs. A Level 3 energy audit can assess your HVAC system and provide you with detailed advice on capital cost and anticipated savings which you can use in a business case for an upgrade. If you need an interest free loan for this significant investment contact us!
Learn more in our Energy Efficiency Audit Guide for Non Profits.
If you have small scale gas heating you may like to replace it with a reverse cycle air conditioner. This is an energy efficient heat pump that can either heat or cool. Heat pumps are the most efficient way of using electricity for either heating or cooling and a great way to help your organisation to get off gas. In some cases, organisations have been running their gas heating instead of their existing reverse cycle air conditioners, not realising that it can actually be cheaper to run the air conditioners on heat mode, especially if you have solar panels.
Learn more in Heat Pumps Guide for Non Profits
You can also reduce the load on your heating and cooling systems by draught proofing, insulation, double glazing and shading windows.
2. Lighting
Lighting typically accounts for the second largest portion of energy consumption in average offices. Traditional incandescent and even fluorescent light bulbs consume a fair amount of energy, so it pays to replace them with more energy-efficient options. 
LED lighting is the go-to, as LED lights use far less energy than regular light bulbs. They also have a much longer lifespan, which means that they need to be replaced less often, saving money on maintenance costs.
Installing motion sensors in your offices can ensure that lights are turned off automatically in areas that have a less consistent occupancy rate. These areas might include restrooms, storage rooms, or hallways. Motion sensors will ensure that the lights don't burn when nobody's around.
Another way to reduce your energy consumption from lighting is to increase your natural light utilisation. This would include arranging your office layout to maximise the penetration of natural light. In some cases, it might require renovations to add extra windows or skylights to reduce the need for artificial lighting during daylight hours.
Get your HVAC and lighting right and you are three quarters of the way there! It's best to focus on these first before looking at the following categories which are smaller components of a typical office's energy use.
3. Office Equipment
Office equipment is another contributor to energy usage. While these devices are essential for the day-to-day operations of an office, there are several ways that they can be optimised to reduce their energy consumption. 
For starters, you could ensure that you choose energy-efficient devices that have been rated as such. Devices that have Energy Star ratings have been rigorously tested to meet strict energy efficiency guidelines and are generally a safe bet.
In terms of energy efficiency, most devices also have power-saving settings. By implementing power management practices office-wide, you can reduce the amount of energy that your office consumes.
These devices should be set to enter sleep mode or even shut down when not in use for specified periods. The general rule of thumb would be to have devices sleep on weeknights and then have them shut down completely on weekends. Leaving these devices on when no one is using them is a sure way to waste energy.
4. Computers & IT Infrastructure
The IT infrastructure in your office is another source of energy consumption. This includes things like servers and data centres, which generally need to operate 24/7 to keep your business functional.
Where possible, you could consolidate your data services through virtualisation, which can reduce the number of physical server machines that need to operate in your office. This serves to optimise your resource utilisation and can contribute to a significant reduction in energy consumption.
Nowadays, energy-efficient servers and hardware are also available on the market. These are designed to consume less power while maintaining the same level of performance. Where possible, you should replace your servers and hardware with more energy-efficient options.
In addition, many of your IT services could be moved to the cloud, with cloud service providers often having more energy-efficient data centres. By doing this, you can reduce the amount of energy consumed at your office and consolidate your energy consumption in terms of IT infrastructure with other users across the world.
5. Water Heaters
Water heating in an office is usually only a minimal part of its energy consumption unlike a household where it is usually the second highest consumer (behind air conditioning and heating).
Water heaters can be adjusted to appropriate temperatures, as higher temperatures can lead to wasted energy. Water should just be warm enough to ensure that dishes and hands can be cleaned properly. Unnecessary overheating of water can be a real drain on energy consumption.
In terms of more energy-efficient systems to further reduce emissions and the cost associated with heating water in the office, you can install either a heat pump or solar water heater (electric-boost solar-thermal). Now that efficient heat pump technology is available, it is likely to be more economic to use your premise's roof space for solar panels and use self-generated electricity to power a heat pump for the purpose of heating water. While overall energy savings are likely to be relatively small in an office, switching to a heat pump when your old gas system dies is a critical step in getting off gas.
6. Appliances & Kitchen Equipment
In office break rooms and kitchens, appliances such as refrigerators, microwaves, and coffee machines contribute to energy consumption. Choosing energy-efficient appliances with high Energy Star ratings can help reduce the amount of energy that these devices consume. 
Other types of buildings
If your non-profit is a school, aged care home, food rescue or social enterprise your energy breakdown may look completely different to a typical office and there is limited average data available for these building types. For large facilities like these with more complicated energy needs it can be really useful to complete an energy audit to find out where your energy is going and how to manage your energy use most effectively.
Learn more in our Energy Efficiency Audit Guide for Non Profits.
Interest Free Loans For Energy Efficiency, Solar Panels & Electric Vehicles
Here at CORENA we receive, record, and transparently report donations from the community. We use that money to give interest-free loans to fund projects that benefit the planet including:
Getting off gas – Replacement of fossil gas appliances with electric alternatives
A combination of the above
Learn more in 5 Ways CORENA Helps Non Profits Reduce Carbon Emissions & Energy Costs
You don't pay any interest on your CORENA loan, and the quarterly loan repayments are set to be a little less than the savings on your operating costs averaged over a year.
This means you are never out of pocket and after your loan is fully repaid you reap the full financial benefit of having lower operating costs.

To learn more, check out how to apply for a loan, or register for one of our upcoming Online Q&A Information Sessions.